I'm worried about our TBs.
---
Most of you know that our farm took in six thoroughbreds for a local shelter until they are rehomed, and so far one has been rehomed, one is being evaluated, and one died of a massive stroke due to underlying heart problems that we didn't know about, so we're down to four. I'm really worried about two of them though for seperate reasons. They just aren't looking as healthy as all of the others, and having seen the troubles that Sierra (the mare who had the stroke) had, I'm just not sure about their over all soundness.
The major problem though, is their feeding habits.
One of our two mares, Bree- is a ~12 year old broodmare. She came with a three month old colt, but he has since been weaned (now a six month old) and is doing well. Feeding him, ofcourse, took a lot out of her, and she was in poor condition when we got her (about 100 pounds underweight) but even a month after weaning Peppin, she's still extremely thin. She has good energy, and doesn't seem to be in distress, but she's not eating nearly what she should be. We're offering her 3 pounds of Omleen 400 in the morning and two at night, as well as unlimited 1/3 alfalfa 2/3 timothy hay, water with electrolytes, and rice bran- but she's only eating about 2 or 3 pounds a day, and maybe a flake or so of hay. At first we thought it might be her teeth, so we had them floated three months ago, but no difference besides not dropping as much. We then checked her for ulcers, and she did have some so we started her on a few medications that were recommended to us. She still hasn't made any progress though, and she's been with us for quite a few months now. I'm starting to think she's just a really picky eater, as she only wants to graze. That would be fine...except for that we don't have much grass on our property. What do I do? Should we try to switch her feed? Add something to it?
I'm attaching a picture of her two weeks ago. She's looking slightly better but not by much. Her coat is also dull and isn't shedding like everyone else. Also note that she is being wormed routinely and has been checked for worms as well.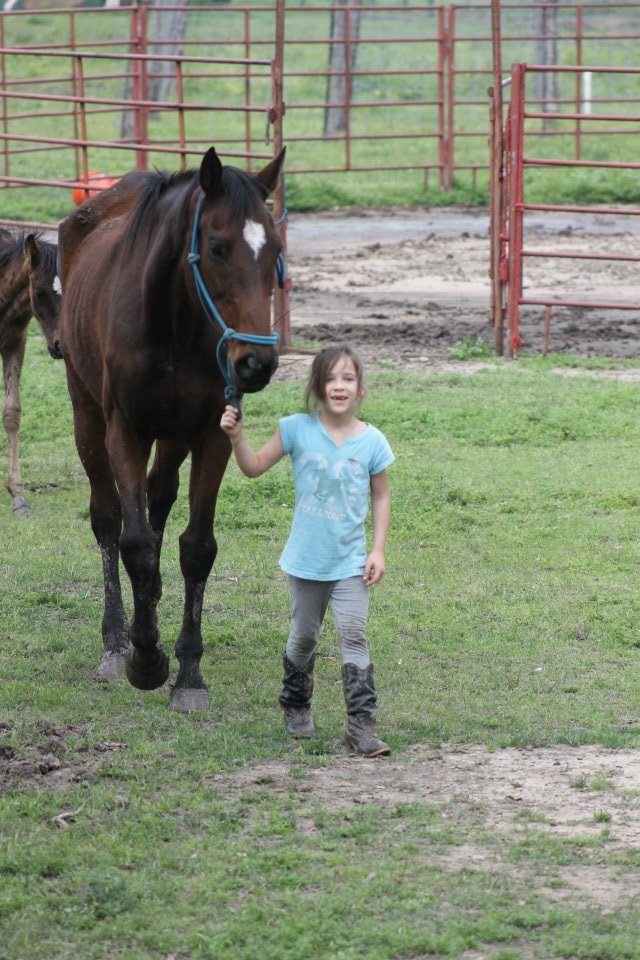 And then there's Kenzie. She's the orphan foal to Sierra, the mare who died of a stroke. She seems to be doing well and has a good weight. She's very alert and friendly, but she's extremely small. She first came to us as an approximate one month old, and she's approaching four months now but as far as I can see, she hasn't grown at all. This is opposed to Peppin, who was 13hh at three months (granted, he's the biggest colt I've ever seen). She measure about 11.2hh right now, and is the scrawniest little thing I've ever seen. She's being fed free choice alfalfa/timothy hay, grazing, and Omleen 300, but she had a very limited amount of low quality milk for the entire three months that she nursed from her mother. I'm wondering if her growth might be stunted, and if so- is there any other nutrience that I can add to her diet?
Pictures of her attached. She's still shedding out as well, and looks quite strange.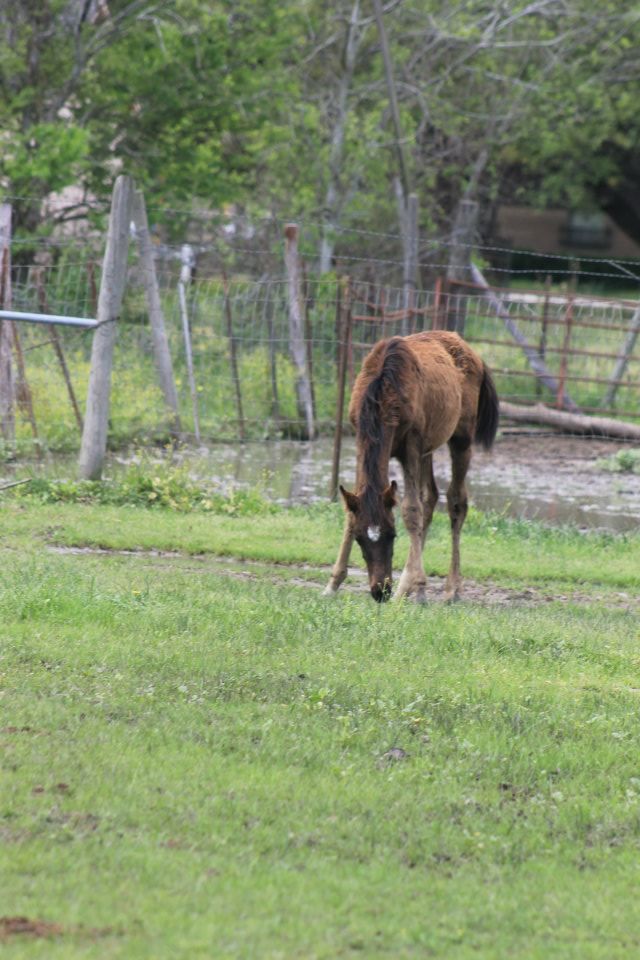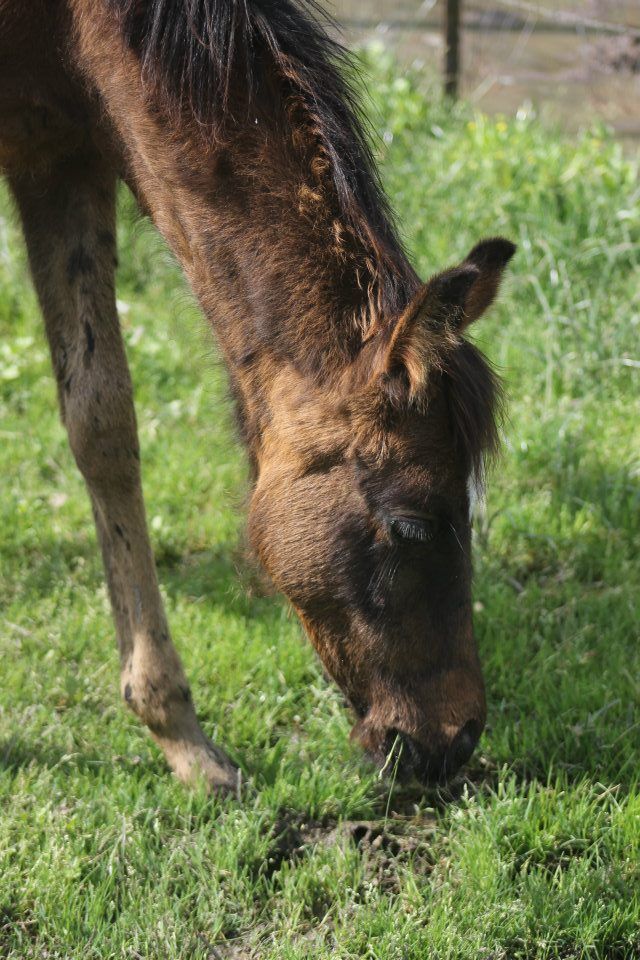 ---
Everyone in your life is meant to
be in your journey, but not all of
them are meant to stay till the end.
I dont think id be too concerned with the filly. Shes only 4 months. Shell get there.

The mare could still be having ulcer issues. Fresh grass ive heard is less "aggressive" on ulcers then hay...not sure how true that is.

Id probably have a blood panel done on her to make sure she doesnt have an ongoing bacterical infection. And a fecal exam to make sure shes been dewormed for the correct worms. Maybe a powerpack is in order for her?
Posted via Mobile Device
I tried to find an ingredient list online for the Omleen 400, but all I could find was the analysis and what it didn't have in it. Check the ingredient list looking for any kind of grain product. A horse with ulcers can not tolerate grains at all.

Also, since she was lactating while malnourished, I wonder if a lactation feed now would help at all to replenish those nutrients that she may be low on now, after the fact? I have no experience with breeding, but maybe someone else can put in 2 cents on that.

Does she have access to free choice minerals as well? I personally swear by Hoffmans and leave that out with my salt 24/7.
Thanks guys.

That would actually make a lot of sense, ClaPorte, because she much pefers grass over the hay that we're offering her. I would just turn her out to graze 24/7, but we have such a limited amount of grazing area. (35 acres for 50 horses...you do the math. Ofcourse, none of the minis are given grazing, but we still have little land that isn't wooded or built up)

I also forgot to mention that vetcare is paid for by the rescue that we are holding the horses for, so it is their vet that is examining the animals. And nothing against him, but he's not very thorough or concerned at all. I can definately mention a blood panel though, and even if they aren't willing to pay for it, there might be a possiblity of (with their consent of course) our vet coming and doing it when he's out on our farm anyways.

NorthernMama- Omleen 400 is for performance and breeding stock, so it was recommended to us for Bree while she was lactating. She doesn't seem to care for it, and it may be because of the grain products that are in it, as you pointed out.

I feel so terrible. If she still does ulcers (very possible), we're giving her exactly the wrong feed. Does anyone else have experience with horses that have or are prone to ulcers, and what should I feed her so as best to calm them and keep her eating well? Is there a feed specially for this or anything?

And she does have a mineral block, though I don't see her use it much.
---
Everyone in your life is meant to
be in your journey, but not all of
them are meant to stay till the end.
I have a gelding that tends to get ulcers i feed him lots of hay also i give 4 flakes of alfalfa 2 in AM and 2 in PM. I also feed for grain TC serior vet recomended it he tends to get very bone racky in the summer months. If needed i add beetpulp to his feed up to 4 lbs dry weight. Not sure i will do that this summer the price has gone way up on it as it is i pay 20$ dollars a bag for TC senior.
Adding corn oil to her feed might help also, it a good source of fat and will help add weight quickly but safely, she may also be depressed from the separation from her foal.
Thank you so much everyone for the suggestions. I might try the corn oil. Should I keep her on the rice bran?

As for the foal, she actually has little Kenzie tagging along with her, which seems to of made the transitions easier for both Bree and Kenzie. Thats definitely possible though.
---
Everyone in your life is meant to
be in your journey, but not all of
them are meant to stay till the end.
Cmarie thank you for saying it first.
My first thought looking at her was that she looked depressed. It sounds like you're doing your very best for her. You've only had her for 3 months and considering that she just had a foal and was not in the best of health to start with it would only seem natural that she'd be having a hard time bouncing back. The fact that she is a rescue, recently foaled, with developed ulcers and recently lost two of her herd mates is a lot of stress on a horse. From what you describe she's getting vet care, meds for the ulcers and plenty of available food but the problem is she's just isn't eating enough. The free choice grass and alfalfa are excellent ways to treat the ulcer issue but if she won't eat it that's another matter.
Now to the rainbows and unicorns portion of my comment: Is she paired up with another horse out there? Does she have access to her foal? Is there anyone human or horse that is acting as her leader thus relieving her of whatever stress she's feeling? It might do her good to have a job appropriate to her health level. Something to elevate her confidence and state of mind.
Honestly, one look at her and she just looks dead in the eyes. I'd say the blood work is an absolute must but I'm also betting that if you can bring her mind back her body will follow.
yes keep the rice bran and you can put the oil in with it, start out with about a half of cup, if it gives her loose stool cut it by 1/2 and then slowly go up to a cup, I split it up in to 2 feeds 1/2 cup each. I will help with her coat also.
Yes, she has company. We did have her on our 12 acre pasture with seven other horses, but she was getting run off of her food and bullied so we pulled her out. She is now pastured with her old stable mate- Regal, and the little filly that I mentioned. She does not have access to her foal because he was only weaned about a month ago, give or take a little- and is not yet cut because he hasn't dropped. We have him in with an uncle gelding, away from her so that they can't stress eachother out.
As for leadership, while Regal is definitely the pasture alpha, Bree doesn't really have a specific person to assume leadership yet because we're low on volunteers at the moment. The little girl pictured with her really likes her, and I bring her out to groom Bree every few days under supervision, but besides that she doesn't really get much one on one attention from anyone. I would work with her myself, but I've already got my plate full with my green broke driving pony, two year old colt, lesson program, and the orphan filly under my care.
Can you think of a certain 'job' that she may be able to do? I'd let more of the kids come and play with her, but she's still very flighty and reactive to noise, so I didn't want to stress her or jeprodize their safety. Once we have her healthy again, we'll do some preliminary work with her and put her out and up for adoption, but as of right now she's sort of stuck between stages.
ETA: I'm attaching some pictures of her the week that we got her, to show her body condition from then to now. As you can see, there is little to no improvement.
week 1
week 1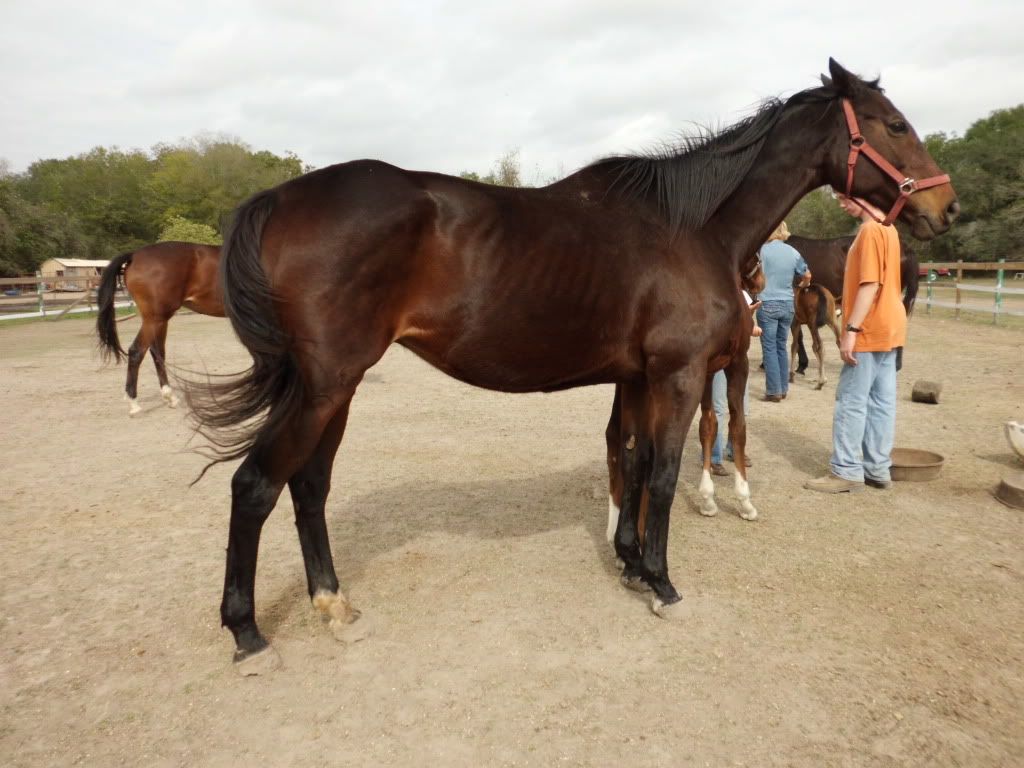 (week 2,pictured with Peppin, her colt) In this picture she actually seems to of improved a bit, but then she turned around and lost the weight again.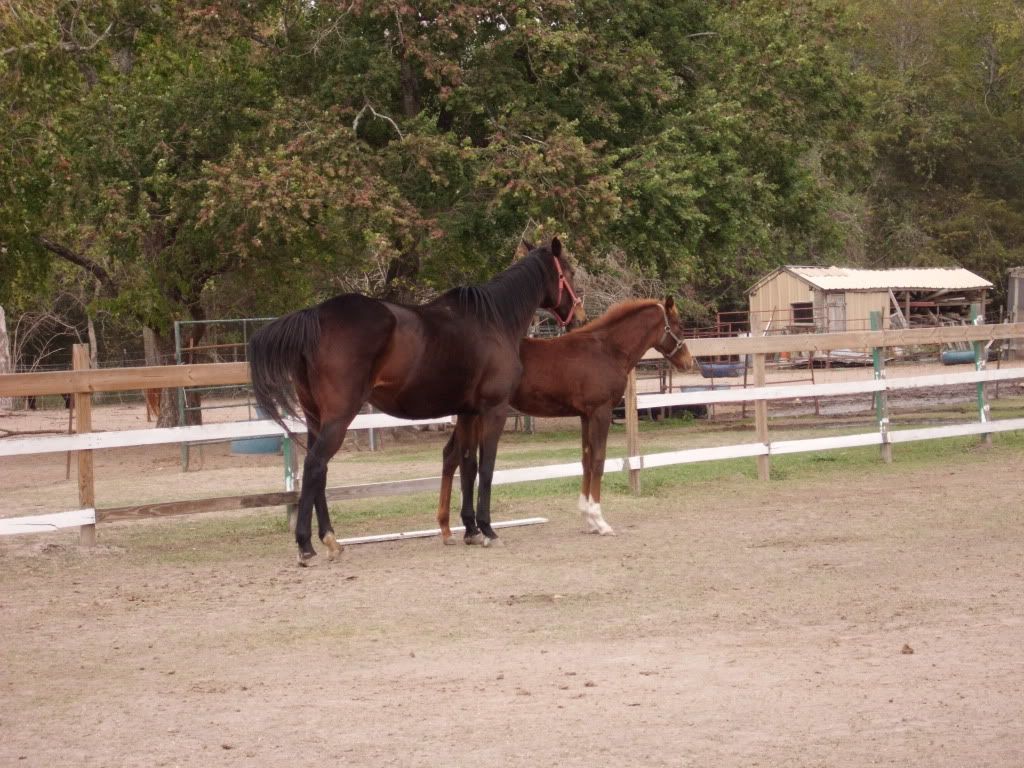 this week, 3 months later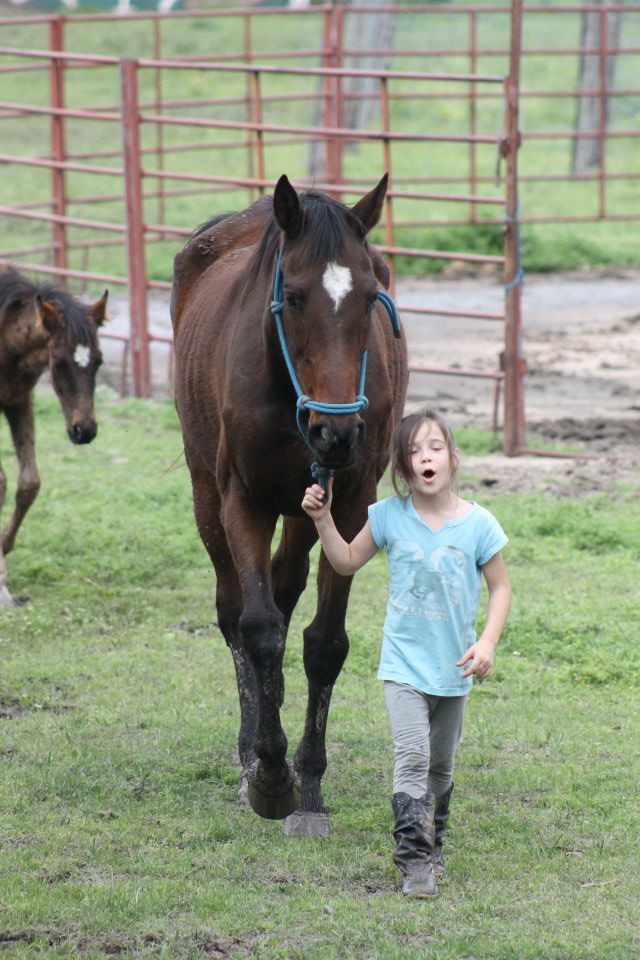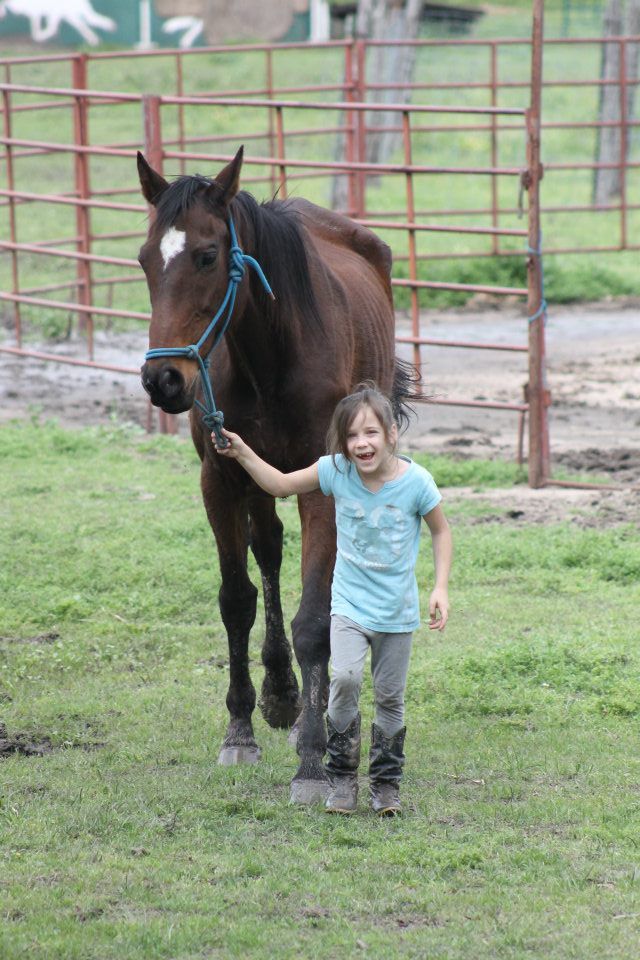 ---
Everyone in your life is meant to
be in your journey, but not all of
them are meant to stay till the end.
---
Last edited by Endiku; 04-01-2012 at

04:17 PM

.