Is my horse fat?
---
Is Mustard fat? Average, could lose a few or fine?
He hasnt been in much work and we dont really feed him(some corn stuff once every few weeks maybe but he only gets a few mouthfuls because his paddock mate pusheshim away), he gets it from the grass I guess lol. :/
Whats your opinion. I took this photo yesterday after after I gave him a good groom, hes nearly lost his full winter coat now
Hes my first horse and I finally bought him fully yesterday -dances-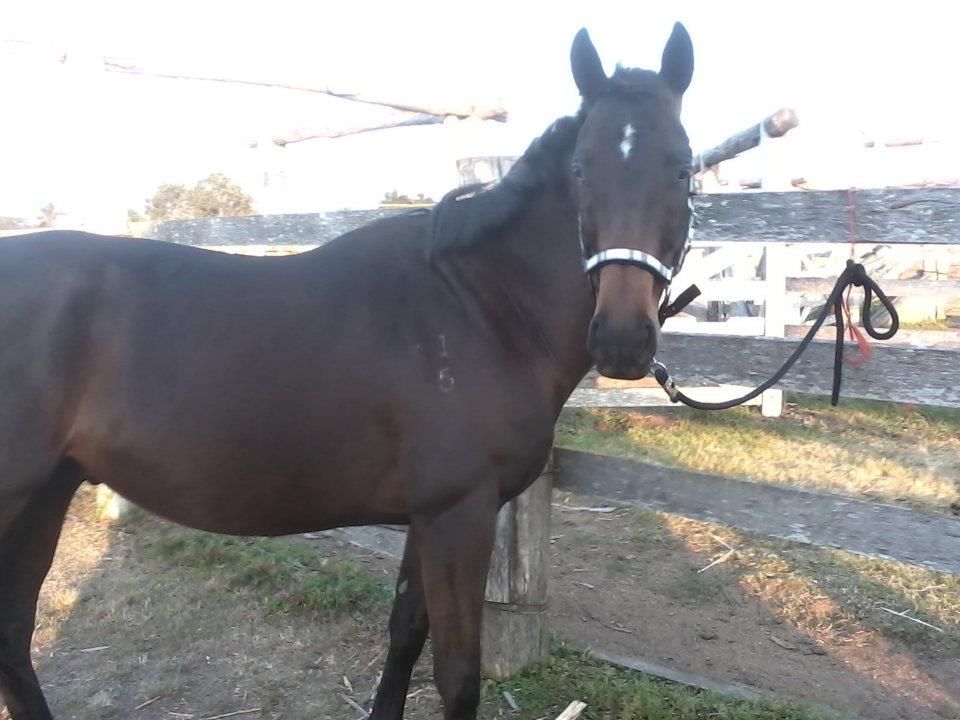 ---
Horseriding- The art of keeping a horse between you and the ground.
I'd say he's average, maybe a little fat... And don't you think you should separate the horses if he can't get to his food, that's a little unfair to him =/
Foal
Join Date: Jul 2011
Location: Beautiful rural NSW, AUSTRALIA
Posts: 163
• Horses:
2
Congrats on owning your first horse
---
Mustard looks pretty healthy to me (and very cute!), maybe a bit on the heavy side but nothing that a bit of exercise wouldn't improve. What do you hope to do with him?
---
No matter what road I travel, I'm going home
and if I'm riding a horse I am halfway there.
Showing
Join Date: Jun 2011
Location: Cariboo, British Columbia
Posts: 11,737
• Horses:
3
Doesn't look like he misses too many meals.
He looks a little on the heavy side but nothing that some groundwork cannot fix. As for feeding him, why dont you segregate him from the herd for feeding. Grass doesnt have enough nutritional value to it for him to be getting what he needs.
---
Your horse is an extension of you.
I think he looks good.
Though, I do like my horses to be a bit on the chunkier side. I figure that it's easier for them to build muscle that way, when they have something to go off of (however, that's completely not scientific, it's a theory I've made up). He does look like he could use some muscle but that'll come in time with work. :)

He's a cutie!
---
Fabio - 13 year old Arabian/Lipizzan gelding

~
Rest peacefully, Lacey.

From that picture he looks to be on the heavy side of good. Nothing I would be too concerned about but I would try to keep him from getting any heavier.
---
All I pay my psychiatrist is cost of feed and hay, and he'll listen to me any day!


Ok thanks, well he has has barely any work for about 3 months but as soon as I get back I will start working him so fingers crossed I can get some good muscle on him.
We dont really feed often and when we do, its only a tiny bit and so we keep the gelding away from him while he eats abit and then leave. The only thing he gets fed is corn that has been crushed up but when he moves to my riding club it may change..depends how well he gos.
I just wasnt sure whether or not he was fat, chunky average or a good weight.
---
Horseriding- The art of keeping a horse between you and the ground.
Could loose a few... But its fine- no action needed yet. And, it may be a good idea to seperate that horses at grain time- when you start working him harder and so when he gets more grain.
---
"Good things come to those who wait… greater things come to those who get off their ass and do anything to make it happen." - Unknown
It does depend on how much you're feeding - a handful or 2 as an occasional treat is very likely fine - but starchy, sugary feeds aren't great for horses & corn is very high starch & also harder to digest than other grain, even crushed. Also if you are feeding more than a small treat, it's important to feed whatever it is little & often, rather than a larger feed only once or twice daily... or less.