Overweight pregnant mare
---
Lots of you know my mare is bred. She's just under 100 days. That's only 3ish months.
She's fat, heavy, obese. (Shhh...don't want her to hear)
I'm concerned about the extra weight of the pregnancy, her weight right now, and do NOT want her to founder. But she gains weight by breathing, I swear! Its uncanny!
Michigan has a horrible drought going on. We have no pasture. Its either dirt, or dead.
She gets approximately 2-3 flakes of hay a day. (Off of a 50/60 pounds square bale.) 1 cup of grain just because I feel bad graining my other horses and not her.
She's mostly on pasture, comes into her stall when its super hot, humid, sunny or when we haul to a show.
I had limited her exercise until now because we got off to a rough start in her pregnancy. Her cervix wasn't closed all the way and I wanted to be sure she would not abort when being ridden/worked with. I was very over protective.
Now, he cervix is closed, she's in good health and after she gets her 3 month shot, I'll be able to take her to shows. Which means, lots or riding and exercise. She's started on lunging, but it hasn't been long enough to see results. I try for 20 minutes a day right now.
Am i overreacting about her weight right now?
What else can I do to drop her weight?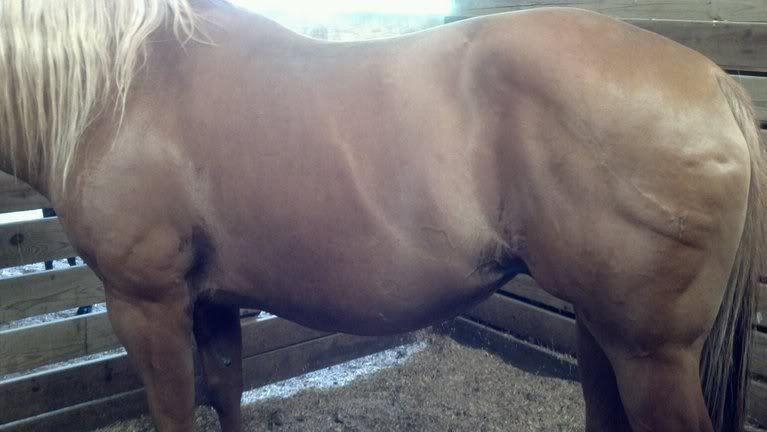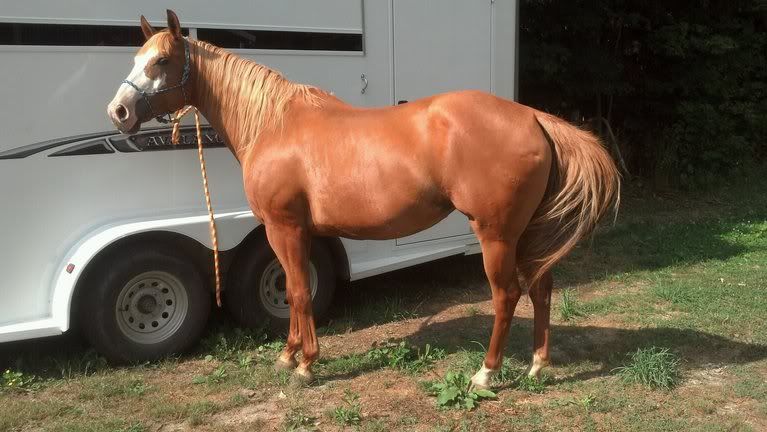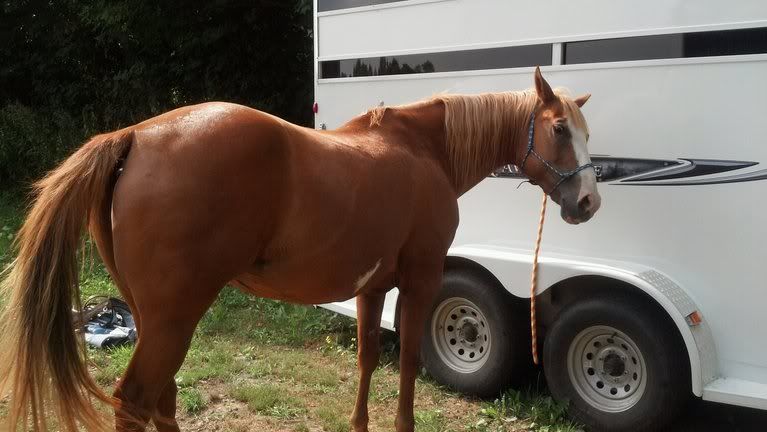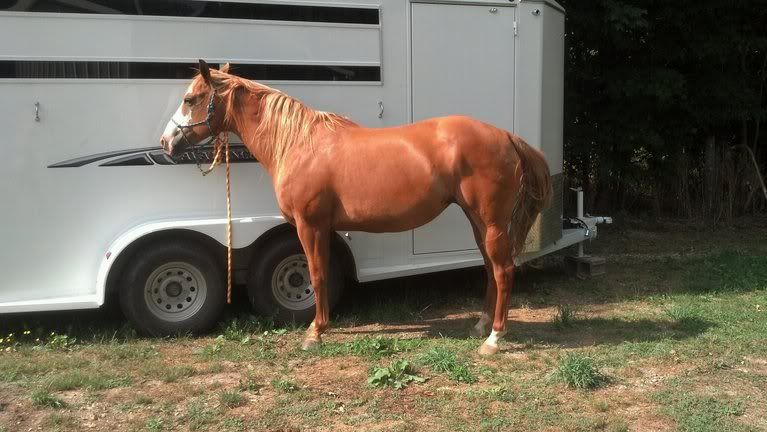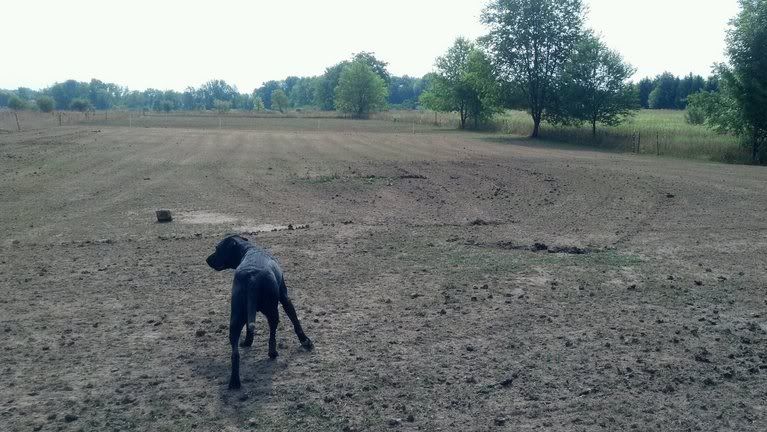 ---
"The greatest pleasure of a dog is that you may make a fool of yourself with
him and not only will he not scold you, but he will make a fool of himself too."
-Samuel Butler
---
Last edited by CLaPorte432; 07-22-2012 at

10:57 AM

.
Honestly, ive seen fatter horses lol she's not that bad. If you are worried, make sure you are feeding her just straight grass hay with nothing high in calories (no alfalfa or timothy). A horse should typically have about 2 pounds of hay for ever 100 pounds body weight (about 20-25 pounds for the average horse). And dont worry about increasing feed because she is pregnant. She should only require this in her 3rd trimester.
---
"If a horse fails to do something that is because he was not trained to do it. If a horse fails to do something properly that is because he was not trained properly."
www.wildestheartart.com
Quote:
1 cup of grain just because I feel bad graining my other horses and not her.

An easy change might be replacing that grain with a cup of hay pellets or a ration balancer.
My Lacey is a fatty, as you are probably aware, and if I give her any grain at all she gains SO much weight. In her case, just switching the grain to something else (I have her on Enrich 32, a ration balancer, which really seems to help) encourages her to stay much less fat.
And I still get to feel like I'm feeding her something "special" and she's not left out at feeding time.
That being said, she's not toooo bad off in those pictures. If she gains from the point she's at now, then she'd need to loose some weight. At this point though, heading back into work, I think she's more ok than she's not. :)
---
Fabio - 13 year old Arabian/Lipizzan gelding

~
Rest peacefully, Lacey.

Weanling
Join Date: Apr 2010
Location: Somewhere on Vancouver Island
Posts: 601
• Horses: 0
I had a mare that was way fatter than that and I just kept her food intake to 20 lbs for her entire pregnancy even during the last trimester......I made my mare pull from her fat stores to carry the pregnancy.....this is what they do in the wild.....feed on grass all summer and then use those stores through the winter.......just make sure she is getting a mineral and or protein supplement.

Super Nova
I agree- she's overweight, but not horribly so. I wouldn't go any lower with the feed than you are already since your pasture is now a dry lot
Once you're able to exercise her, she'll hopefully drop a little of that weight.
The only thing I would recommend is adding a vitamin. I think it's a good idea for all horses who aren't getting the recommended amount of a complete feed, but especially so for your horse since she is preggers. SmartPak has some very good ones to choose from in their SmartVite line:
SmartPak
The SmartVites are pelleted, so you could feed that instead of the cup of grain, or you could swap out the grain for grass pellets if you still want to give her a little more bulk to much on.
If your mare is fat, then every horse I own is obese. I do not like boney looking horses. Just take her out and ride her to convert the fat to muscle and she'll look great.
---
Agreed with the above.

Chilly might be on the fluffy side but thats where I tend to keep mine. She'll loose weight in her third trimester and while nursing a foal. Just because shes an easy keeper now don't forget to up her feed accordingly when she HAS the baby. My mare Molly was a super easy keeper, 4 flakes a day and a handful of grain. I didn't up her feed quick enough when Image was born and she lost quite a bit of weight. First time baby mistakes.

I think I'd keep her feed right where its at for now and just incorporate some riding in. She'll muscle up a bit more.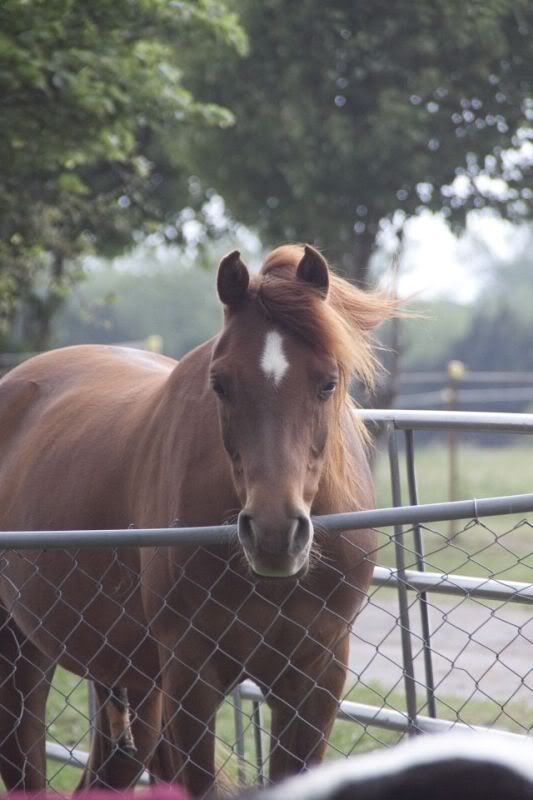 j
Even by my 'fluffy' standards this boy is fat. Nickname: Round Boy
He's now under saddle with a new owner and looks much fitter but I don't have a new pic.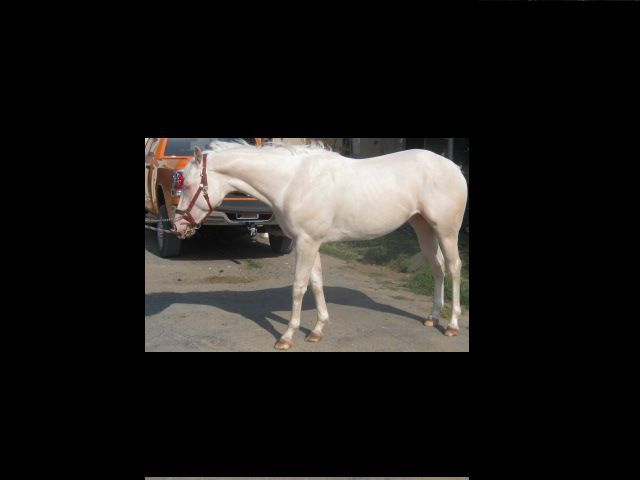 This is my 2 y.o. stallion and he's having a growth spurt here. To me, he needs about 100 lbs., though some would say he's fine. He's a halter bred QH that's learning Western Pleasure, so he'll be muscling up and gaining substance as he gets older.
This is my 5 y.o. stallion right after US Nationals, he's just about perfect here.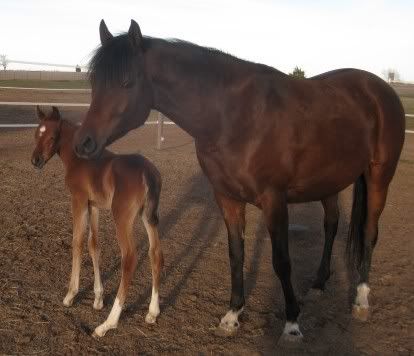 Here's one of my broodies with a day old foal at side. Your horse isn't fat, she's about right for a mare who will be dropping a 100 lbs at birth and then supplying a foal's total nutrition for the first 3 months.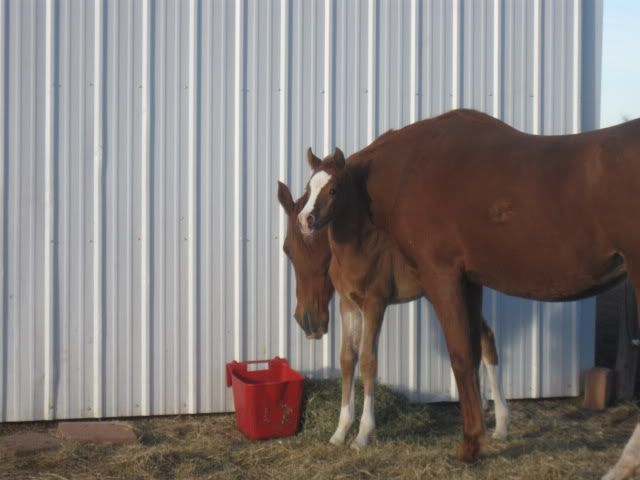 Here's another with her 2 week old colt at side. I really don't like my mares to get drawn down by nursing their foals, so I try to put a few extra pounds on them as soon as they start building their bag. Then, I feed them 12-15 lbs per day of Omolene 300 when that baby hits the ground and I keep them on that til weaning.
---
It's better for a broodmare to be on the heavy side. If we want a normal working horse to be 4-5/9, broodies need to be at 6-7/9. That's not even just personal opinion, as the studies they've done at large breeding farms shows that mares that are on the heavier side (not obese) have fewer complications, and both they and their foals have and maintain better weight and growth. She looks great to me for a mama, and I tend to prefer my critters on the lean side. :) Just make sure she stays fit too, which it sounds like you will.
^^^^ I agree...she looks like a stocky, big barreled horse. Before thinking she's too heavy use a body scoring system to evaluate her.
Posted via Mobile Device