Quote:
Originally Posted by
DriftingShadow
View Post
Ok.....he looks a lot like Gigi when I got her back from the idiot who starved her. She gained her weight back fairly rapidly and here's how I did it. Fly it by your vet and see what he thinks.
Ivermectin for a 500 lb horse, day 1
Ivermectin for a 750 lb horse, day 8
Quest Plus for the proper weight, day 30
I did all that to clear out any worms. If he's still looking wormy after that, then about day 45 I'd start a Power Pac with the vet's permission.
For feed:
Free choice grass hay 24/7 (I swear, she didn't even look UP for 3 weeks)
Strategy for a 500 lb horse (1/2% of body weight, so...2.5 lbs for 7 days)
Ultium 1/2 lb for 7 days
Amplify 1/2 lb for 7 days
1 oz fine white stock salt
I fed 2X/day, so 1.25 lbs Strategy, 1/4 lb Ultium, 1/4 lb Amplify each feeding.
Week 2, double the amounts of everything
Week 3, start feeding the Strategy for where you want him to end up (if you want him at 1200 lbs, so 1/2% body weight, 6 lbs, 3lbs/feeding or 2lbs/3X/day), double the Ultium & Amplify.
Week 4, maintain the Strategy or even increase it to just above where you want him to end up (say 1500 lbs, so 7 lbs or 3.5/feeding or 2.5 lbs 3X/day) and double the Ultium & Amplify again. (By now, you should be at 2 lbs Ultium & 2 lbs Amplify or you can use 4 lbs Ultium if you don't want to get the Amplify for some reason).
He should be obviously picking up weight by now and looking good and starting to shine.
Gigi Healthy before I sold her: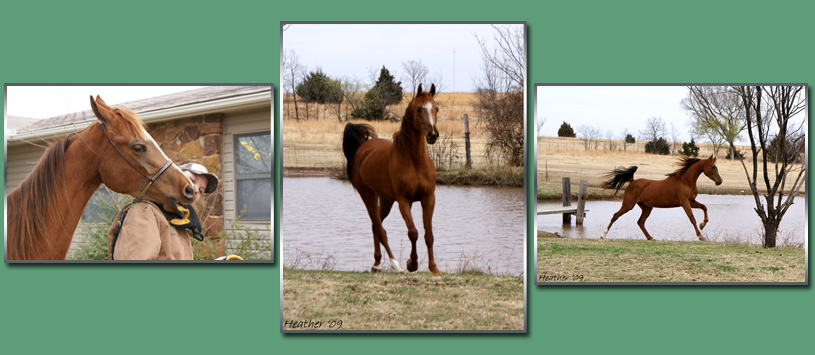 The picture that clued me in to the idiot starving her: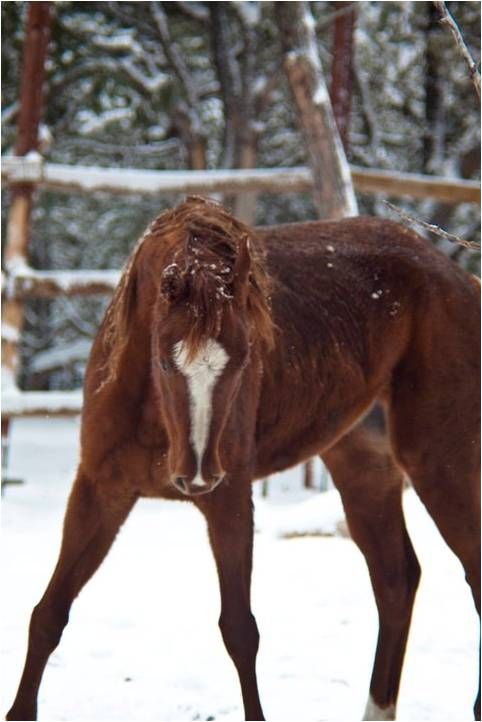 She sent me this pic to show me how WELL Gigi was doing.........
Gigi a month after I went and got her: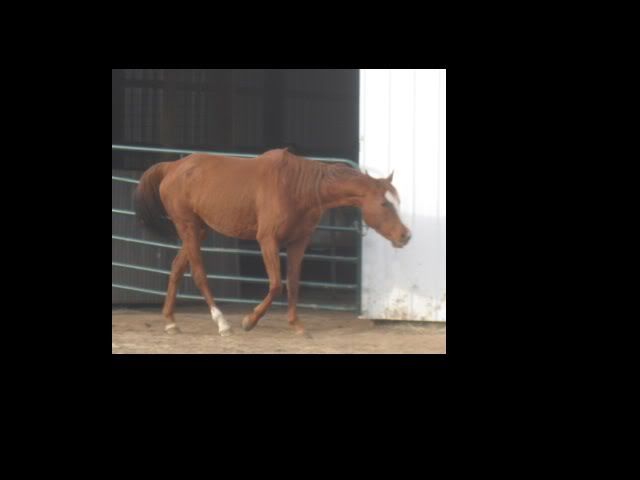 She looked so bad when I got her that I refused to take pics. I didn't want to be reminded.
Gigi after 2 months: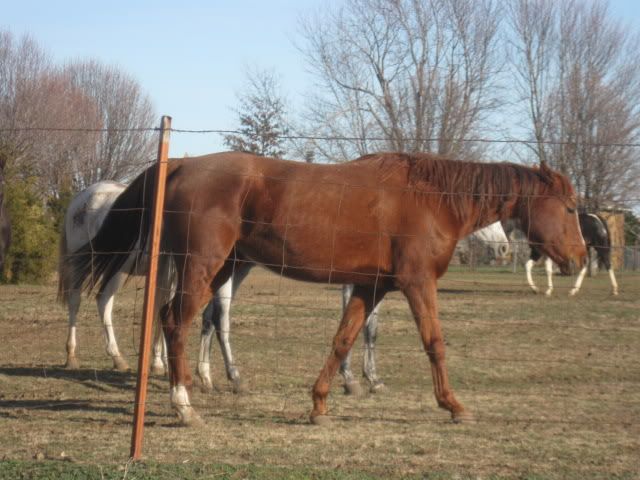 You can see the shine is starting to come up in her coat: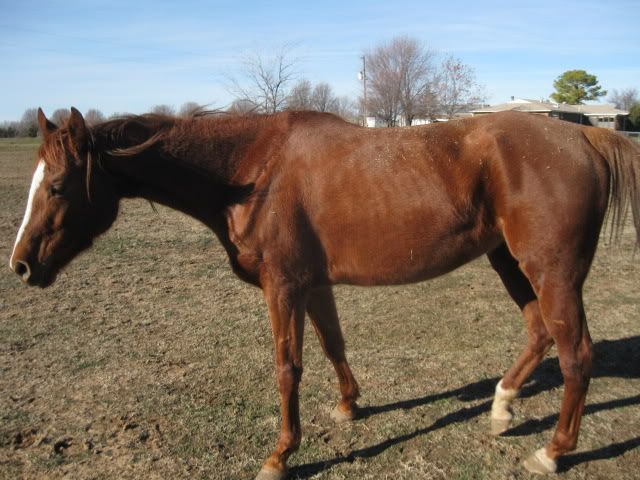 Gigi after 3 months: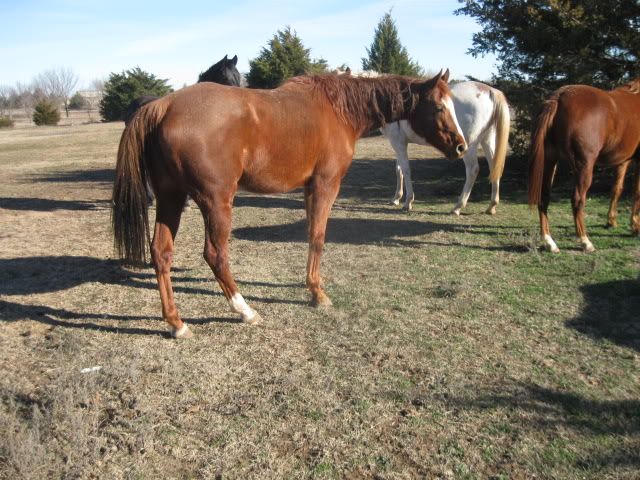 I kept her blanketed/sheeted until the 3rd month when I couldn't see anymore hip/rib/spine/withers so prominent. I kept her separate and fed her separate for 2 months. Once she went back out into the herd, I brought her in to feed her the concentrates but let her graze with everyone else. After the 4th month, she was pretty much back to her usually sassy, bossy self and I let her go out to pasture with everyone else, once she was back to eating a normal bucket and could finish in the same amount of time as the other horses.
---
Ok so haven't been on in few days he does look much better but as someone above just commented his coat does look a bit dull :(
now i've a question on the alfalfa pellets are they the same as beet pulp i;m in ireland never heard of them !
Desert- He was recently wormed with Zimecterin Gold. I spoke to the ambulatory vet last night about the possibility of hindgut acidosis, and she told me that is only in horses who have been on NSAIDs for prolonged periods. She was kind of a witch and not very helpful, so I am going to bring it up with my actual vet as soon as he gets back into town.

GreenbackJack-
the reason the bulling aspect changed was because at first I thought nothing had changed in the herd dynamics. No new horses have been introduced into his old herd in quite a while. However, Drifter had struck up quite a friendship with a gelding in his herd who was moved away in November. This gelding was high on the totem pole, and the more I began to observe Drifter interacting in the herd per my vet's instructions, the more I saw that without that particular gelding to protect him, Drifter was being bullied by one particular horse a LOT. Every time Drifter got within 10 feet of him, this horse would run him off from the group. He still had a few horses who wanted his attention and who followed him around, but he seemed very uninterested in them. Which is making me think about your idea of depression. Blaze (Drifter's friend who moved) moved away in November. About the time the weight loss started. Could losing a friend cause all of this? He has other horsey friends now, but no one he is as close to as he was with Blaze. Blaze's owner actually came to ride at the farm today and Drifter went nuts as soon as he saw him. His owner was unloading him by Drifter's paddock and they started calling to each other immediately. Drifter was snaking his head, running around his paddock and bucking. He was obviously very happy. Now if something like that IS the reason for his weight loss, what can I do? I cannot move him to follow Blaze. As far as his personality goes, he was VERY depressed and lethargic when I first started consulting my vet. He is still not back to 100 percent but he is actually running and playing and excited to go on trail rides again.

As far as his backstory goes- I bought him from a woman I worked with as a grade horse and did some research into his brand. I tracked him through 5 owners until I finally contacted his breeder. They had lost him in a bad sell. I was his 7th owner up to that point, so I thought they had lost him a few years back but I was told it had only been since the summer before (So about a year and a half). They sent me his papers and I have stayed in contact with them since. He was actually about a good 150 pounds thinner than he was this year when I bought him from the woman I worked with. She had fed him all stock and had said if she fed him too much he was too much for her daughter to handle (I won't get into that . I've made my peace with it. But that infuriated me!!). I got him started on strategy and turned him out for a month on free graze pasture. The one big difference I've noticed between him then and him now..is last year he acted like he was starving. Head always down into the food, no time for anything else. He didnt have time to be picky. Anything you set in front of him was fair game. Even in the pasture he didn't want to play, he just wanted to eat. Now he can't really decide if he wants to eat or not. It takes him FOREVER to eat his food, and sometimes he decides that the stuff he loved yesterday just doesn't taste that great anymore. He has turned into an extremely picky eater. He has never been much a of a huge attention asker or an in your face for a scratch type of horse, but he has become more clingy towards me these last few months. I wonder if it is all because he is missing his friend.
Sorry for the double post but trying to think of other reasons he could be "depressed".
He was currently in jumping and xc training which he LOVED. However, when he started dropping weight I pulled him from that and kept him to trail rides only and then nothing because I didn't want to be exercising him while he was dropping weight so fast. He has always been the type of horse who likes his "job", so if he WAS sad about his friend moving away I might have just made it worse. Poor guy probably felt like his whole world went topsy turvy. We went on a trail ride last Saturday and I was trying to keep him at a walk and a trot and it was a battle the entire time. We were trail riding around the cross country course and he could just not figure out why we weren't doing something more exciting. We jigged the entire ride, and at one point cantered in place. Did you know its possible to try and stretch a collected canter into a 4 beat gait? Drifter apparently did!
And his coat being so dull..I forgot to address that! My phone actually takes really crappy pictures. His coat is still not fantastic- but it is looking better and there is definite improvement. Here is a picture of us from our ride Saturday, and a picture of him today that my friend took while she was checking up on him for me.
meanddrifter.jpg
drifter.jpg
It sounds like he needs something in his diet, and maybe a new horse buddy? What's his turnout situation like right now?
---
"Strength is the ability to use a muscle without tension"

He's out 24/7 in a private paddock/pasture with a large pony. This has been the case since this past Saturday. They seem to be getting along great. I watched them this morning chasing each other around with Drifter's jolly ball and rolling together. He seems to enjoy being outside with Cody (the pony) but he isn't head over heels about him like he was/is with Blaze. Cody is definitely the boss, but he is not a bully.
I'm glad he at least has a pasture friend :)
---
"Strength is the ability to use a muscle without tension"

I had changed barns, but the BO at said new barn determined she wanted to get out of the boarding world. Why she couldnt have decided that BEFORE she told me she had open spots is beyond me. As such, we are back at our original barn and my BO has acknowledged my complaints about the awful hay in the pasture.
Another horsey friend is being moved back this Friday. I am hoping that him being back will also lift Drifter's sprits. Drifter, Blaze and Mac (the horse returning at the end of the week) were a trio. Both left within 2 weeks of one another last November. So my hope is maybe the weight loss is indeed a depression issue, and maybe Mac's return will help that.
And Greenback--looking at pictures from right before this all started (when both mac and blaze were still around) he does seem a lot happier and a LOT healthier.
Blaze's new barn is not too far from ours. Would weekly scheduled rides with him perhaps perk his spirits up? I have never thought of this issue before so I am little unsure how to go about it. I will feel awful if that has been the reason behind his weight loss this whole time
It all fits however. I started taking notes when I first noticed him dropping weight, and it was about 2 weeks after both mac and blaze were gone. Up until those 2 weeks he looked as he does in the following pictures. I never would have thought of this. It will be interesting if it turns out to be the real cause
1.jpg
2.jpg
3.jpg
4.jpg
5.jpg
He lost his buddies, who were his morale support, at the beginning of winter, with insufficient roughage and was under lots of stress from changing herd dynamics. Ulcers or hindgut acidosis find this the right environment to strike.
So, enough good hay, several small servings of his Strategy, maybe my favourite supplement Omega Horseshine, for a little while, until he can get fresh grass, and then again during winter, and one of his buddies back, and he should be fine. I wouldn't let him see his bestie once a week. The separation will stress him all over again.