Snobby pony won't eat her hay
---
So we just got our Gypsy mare Lily in a couple days ago. She seems happy here. However, she will NOT eat the hay we got. I don't why. She came from CA and from what I would assume to be a nice stable so maybe our TN hay isn't good enough. She LOVES our grass and of course the feed, but hay might as well not even exist to her. We're going to get some pure alfalfa and mix in and see if that helps. Any other ideas? Thanks!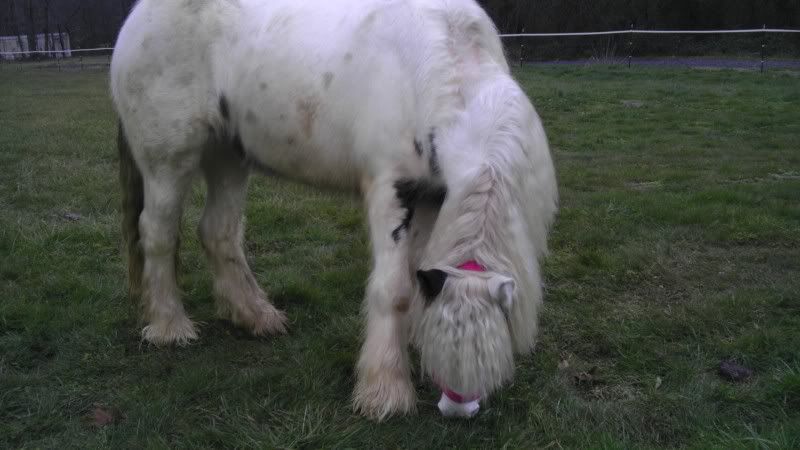 Depending on what part of CA she came from she may never had had grass & thinks it is a treat. If she were really hungry & had no grass as an option I'm sure she would eat the hay. My horses would rather eat good grass than hay.

If she's not used to grass I would limit her access to it.
She sure is hairy.
Should I have her in her stall more? She is stalled at night. We were going to keep her in when it was wet out to save the field, but that was when I thought I was going to be able to work with her more. Right now I weigh too much to ride her. So I didn't want her to be shut in too much, but I don't really know what constitutes too much as before I only had pasture horses.
No, I wouldn't stall her more than overnight, but you could use a grazing muzzle which is what I would do.
---
"Good things come to those who wait… greater things come to those who get off their ass and do anything to make it happen." - Unknown
Oh, a grazing muzzle is a great idea!
Hi my fellow Tennesseean! She is gorgeous, and looks like a little fuzzy alpaca, hehe.
lol Thank you, RedBlaze! I posted this photo on Facebook and said the exact same thing! Said she looked like an alpaca! Haha!
I am also for a grazing muzzle as she looks to be a bit on the "chubby-bubby" side:)

How old she? Meaning does she have all her molars? My Arab got to be a real fuss-budget after he lost all his molars. He can't eat stemmy hay. I have to feed him "the fluffies" at the bottom of the wheel barrow and sort thru the flakes for the least stemmy sections.

I lived in SoCal for five years. The hay of choice out there was straight alfalfa and coastal bermuda second. They can't raise timothy, so a bale of timothy or timothy/mixed cost triple what alfalfa or bermuda cost.

I fed coastal bermuda for five years and never had a problem with it.

What you might try is Standlees baled hay at Tractor Supply.

Don't get those other two brands whose names I can't think of right now (one is by a well known NH trainer). They have all kinds of additives in them, including molasses! That little Cutie does not need molasses.

You could also put her on a ration balancer so she can still get all her vitamins without eating the grain she doesn't need:))

I am gently trying to say that she looks to be headed for metabolic issues if her precious self doesn't lose a pound or two (or 50) :)

Hope this helps:)
She's 2, turning 3 this spring. As far as Gypsy Horses goes, I think she looks alright weight wise. I wouldn't want to work too much weight off of her. Over this next year she should be filling out and maybe then she won't look like such a butterball in her pics. We're stopping by Tractor Supply tonight to pick up hay and I'm hoping they have a height/weight tape there so I can keep track of her weight.
Maybe I should do some crash dieting of my own so I can at least get low enough quickly to start working her in the field. That will put some of her calories to use, as well.
Wow, I went from being worried about getting her nutrients and ruining my field to being scared that she is going to founder or explode. :( So glad the vet is coming out tomorrow.
speaking from someone who lived out in Utah the last five years. There is a HUGE difference between hay in the west and hay in the midwest. Hay in the west is PERFECT. It is watered... and is nearly almost always STRAIGHT alfalfa. It is sold by the ton bc bales are huge. the last shipment we bought before we moved back to Ohio the bales were 150 lbs a piece of nice beautiful alfalfa. So you trying to feed her a plain grass hay just might not be to her liking. If you have grass available and she is eating them and wont touch the hay... it could be because the grass is plentiful enough that she is not hungry for the hay.

OR she might just not care for it :) getting in some straight alfalfa will tell you what is going on