I've had great results so far with rice bran pellets and oil. I saw noticeable difference in my gelding within just a week after feeding him beet pulp for a couple months. I definitely prefer rice bran over beet pulp.
---
There on the tips of fair fresh flowers feedeth he; How joyous his neigh,
there in the midst of sacred pollen hidden, all hidden he; how joyous his neigh
thank you! :) im going to go pick some up tomorrow
A quart is a volume, not a weight. That's why I said, weigh one serving.
Regardless, several small meals, the alfalfa, after her getting used to it, I'd say even free choice, and about 2 lbs of rice bran should get her better pretty rapidly.
Any changes in feedstuffs you need to make slowly, over about 10 days, otherwise you could end up with a case of colic on top of her other problems.
I have before and after pics of my mare Snipper in my album here. Between the pics is one month. She gained with half alfalfa, half oat hay, free choice and 3 lbs daily of a senior feed.
Sure, she wasn't pregnant and not as far below weight as yours, but she is 16.
- DOUBLE POST -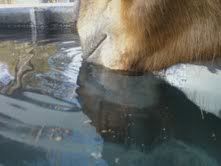 To fill this void, here's a picture of Mudpie enjoying his dinner! :)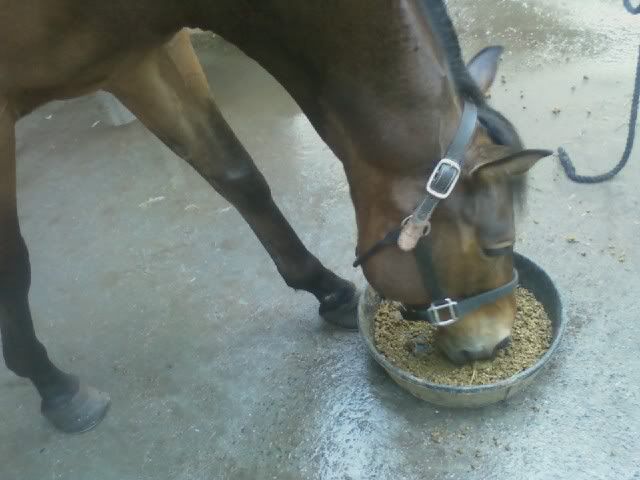 ---
The hills were bathed in moonlight, the shadows not so stark;
Silver light reflected off his brown hide as he held me in the dark
– I love you, Mudpie!
---
Last edited by mudpie; 09-19-2012 at

08:16 PM

.
I think that you should be upping the quality of nutrition that she's receiving. As it is now, it sounds like you're feeding her "a flake" of hay twice a day, and a "scoop" of grain. You need to be feeding by weight, not volume. I understand that this can be confusing, so here are 10 basic rules of feeding:
Quote:
1. Feed little, often
2. Feed plenty of forage
3. Don't make sudden changes to a horse's diet
4. Feed according to work, temperature, and living conditions
5. Keep feed buckets and scoops clean
6. Provide a clean fresh water supply at all times
7. Don't work a horse right after feeding it
8. Feed each horse as an individual
9. Feed at the same time every day
10. Always have a salt source available
So first and foremost, you need to understand a bit about nutrition. I'll start there.
There should be at least two parts to your horse's diet: roughage and concentrate. Your horse's diet should consist primarily of roughage, which is all hay, grass, etc. It's important that they're receiving at least 1-2% of their body weight in roughage. Concentrates will be your grains, oats, and, well, concentrated feeds. Concentrates can be extremely beneficial, but it's important to feed according to directions. For example, if you're feeding Equine Senior and you're only feeding one scoop (approx. 2-3 lbs) per feeding, but the directions say you need to be feeding 10 lbs per feeding, then your horse is NOT getting the sufficient amount of nutrients.
There are several ways of measuring feed, including a feed scale. The easiest way, however, is to use a standard bathroom scale. You stand on it and weigh yourself, and then take the feed and stand on it with it. If you're using a bucket to measure this feed, then weigh yourself with the empty bucket, etc. You should be doing this every feeding, especially with hay, because the weight of a flake will vary so much bale-to-bale. How much you feed should depend on your horse's weight and the amount of work that they're doing. Because she's pregnant, she will need more feed than average.
Alfalfa, and other green, leafy roughages are very important to the horse's diet. They're the primary source of Vitamin A, without which your horse could develop many extreme health issues. Some people believe that alfalfa makes their horses "hot," which is not necessarily true, but you'll have to form those opinions on your own, I suppose... Anyways, it may be a good idea to feed a mixture of both grass and alfalfa hays. Alfalfa tends to keep the weight on Mudpie, my very hard keeper. Mudpie consumes 13 lbs of alfalfa per meal.
As for concentrates, I'd recommend trying a bit of a combination. Look into feed for lactating mares and foals, like the ones manufactured by
Triple Crown
,
Purina
,
Nutrena
,
Legends
, or
LMF
. Feed according to the directions on each of these. These are NOT replacements for your standard feeds, but would be a good addition to support her. Rolled oats, barley, and other grains are also good options.
An especially good idea for you would to feed beet pulp and/or wheat bran. You soak these feeds, and feed them wet. Pelleted rice bran is also a really great idea. Bulky feeds are a GOOD thing, and you'll want to feed lots.
ALL of this should be fed by weight, not volume. When I say that, I mean, for example, 3 pounds, not one scoop.
Even though she's not too far along in her pregnancy, you're going to want to build her up as much as is possible. Pregnancy takes a lot, and, especially as she progresses, you need to start feeding for two – because, fundamentally, that's exactly what you're doing.
The next subject I'd like to cover would be supplements. Because she's both underweight and pregnant, there's going to be a lot of essential nutrients that she's lacking, or needs more of. The kinds of supplements I'd recommend would be overall-health supplements, broodmare supplements, etc. When feeding anything to a pregnant mare, you need to make sure that it's safe for her. Some supplements may not be safe for such purposes, so it's important to make sure that it's approved. I don't know what her issues are right now, or where she needs extra support, but I would recommend
SmartOmega 3
, which has miraculously improved Mudpie's coat and overall health, in only 28 days! It's a good product for their wellness, and I was absolutely floored by the results. Another good choice may be
Mare Plus
, to the extent of supporting her through gestation and lactation.
It's also important to make sure that she's got a salt source. Some people add electrolytes to their horse's feed, but as long as she's got a block available at all times, as well as fresh, clean water, that will be absolutely fine. Give her the opportunity to have both a mineral lick and a plain white salt lick, so that she may pick and choose. They'll manage themselves pretty well. If you find that she's biting off big chunks, or that the blocks are melting in rain, try a
Himalayan Salt Block
. They don't dissolve in the rain, and your horse can't bite off big chunks (which can cause choke). Mudpie loves them, and gets all the salt he needs from them. At first, he went through them extremely fast, but now they last longer for him, and he still gets all the salt he needs.
Next, you're going want to make sure that she's on a rotational dewormer schedule, involving dewormers approved for pregnant mares. You'll still want the variation, but it's important. A pretty typical schedule is once every 3 months. It's extremely important to keep the mare thoroughly dewormed. Not only is being wormy bad for her, it can kill the foal before it even has a chance.
Also, you'll want to make sure that she's properly vaccinated, and talk to your vet about the vaccinations she'll need throughout pregnancy. In addition, regular vet checks will be important.
Assuming that she's an "average" horse, who weighs anywhere from 900-1000 pounds, here's a very viable feed schedule:
Quote:
A.M.

Roughage:
12 lbs Alfalfa/grass mix

Concentrates:
3 lbs Pelleted Rice Bran
8 lbs LMF Development


P.M.

Roughage:
12 lbs Alfalfa/grass mix
6 lbs Oat hay

Concentrates:
5 lbs Wheat Bran, soaked
5 lbs Beet Pulp, soaked
1/2 lb Rolled oats

Supplements:
1 scoop Mare Plus
1 scoop SmartOmega 3

Salt Source:
Himalayan Salt Lick, free choice
Now, I don't know how much this horse actually weighs, or what her specific needs are, but that is a good start to what her diet may need. A big thing I'd like to express to you is that you need to feed each horse as an individual. Each horse has unique nutritional needs, so one blanket feeding style just won't cut it.
:) Keep us updated!
---
The hills were bathed in moonlight, the shadows not so stark;
Silver light reflected off his brown hide as he held me in the dark
– I love you, Mudpie!
If you add in beet pulp or ricebran, I would mix them in with feed you already know she likes, just in case she doesn't happen to like the new feed.

The first thing I would do is switch her to an alfalfa mix hay, and feed her as much as she will clean up. To do this you add one flake per feeding to what she is getting now, so instead of two flakes, she'd get three at each feeding for a few days, then up it to four, etc. and continue doing so until she stops cleaning it all up, then back off by a flake so you're not wasting it. If you have a hanging scale you can hang a muck bucket with a rope handle from it to weigh your hay so you know how much she is eating and increase by a couple of pounds at a feeding, adding more every couple of days until she quits cleaning it up.

It sounds like your scoop is about the same size as mine, and the average weight of feed in this scoop is 2.5 lbs, but your feed store is almost sure to have a scale, so measure one full scoop into a gallon ziplock bag and take it to the feed store and have them weigh it if you don't have your own scale. Do this for each type of feed you are feeding, that way you will know exactly how much you are giving her, and can adjust accordingly.
Mudpie, you have way too much time
The ration you suggested....sorry, but there's now way a horse can consume all of that.
Unless you mean everything "soaked" wet weight?
Still, I'd leave out the bran, period. A good mare&foal feed, given by weight recommendation, should have all necessary Vitamins and minerals in it. Himalaya saltlick definitely yes. Rice bran yes. Any omega supplement, yes.
For gaining weight NOW, I'd even suggest a good senior feed, like Nutrena Life Design Senior. Up to 9th months pregnancy, then switch to a Mare&foal, again Nutrena Life Design Mare&Foal.
I actually just got done dealing with this situation. The mare i got was about 300 lbs under weight at 6 months pregnant. I had her on 3 scoops 2x a day of life design mare and foal, 2 flakes of alfalfa 2x a day, unlimited grass, and put her on amplify. By the time the baby was born she looked pretty good. But the baby started dragging her down real fast. We ended up weaning him at 3 months. Now the first week with the baby, was not fun. His first day he seemed fine. Normal temp, nursing, perfectly normal baby. Day 2 he went down hill! We almost lost him. Had the vet out for hours. She had to do a belly tap to release gas. He wasnt pooping so we had to give him enemas every Hour. And we had to keep him sedated for the day and given rompin (sp?) orally for 3 nights. I slept in the barn, in the stall for 3 days. He was on penicilin 2x a day and the vet came out and gave him genicin once a day. Poor boy was getting 3 shots a day for the first week of his life. But he is alive and well no.
Posted via Mobile Device
And didnt want to be the negative one and scare you. But just letting you know what you may be facing. To give you a heads up. I do hope you do not have to go through what i did. And hope that the mare and foal dont either. I wish all involved the very best of luck!
Posted via Mobile Device
Colt foals are generally more prone to these problems regardless of what state momma was in. And even fillies can get it. Mine did. Momma always well fed. She needed 7 enemas, and who knows what else the vet pumped in her.
Foaling is a risk. Usually it all goes well. But if something happens its a major thing.
Posted via Mobile Device