Love seeing all these beauties!
Posted via Mobile Device
We are now strictly pleasure/trail riders. Our horses are out in the pasture 24x7, have a free choice round bale always available, mineral block, and get a 14% protein pellet feed from Southern States Co-Op
SouthernStates.com: Southern States Solution Pelleted Horse Feed 50lb - Southern States Cooperative
All our horses are APHA Paints.
Lead mare/trail horse/penner, 20 year old "Angel"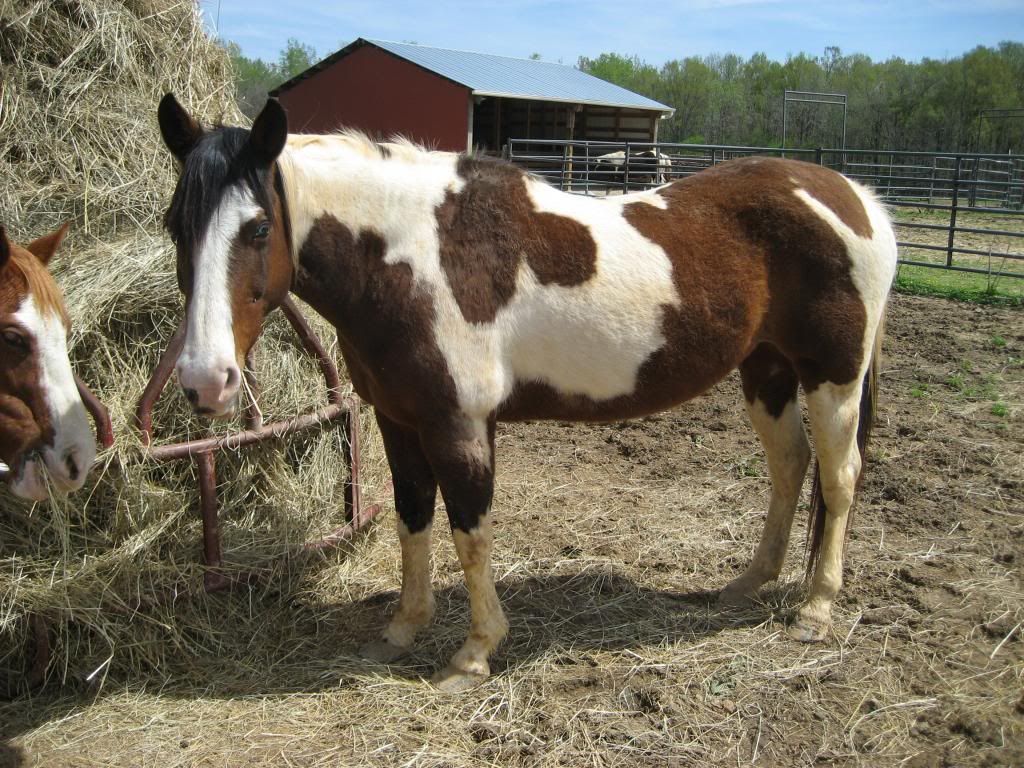 Boss/broodmare mare, previously shown in halter, 19 year old "Mandy"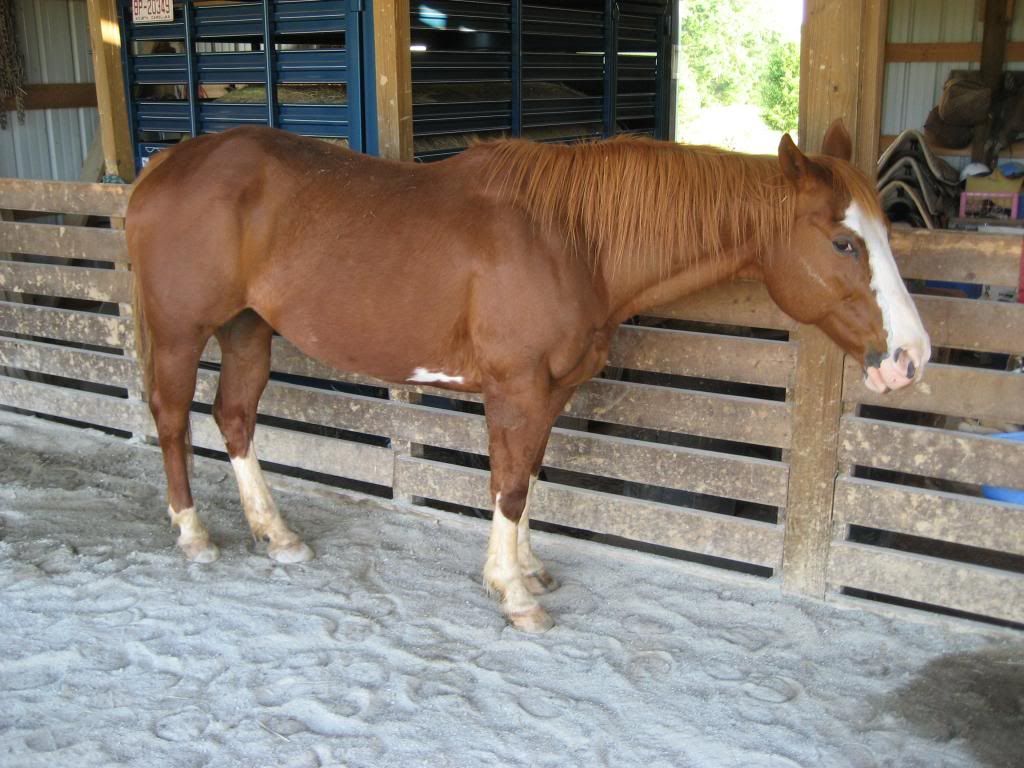 Trail horse, out of "Mandy", 12 year old "Lady" and her 1 year old colt, "Buckshot"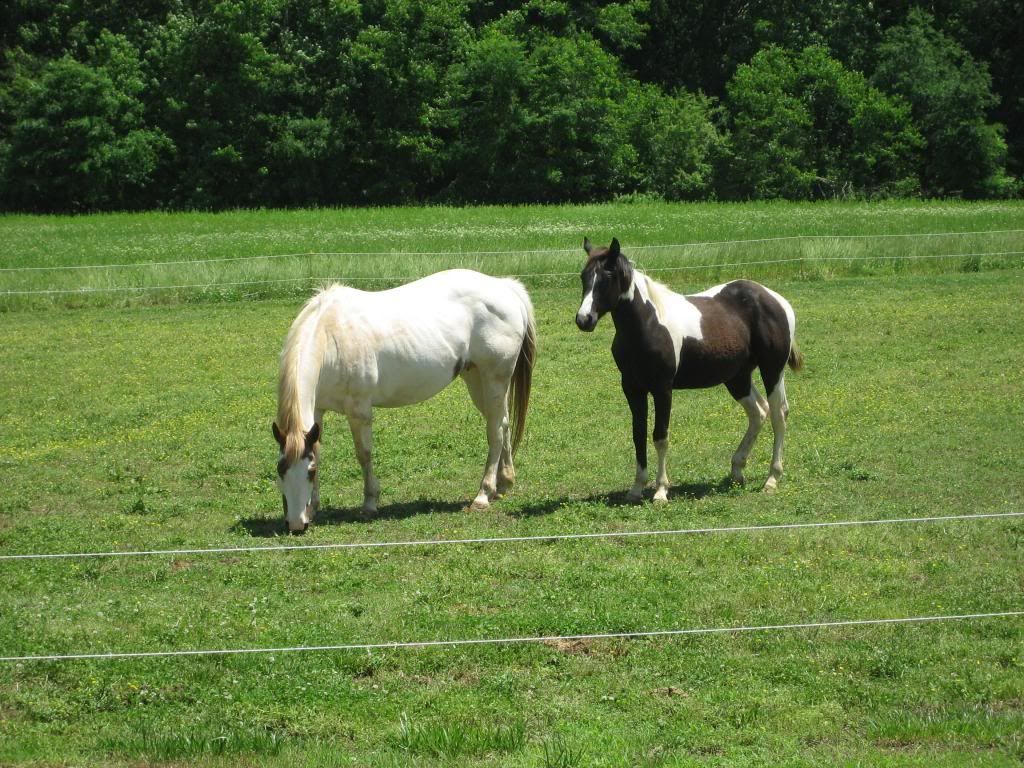 And trail horse, 10 year old "Cinnamon"
---
On the sixth day, God created the Quarter Horse.
On the seventh day, he Painted the good ones.
I have a 10 year old Quarter horse gelding. He is not a super easy keeper, so in the summer, he gets 24/7 access to pasture. He also gets 1.5 pounds of Triple Crown 30% ration balancer, and a hoof supplement. In the winter, he gets 24/7 access to a round bale of hay, plus two flakes of higher quality hay twice a day. I'm going to have to look into feeding him more this winter; he tends to not hold his weight well. He is a hunter under saddle horse, also does some western pleasure and jumping. He is ridden 2-3 days per week with shows and/or lessons on most weekends.
This is Tess back in March when it was extra cold here and she was still very fuzzy. She's a 15 year old Percheron/Saddlebred. I don't ride her often right now, but when we do ride it's generally just trails near the barn.

She gets fed 4 large flakes of high quality Orchard in the winter (5 if it's really cold), but usually only needs 2 in the summer. She also gets about 1/2 LB of crimped oats and two scoops (I think they are 2 oz each?) of Millennium Gold supplement. She gets pasture turn out all day throughout the year, 10-12 hours, and is in a dry lot with a shelter at night.
At the moment we don't do much, a few short lunges a week.
Soon increasing the workload.
At the moment he is 24/7 pasture all year round, but of course in winter it means hay. At least 15 kg of hay per day during winter, now late spring he gets a few flakes of hay a day, and I add grass that is outside pasture. No feed what so ever added. In early spring though he had about 1 pound of sunflower meal, 1 pound of wheat bran and 1 pound of flax meal per day. That got him round and shiny. Now he is keeping it up anyway. When we start working more I will give him back his flax and sunflower meal and bran, if more energy will be needed might bring oats in the game, though doubt it.
---
I play games with Hulk and a fire breathing dragon.. Love it.
I don't have my own horse at the moment, but I work at a racing yard and they have three racers (one is off for the season, after a small accident), they have two ex-racers, a hunter and a couple of field horses.

Betsy, the racer, has three meals a day. Morning feed is 1 scoop of staypower museli, 1 mollichop, 15ml equicalm, 1 measure of salt and I think there's something else that she has half a scoop of.

Rose, the racer, has the same number of meals. Morning feed is staypower cubes, 1/2 oats, 1/2 mollichop, equicalm and salt.

Darcy, who's off the track for a bit, has 1 convalescent diet and a handful of chop twice a day.

Wilf has Hi-fi (1/2 in the morning, and 1 in night), calm and condition (same as hi-fi), museli-type thing

Patrick, the hunter (former), has 3/4 hi-fi and 1/4 chop I think with danilon and a mix thing (name has escaped me)

Jimmy is field-kept, a retired racer, and has 1 happy hoof and 1 leisure mix twice daily

Sally is a field kept pony, who is mostly a companion, has 1/2 a happy hoof twice daily.

Barry is a OTTB, who is recovering from a foot injury (abscess thing) and has 1 happy hoof twice daily. He's a field kept horse at the moment.

The two racing mares have 7lbs of hay twice daily on top of their feed and all the non field-horses are out from 8:30am until 4pm (mares) and 5:30pm (Wilf and Patrick)