2 horses in 1! Does anyone else's horse do this? Post your pics!
---
Kelty has 2 distinct coats, one for fall/winter and one for spring/summer.
He gets to looking like a completely different horse!
People try to tell me he just "bleached out" in the summer, but if that's so he's gotta be sun-tanning his underbelly!
Does anyone else have a 2 in 1? Post your coat change pics :)
Our first fall- poor guy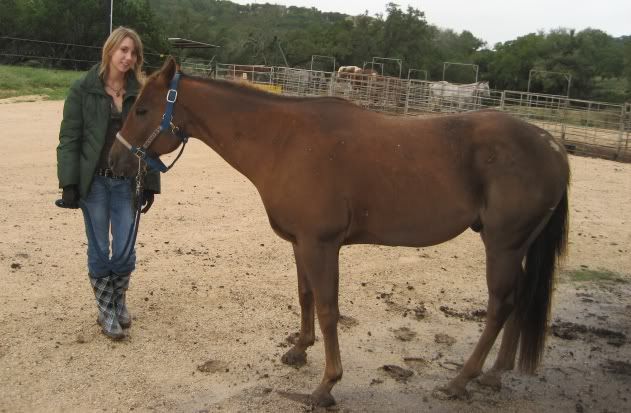 Our first Summer (What? Same horse, better food, better home, summer coat)
And our second fall -yes its my avatar ;)-
(best recent coat color picture I have)
Post your chameleons!
Most horse's bleach out to some extent. Here's my horse summer and winter. How's that for a color difference?
---
You just have to see your distance...you don't have to like it.
Both colors are pretty!
Hahaha I adore his dirt bath face. Looks like he's in heaven!
I used to own an varnish Appaloosa gelding. He was born completely bay with two spots on his butt. The year we got him he looked something like this (not my pictures, just reference as I only have one photo of him and it's a headshot)
That winter when we were gone for a few weeks and came back and couldn't find him in the pasture at all. Looked and looked. The BO just started laughing and pointed out this mostly bay horse. Sure enough it was him. The next summer he shed out nearly white or fewspot, like this:
The next winter he didn't get as dark but he went almost completely bay again.
---
100% Anti-Slaughter and PROUD of it!

Yeah, the funny thing about that pic is, I had him 3 years and never once saw him sleeping. He used to have episodes where he'd start falling over standing up. The vet said he was sleep deprived. After several moves, I found a barn where he seemed to settle right in. Sure enough, the very first week he was there, I found him sound asleep and took pics for proof. He hasn't had a sleeping episode since. Guess horse's have places they feel better or worse in just like us.
---
You just have to see your distance...you don't have to like it.
Now that's drastic. I've never seen that kind of coloring before?
First narcoleptic horse I've ever heard of! I'm glad ya'll found a place he was happy with
SUJ, I soooo want to steal that appy. I adore his build, big and stout looking without being grotesque.
None of mine really change color that much except for my gray guy, but that's pretty much a give
.
---
Always remember that feeling of looking at a big, open country over the ears of a good horse, seeing a new trail unwind ahead of you, and that ever-spectacular view from the top of the ridge!!! Follow my training blog:
http://robertsontraining.blogspot.com/
Here is an example
Weanling
Yearling
Almost two
Four
Found it on this website:
Appaloosa Complex
---
100% Anti-Slaughter and PROUD of it!

I can top that! Not only does my instructors mare change color, she changes breed! She goes from a roan QH in the summer to a blanket appy in the winter!

But I'll have to take pictures of her winter coat and post them on here this weekend. But you can see the difference in her Mid-June QH coat and late October pre-appy coat: