Here's my mare. Not all that recent, this are when she was a yearling and the winter picture she would be almost 2. She doesn't go as silver in the summer anymore.
*ShutUpJoe **WOW!! such a handsome boy in that 2nd picture of your Appy gelding!
---
"When you know better, you do better"
---
Last edited by Tralauney; 12-03-2010 at

04:50 PM

. Reason: add info
Uh...lol That wasn't him. I put in the post it was just reference pics.
This is him just before winter: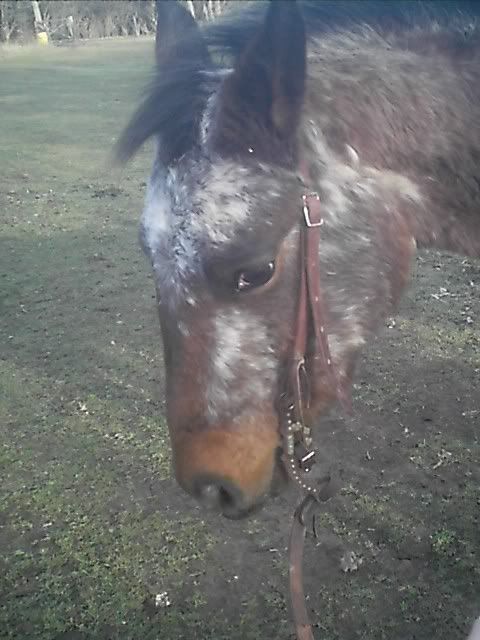 This was after his third winter with us. I believe he was still shedding out.
Crappy pictures, I know. The horse was sold several years ago to a nice couple.
---
100% Anti-Slaughter and PROUD of it!

Phoenix bleaches out so much. Plus i've had him for 4 years and this summer was the first summer he showed any roaning, he had so much white hair i couldn't believe it. Now his winter coat is in the white is completely gone and from certain angles in the winter he has a dappled look to his coat. I can't wait for next spring to see if he has more white.
mid-summer:
july 4th 2010.jpg
November this year:
DSCF0017.jpg
I showed a non-horsey friend some recent photos of him and they asked when i'd gotten a new horse, they'd only seen pics of him from the summer before.
Hahaha, here's Spirit. He gets REALLY bleached in the summer. This summer was much better than last. It was awful. Wish I had a pic
(not me)
DSCF7863.jpg
DSCF7842.jpg
(me :))
IMG_1510.jpg
My mare gets quite a bit more roanish in the winter...she also has some birdcatcher spots this year, and I am eager to see if they will shed out and stay, or shed out to chestnut again, haha!
Summer...
Earlier this fall
This is from last winter, but you can see how much more roaning she has...gotta get an updated one, because she has even more this year!
---
"The ideal horseman has the courage of a lion, the patience of a saint, and the hands of a woman..."
Beau has a coat for all seasons :P
Summer: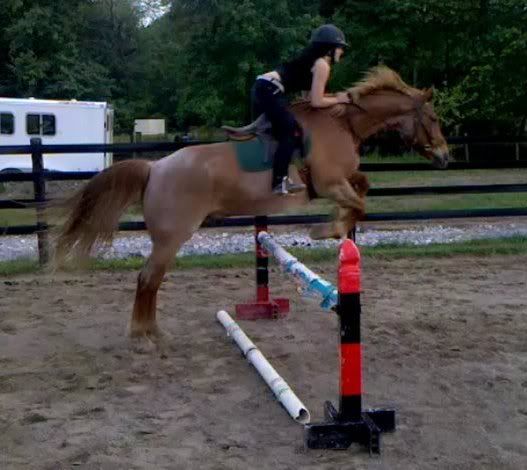 Spring/Fall:
Winter:
---
Fly Without Wings
Ugh. My mare gets bleached like no other if she's allowed to have daytime turnout in the summer. I HATE it. Especially since she wears a fly sheet, which makes lovely not-as-bleached stripes on her coat. >__< This would be why she stays in the barn all day, and gets nighttime turnout, in the summer. =P
fugly horse
not fugly horse
My mare has two totally different coat colors. I bought her last winter, and in late spring, I went through a period of about 3 weeks where I could not get out to the barn to see her at all due to other stuff that was going on. When I last saw her, she had her winter coat. When I saw her the day I came back, I legitimately could not find my horse. lol Check it out. First two are her in winter. Last two are her in the summer.
---
One man's wrong lead is another man's counter canter.
"Adjust Your Pleasure"
2006 Medicine Hat Paint Gelding