Admiral, my TB rescue
---
Woo.. long long story short...
Admiral is a 3 year old Thoroughbred gelding i rescued. He was deemed too slow for the track, and cast off to a horse trainer where he was starved. Then, he went to a man who fed him corn and bread.. and kept him in a 10x10 and didnt treat his injuries (read my journal for more info on that) I paid 500.00 for him and he just came home and i took lots of pictures when i was out today.
He is so goofy and so sweet.. i took a nap in his hay and he ate around me like a gentleman! LOL!
Awwwh <3
Nyurr goof!!
So thin :(

Sooo thiiin :(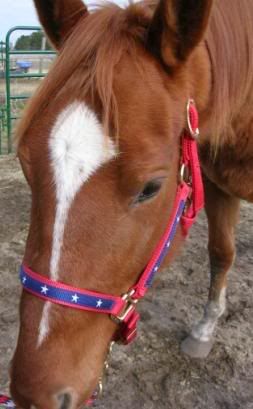 Cant take a good picture of him.. he follows me everywhere, LOL!
Aww what a sweetie! Can definatly see the potential there, is going to be a stunning horse when he fills out and muscles up. All the best with him
aww thats so nice to hear you resuced him, he look very cute and lol he loves you becasue he follows you everywhere, i have a 16 year old shetland that we rescued at the age of 2, he was going for dog meat but as soon as we saw him we loved him and now he does charity work and lesson with young children he loves it all so much
ill get some pictures asap
He's so pretty, and he'll look wonderful when he fill's out some!!
I'm soooo glad you rescued him!!! He's SO skinny!!! :(
Make sure you let us know how he's doing!!!! And send some more pics when he's put some more weight on so we can see his progress! :)
---
Riding a horse is not a gentle hobby, to be picked up and laid down like a game of solitaire. It is a grand passion. It seizes a person whole and, once it has done so, he will have to accept that his life will be radically changed.
Aww he is such a cutie! I am glad you rescued him!