The aftermath of a bath:
---
I forgot to take a before picture! I'm sorry! But I do kinda have one from Tuesday so I'll probably throw that in. =D
I'm just gonna say that Lacey and I had a lovely day today! Read more about it in my journal thingy! Heehee Advertising!
But yeah, Lacey thinks she's sexy. Heeheehee
Tuesday nasty Lacey: Look at how mangy she looks! Yuck. Haha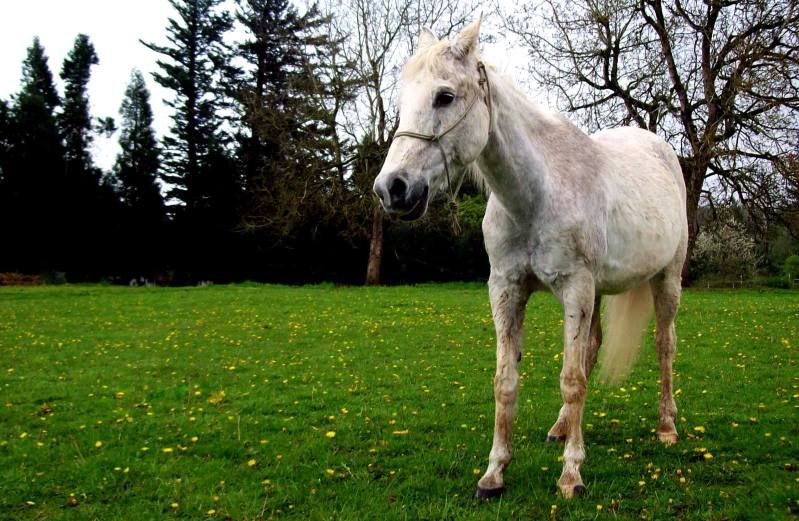 Today:
I LOVE her hair in this one! Bow chika bow wow...
HUS prospect anyone? Just kiddin'. Haha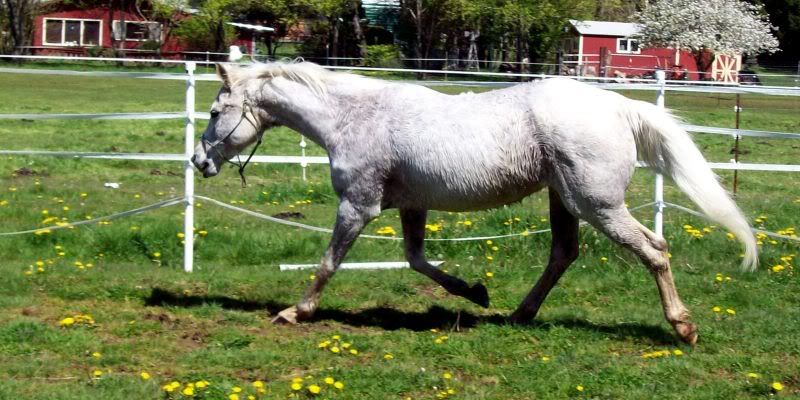 This almost looks painful:.....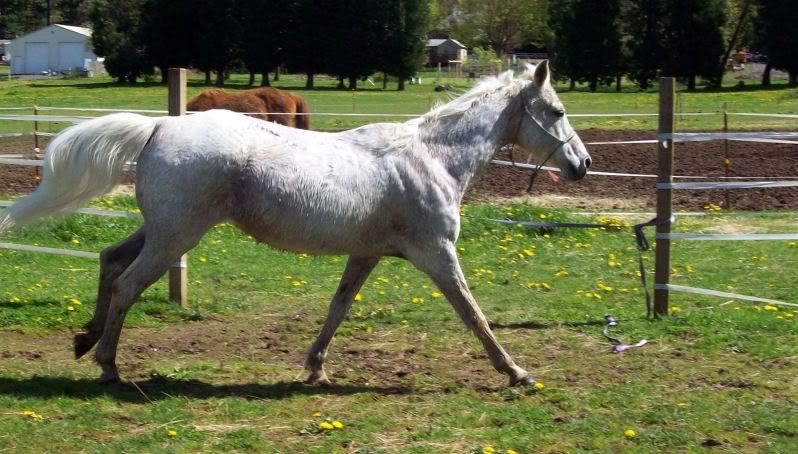 Beware: super epic trotting pictures:
I find this one funny cuz it looks like she's reaching that inside hind leg under herself, not just straight forward... Interesting.
Majikal hovering poneh!
Because ground poles are meant to be jumped like they are 2 feet tall:
Still kinda wet, but clean!
And, because only legit, gangster ponies wear flymasks in April: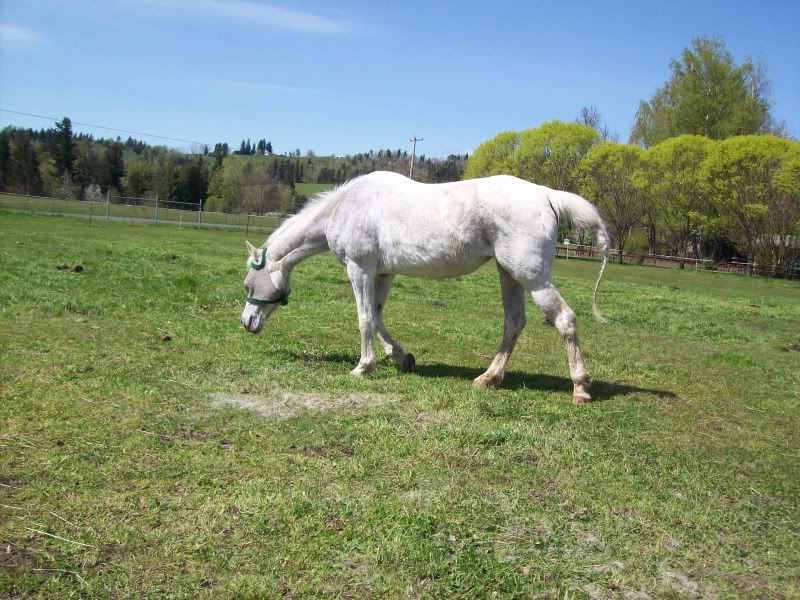 That's right, be jealous.
---
Fabio - 13 year old Arabian/Lipizzan gelding

~
Rest peacefully, Lacey.

What you said above the pictures got me ROFL-ing. hovering, majical, gnagsta poneh! haha :)
Heehee, I loved the epic trotting photos! It's amazing how Lacey can look like a star and a gangster at the same time.
Started
Join Date: Aug 2009
Location: In the barn whenever possible.
Posts: 1,910
• Horses:
2
Second to last picture is by far my favorite! Lacey is so beautiful!

Ps..I can't believe you have green grass and dandilions already!!
---
"Riding a horse is not a gentle hobby, to be picked up and laid down like a game of solitaire. It is a grand passion. It seizes a person whole and, once it has done so, he will have to accept that his life will be radically changed." -Ralph Waldo Emerson
hahaha she's hilarious! Awesome pictures, and she sure looks like she feels good! She's adorable, thanks for sharing them with us!

ETA: We have gotten the fly masks out already too! We don't have any actual flies yet, but massive hordes of those tiny stinging gnats that congregate around the horse's faces. Bleh. I hate 'em.
Aww, she is so beautiful. She is so hilarious, hahaha. And I raelly can see that she feels good :)
I look ford to see some more photos of her!
---
Last edited by icyhorse; 04-16-2010 at

10:13 AM

.
Lacey likes being clean! Its gotta feel good after a winter of yuck. Her beautiful white tail and mane really shine.
I need to remember to do before and after photos at bath time. The weather has been nice, but with rain in the forcast today and tomorrow, I think I'll wait
---

"Until one has loved an animal, part of one's soul remains unawakened..."
- Anatole France
I have given up on having a grey horse. She stays mostly a lovely Shade of orange from all of the red/ orange dirt. Lacey looks beautiful and so much younger than her age!
Posted via Mobile Device
Look at her all full of herself! She's so pretty and does look really great for her age!
Quote:
It's amazing how Lacey can look like a star and a gangster at the same time.
Heeheehee, she's very versatile!
Thanks for the compliments and such, ladies! I feel so lucky that I managed to get the one 25 year old horse that has absolutely no clue that she's older. I also enjoy the fact that when I was little my dream horse was a flea bitten gray Arab mare, and "my little pony" here just so happens to fit that criteria perfectly.
I actually love her being white... I dunno, I guess I take pride in how clean I can somehow get her. I always have loved challenges. haha
And since I took a few more pictures today, I think I'll just add them here because they are too priceless to not post and I feel kinda silly posting new picture threads everyday. Haha
I bought her her very own fly mask. The ones my BO has are too big (normal horse size) and Lacey is very sensitive to flies in her eyes (she gets all tear-y and such) so she basically needs to wear a fly mask all summer. And because I love ridiculous things, I got Lacey the most ridiculous looking fly mask the tack store had. I'm a horrible horse mom. Heeheehee
This is what she thought:
"Take it off?!." (she was shoving me with her nose, possibly to try to get me to scratch her face, but it's funnier if she was indignant)
"This does nothing to enhance my look. Have you read Vogue lately? Srsly."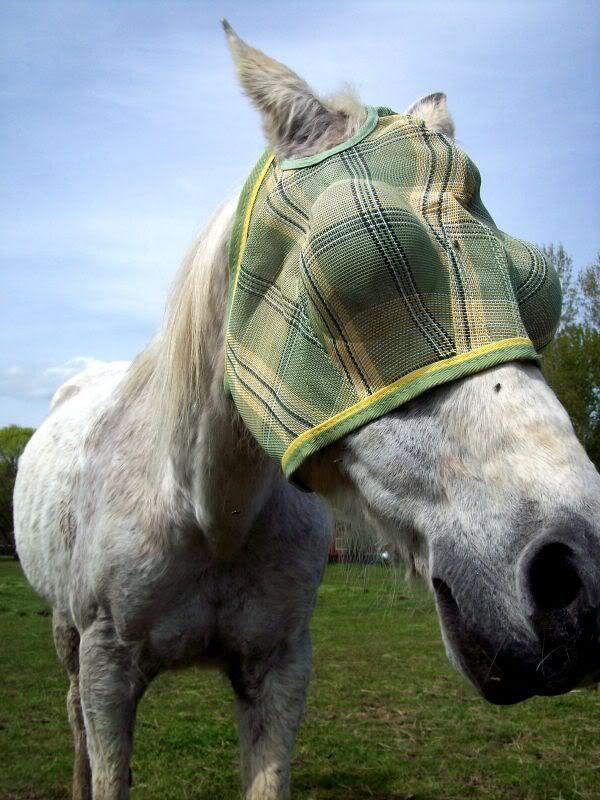 "How dare you consider leaving me here with this...this....thing on!"
"Maybe I can scratch it off?"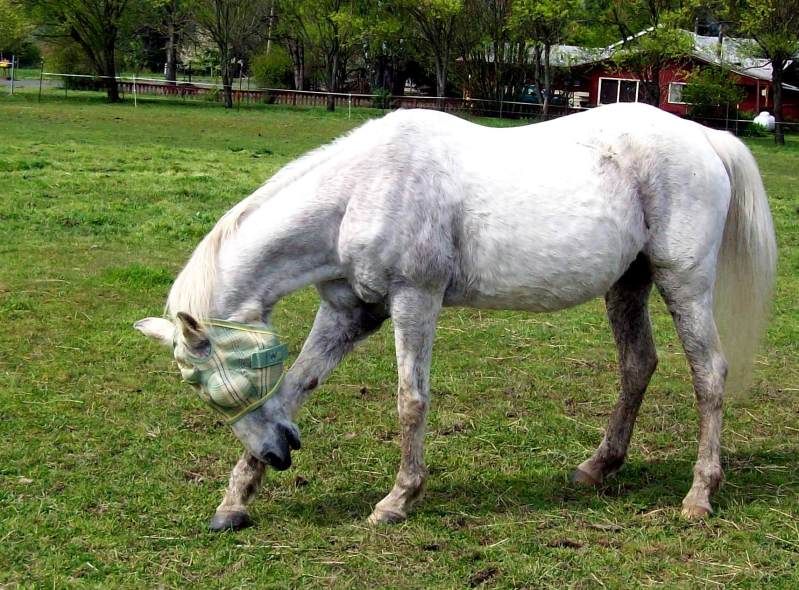 "That didn't work. Daaaang."
"Maybe if I roll...."
"Come off DANG IT!!!"
(lookit that round barrel! No wonder I don't look tall when I'm riding her!)
"FAIL."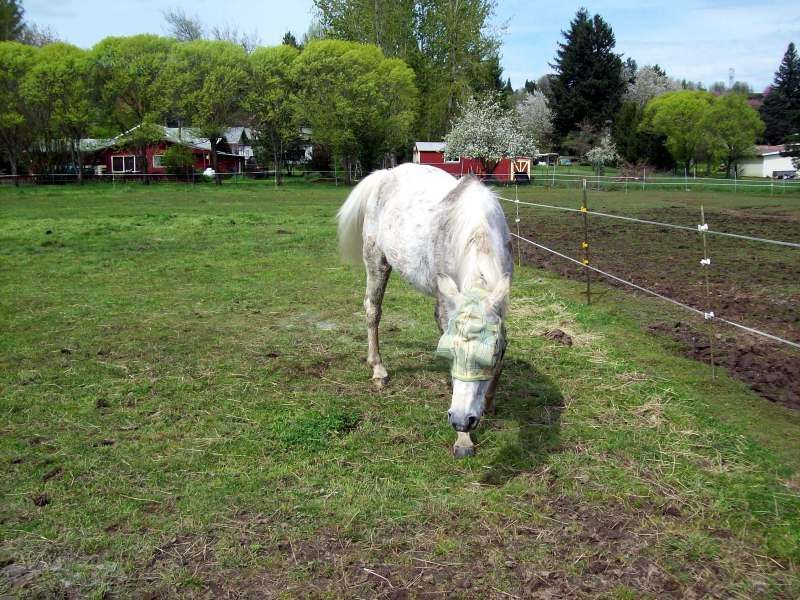 I tried explaining to her that the color was totally hers, but she was having none of it.
---
Fabio - 13 year old Arabian/Lipizzan gelding

~
Rest peacefully, Lacey.