Alas, time to meet my boy! **Pic Heavy**
---
Well, seeing as I'm fairly new here and have mostly only posted pics of my poor horses sliced up leg I'm thinking maybe you guys should see the rest of him!
Poco, smile nice for the people!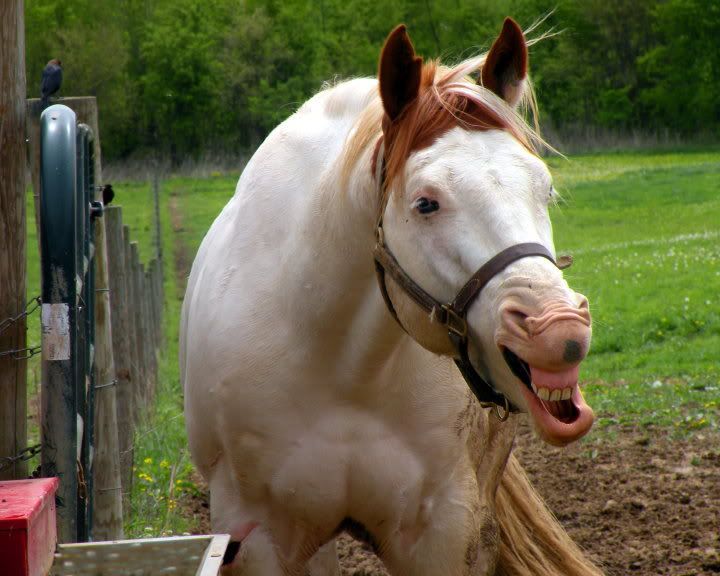 Poco and Reckless (the gelding I'm leasing)
**not me jumping in this pic**
Excuse the flyaway reins, I'm just learning how to jump and I don't wanna slam his mouth on the landing so I just aim him at the jump and throw them away, he's more than happy to go over.
Just got a bath!
And moments later...
he's looking very nice!
---
There is one principle that should never be abandoned, namely, that the rider must first learn to control himself before he can control his horse. This is the basic, most important principle to be preserved in equitation - Alois Podhajsky
Me very very pregnant a year and a half ago lol
Winter fat lol
The day I bought him!
A couple years before I got him lol:
What great pictures! He is a handsome boy.
HE is sooo handsome, I'm jealous! I love those eyes and his lil medicine hat!!

And you rode pregnant? I was scared to death to get near any horse while pregnant which is why I waited so long to finally buy a horse after moving to NE (I got pregnant right after we moved here).
My obgyn hated that I rode pregnant lol. But I've been riding my entire life and I only rode this horse during that time. Usually leisure trail/road rides and that's all. I trust that horse with my life so had no fear riding him pregnant at all. I rode up until I was one day overdue!
He looks very sweet! I really like the pictures taken at sunset.
Handsome guy! Is he a stud?
Quote:
Originally Posted by
FehrGroundRanch
View Post
Handsome guy! Is he a stud?
Yes he is at the moment.
Right on! He looks so well behaved, good for you.

I used to ride our stallion around everywhere, I love seeing stallions used! Does he have any foals on the ground?