Alice, black Morgan mare!
---
o, Alice had a bath today. Her trainer was away for the weekend and he said it was fine to give her a bath and practice some of the stuff we'd been working on, so I did! I clipped her hind fetlocks and redid her bridle path, both of which went well as a whole. I worked Alice loose in the round pen, she actually halted and faced me and took a few steps towards me (first time!!!), then we worked on the lunge, which was also great, then we worked on flexing! Then of course I took her and bathed her with my mom.. which was great! I was so pleased, she is the best horse I've ever bathed! No kicking (except at some flies!), no issues with having her tail washed and conditioned, etc etc.
Then I put the bridle on Alice that I had put the browband I bought from Golden Shadows Custom Horsewear on.. so.. onto pictures!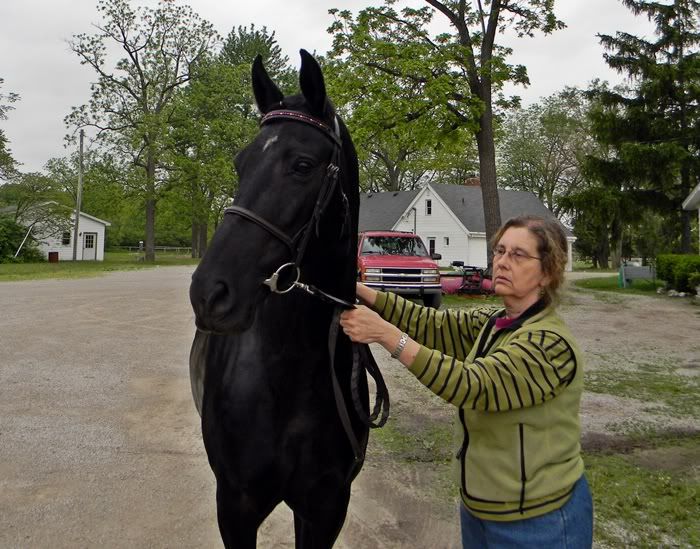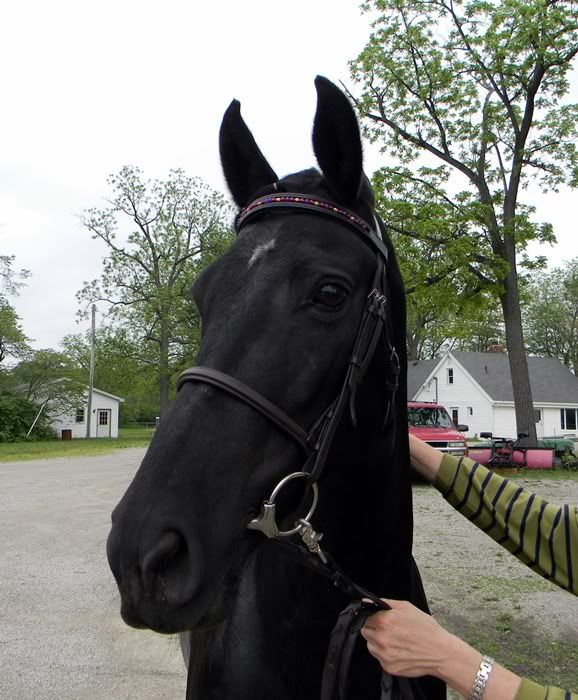 She was whinnying here and trying to walk away: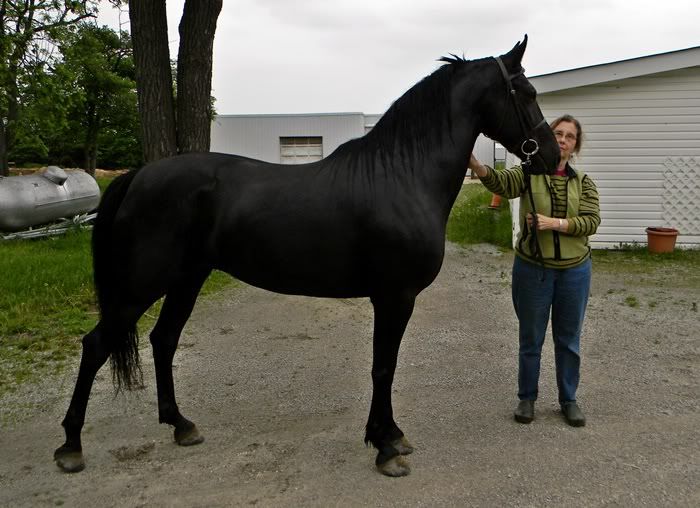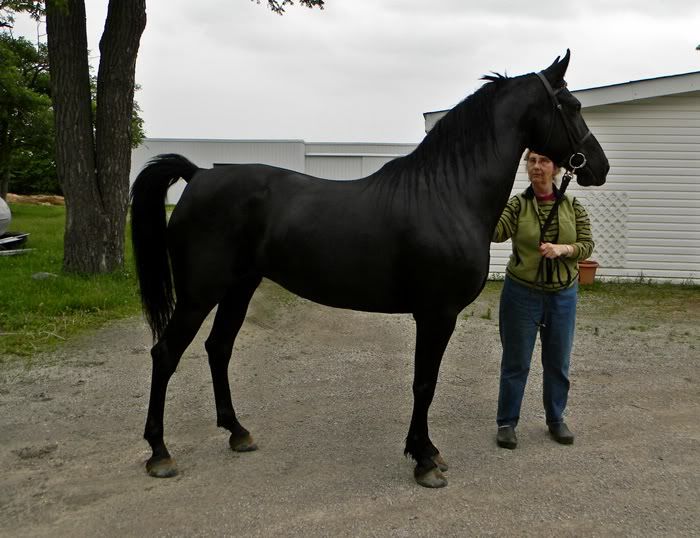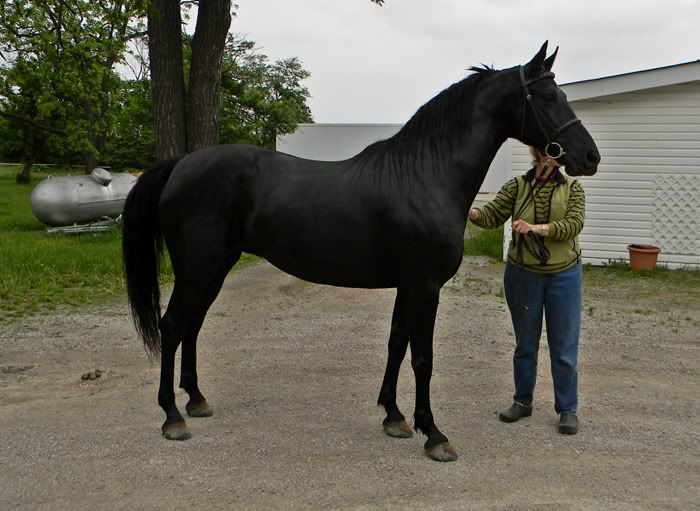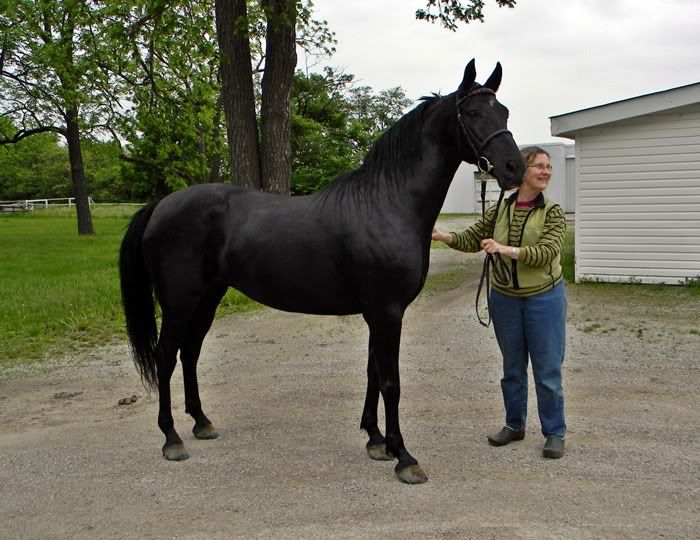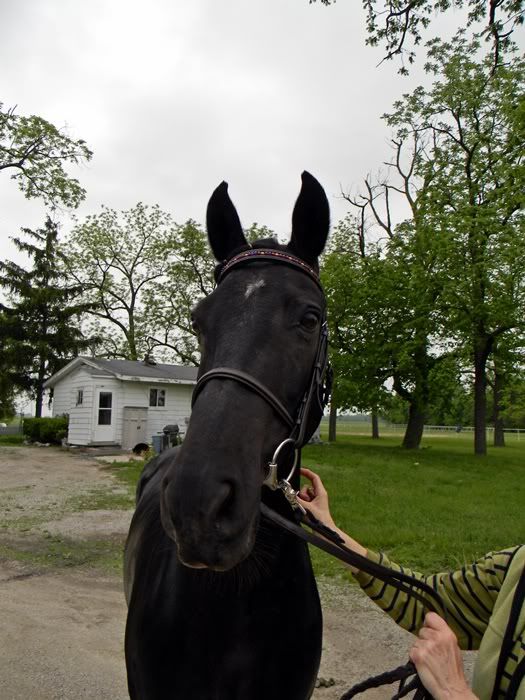 G O R G E O U S !
I don't know much about morgans but this one is a show stopper!
---
"All we see or seem, is but a dream within a dream..."
Thank you! She was on a broker's lot in PA that ships horses to slaughter weekly, so could have been shipped as well. It was love at first sight! I got her without seeing her in person, actually. Just based on pictures. Sure she's needed some retraining but it's been going really well!! I just adore this horse!
Stunning mare! *WANT* lol
---
"If a horse fails to do something that is because he was not trained to do it. If a horse fails to do something properly that is because he was not trained properly."
www.wildestheartart.com
Very striking looking girl, and she looks well turned out now, you did a great job
She is stunning! Gotta love those morgans; they've got a kind of their own!
That horse is amazingly beautiful... Shes... GORGEOUS! I want her, hehe (:
---
E v e r y horse is good for something. You dont throw a whole life away just cause he's banged up a little...
Oh my life, she's beautiful!
---
Mount up and leave your troubles behind on the ground.