The amazing game of paitaince,TLC and then BAM! Look what we have!
---
Okay so I have had an amazing best friend for a long time now, about 8-9 years of greatness!
Her horse Zephy is a 14 year old paint gelding, 15.2 hands and was a rescue from a cow feedlot back in 2006 he has come so far, confirmation being what it is, long back weak hind end, extreme ewe necked and with all his fears he has since gotten over...most of them lol he will never be 100% sound and we as a team work together to help him stay as comfertable as we can. She has now owned him since 2006 and much has happened, ups and downs and right one they have been doing great! He will never be an upper level horse and they are doing training level currently.
Ollie as you know hasn't even been my horse for a full 12 months, August 2nd will be our one year! Whoo! I got him for free in a light rescue case, not as bad as Zephy but every horses situation is different! He was started great and the. Sold to a gal who got way in over her head and he wound up not staying in full training as highly suggested by seller and other people (was only 3-4 months broke at the time-April 2011) gal had tried him for one of those months...any who he hurt alot of people due to them being inexperienced and unfair in what the py where asking/expecting of him so he sat with knowing if he bucks like a rodeo horse he gets out to pasture and not handled for a week...well he landed in my lap in late July, came home with me to the training barn I was using august 2nd last year and has never bucked under saddle with me in all this time! Pulled him out of training with the training barn I had originally moved him to in august due to not getting my money's worth in training as well as he was so stressed out!
Next ainer I hired....wasn't any better in the ling run. He bit very sick in her care, maybe didn't start out her fault but she could have for sure done different things to help him recovery and feel better at the time!! Then she just started jumping hi. Every week, at this point he was still 5 years old and very green! As of the middle if May I took him home to my families barn and wow....what a difference it's been! A great change that needed to happen!
So here is the picture I just made up!
Zephy is on the left, top photo is first day home (Sept 2006!) with my best friend, I had him at my barn beofe that, about 3 months before she took him on herself and was a Skelton horse!
Bottom left is last Sunday when I was coaching her as they had been having some set backs and they did great!
Ollie is on the right, top photo was taken march 2011 when he was still 2 years old, almost 5 (april is the month he was born in) this was his sale photo to me....
Bottom right photo is from today!
I have other very recent photo of both horses also here!
Both my friend and I where in tears whe we saw the before and after shots...tears of being amazed we helped them become so happy, so fit and shiny and healthy! Little did we know whe they first stepped in our lives that this is where we would be, even with such a huge diffrenac ein amount of time owning them, zephyr being a 7 year project and ollie so far not even a full year! Both boys are just great!
Hope you enjoyed learning about our guys and their transformations!
Thanks!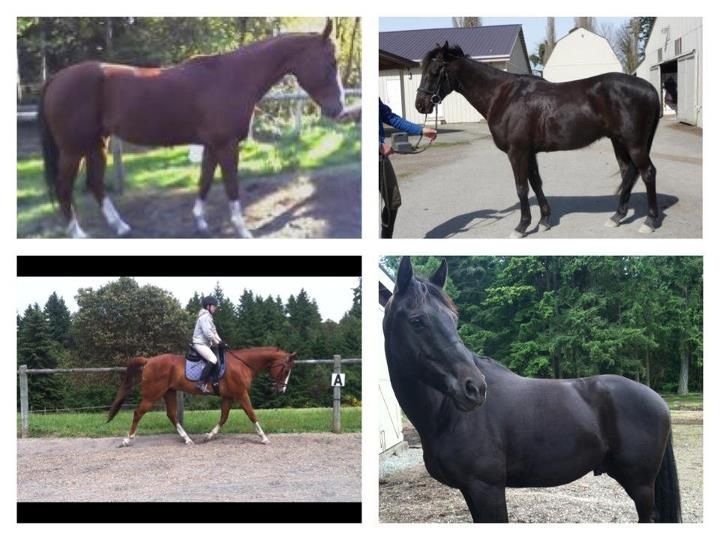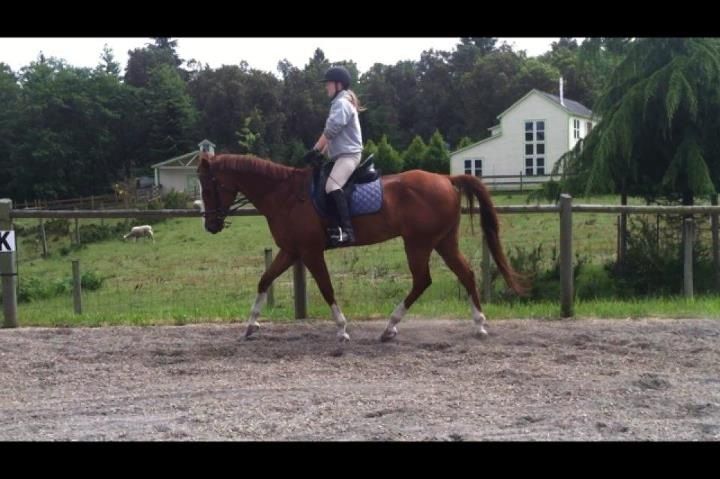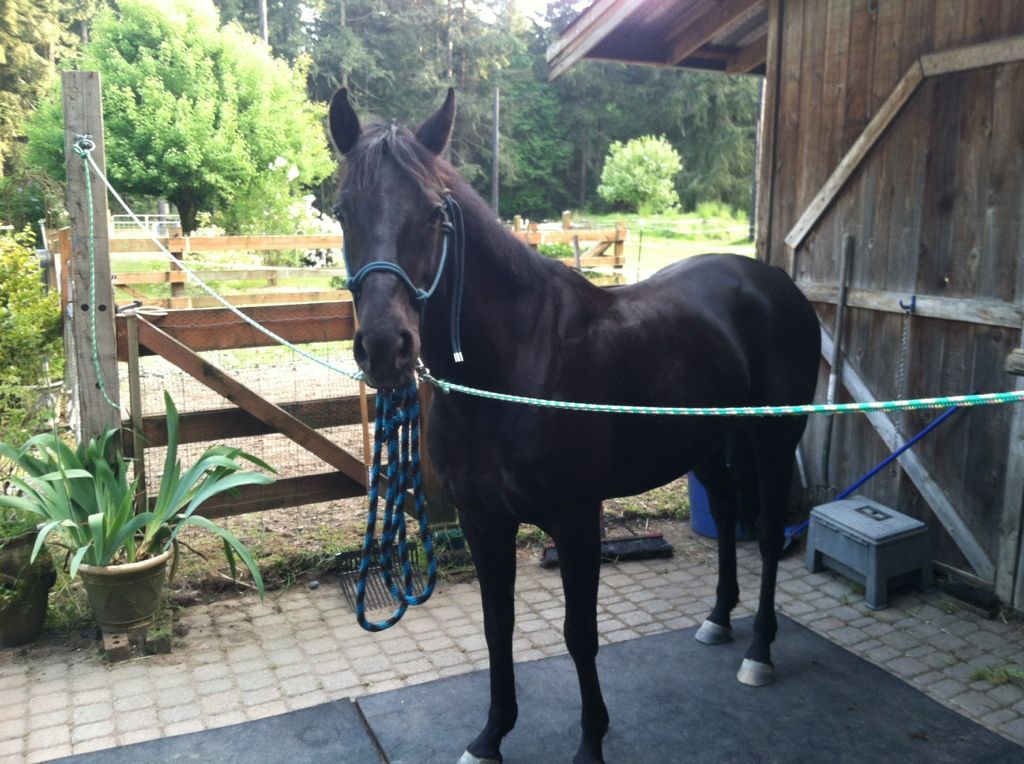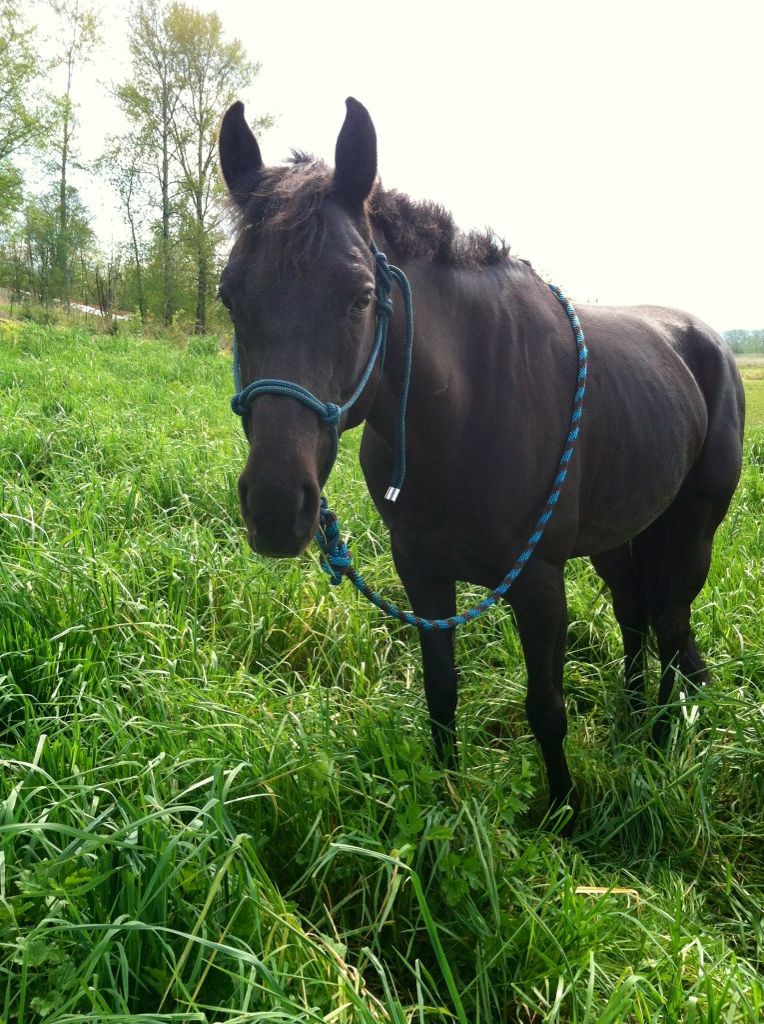 How gorgeous!I love that jumping photo!
---
Cross Country- The act of hurling yourself and your equine partner at a stationary object with poise and grace while attempting to survive...

Thanks guys!
I love that jumping photo too! Hehe
What an amazing difference! And all with only some groceries, TLC and training.Ollie and Zephy look incredible. Thanks to you and your friend for rescuing these two handsome boys. :)
Ollie has such a deep black color. He is very handsome. You and your friend did wonderful with both of these guys!
Thanks! She just got project horse to help tune up and sell this fall and she is very excited! Not at all a rescue but s great learning experaince for her! I'm hoping to fill my whole summer with OLLIE TIME! Haha
Showing
Join Date: Jun 2011
Location: Cariboo, British Columbia
Posts: 11,952
• Horses:
3
Great pictures, your horses are a picture of health & happiness.
Both of you have done very well by these horses, and they have given you all that they have to give.
Similar Threads
Thread
Thread Starter
Forum
Replies
Last Post
An amazing horse game.

RunnWalk

Horse Talk

3

05-11-2011

01:00 AM