The amazing story of Bucky...(aka the horse I might get) :)
---
First off I live in florida and my dad lives in NY and about 2-3 yrs ago when I was visiting for x-mas, we went to the barn by his house so I could ride and there was this beautiful 4yr old black and white paint quarter horse gelding named Bucky up for sale for 8k. He was cooped up in a little stall and the owner rarely rode him and rarley let him out of the stall. He was really dirty and his beautiful coloring was covered in dirt and mud to the point where the white on him looked brown. He was so sweet and in the 5 minuets I spent with him I fell in love.
My dad who was looking to get a horse really wanted him so he placed a bid of 4k on him because he couldnt afford to go any higher, but the women didnt accept it. I was crushed and my dad was really upset. Where they went from there I didnt know but the owner left and took Bucky with her.
Well, since then I occasionaly look online for a good horse my dad could buy. One of those days about 2 1/2yrs later I decided to see what was for sale I came across an ad for a 7yr old black and white paint quarter horse for 3k named Bucky my heart stopped. I contacted the the women right away and It was the same 4yr old I saw so long ago except this time he was even more beautiful. He was clean and healthy and not cooped up in a stall.
Long story short, it turns out, the owner my dad tried to buy him from before was boarding him with this women Cindy, the one who put up the for sale ad, and they abandond him with her and moved to Brazil. She has had him since last December and needs to sell him because of all the money she lost when they abandond him and she has 2 other horses and cant give him the time he needs since he is still only green broke.
Well Ive been talking to Cindy and I dad might buy him and if he does technically he will be mine also...lol...so everyone PLEASE keep there fingers crossed for me. These are some pics that Cindy sent me of the beautiful Bucky....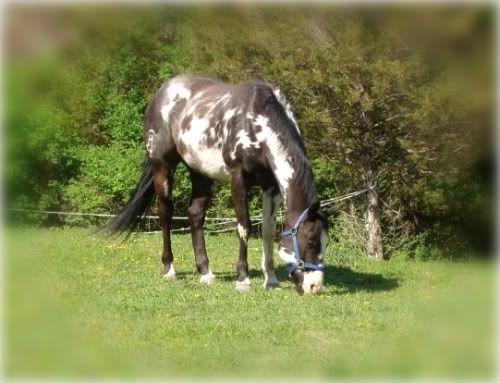 This is him with one of Cindy's horses...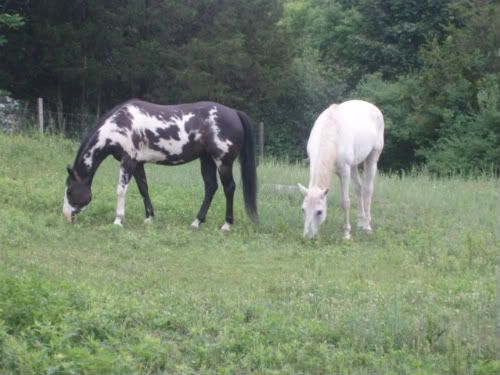 I love this one...he's all furry cuz of his winter coat...lol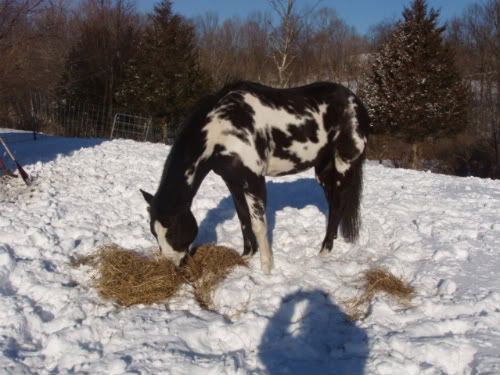 ---
Sara
He has awesome coloring!
Good luck!
i love his coloring!
It's awesome that you found him again! I really hope you and your dad can get him! Keep us posted on it!
Wow he's gorgeous! Good luck.
---
Ride more, worry less.
Wow he's gorgeous! Good luck.
---
Ride more, worry less.
what awesome coloring!!! let us kmnow what happens?
What a cute guy, I hope it works out for you:)
He's very nice looking! I'd suggest to do the vet check, but if everything is OK, lucky you ! :)
Wow thats what I call fate. I think he was meant for you
Is your dad going to get him finished in his training?
yea my dad wants a horse he has to train and work with...he wants a challenge...lol...he used to do rodeos and stuff...he said he will make a good barrel racing or reining horse...
---
Sara