Another Goodbye, and a Goodbye for now
---
Stewie the Moose eventually left for his new home today, my little Angel went with him to make sure he settles in OK, she will be coming back home here in a month or 6 weeks.
It was a fun day, our yard is still criss crossed by trenches, and didn't know if we would be able to get a trailer out, but eventually figured that the old stock trailer would be the easiest option, so we backed that up to a pen, put Stewie and Angel in the pen, chucked some oats on the trailer and waited. They both got brave enough to get one foot on before backing off, and weren't getting any braver on their own, so clipped a rope on Stewie, and he just popped on after me, after a very short hesitation. Angel happily jumped up behind, and we closed them in, and with the tractor standing by just in case, managed to drag the trailer out of the yard.
We had an uneventful journey down there, and the guys travelled very well for first timers, I'm not sure if the open stock trailer isn't easier on them for a first journey. We found the place OK, got them unloaded, then just let them chill for a moment while we chatted. Then we had to lead them down to their new paddock, and they were doing great, until the llamas next door decided to come running across to the fence to check out their new neighbors Neither of them were impressed and we had to stand a while and check out these odd animals for a while. I so love Angel, she was worried, looked so araby as she pranced around, but soon settled down to follow me into the pen. Stewie wasn't quite so keen on the whole deal, but he eventually got the idea and popped in next to Angel.
Stewies new mum posted some pics.
Just got sent this beautiful pic of Angel
Showing
Join Date: Jun 2011
Location: Cariboo, British Columbia
Posts: 11,775
• Horses:
3
Beautiful pictures! That part of Saskatchewan looks dry anyways.
It is reasonably dry, in as the snow has melted, and the sun is shining, now if the grass will come on green, it's just starting down there.
Good to see positive updates on them this morning, I hope that I get to steal Angel back!
And more good byes, well goodbye for nows, Ace and Poncho left for their summer home this week, I only have 4 horses at home right now, the place feels empty.
I don't even know who Poncho is!
---
"Strength is the ability to use a muscle without tension"

Quote:
Originally Posted by
Skyseternalangel
View Post
I don't even know who Poncho is!
Poncho
left to right Stewie, Angel, Ace and Poncho, all gone or gone for now!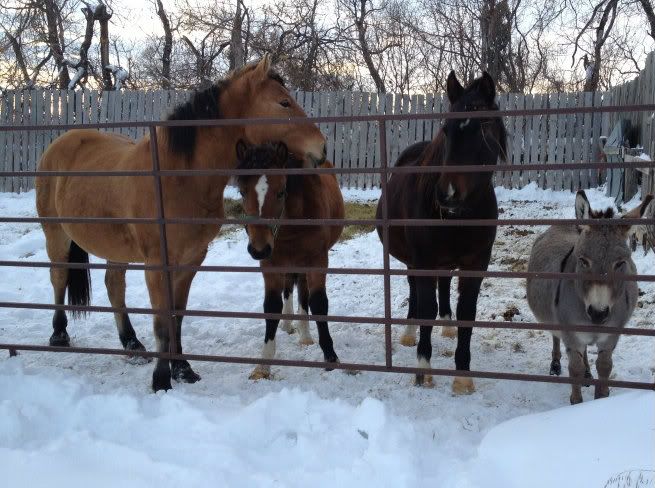 Ohhh yes I remember now :)

I just can't keep track of your herd anymore haha! :)
---
"Strength is the ability to use a muscle without tension"

Its a lot easier now.
Emmy nearest camera on the left, Willow on the right, then Big Black Ben and Cody Man