Yearling
Join Date: Jun 2010
Location: Bucharest, Romania. Eastern Europe
Posts: 1,079
• Horses:
1
Anything about Mules please!
---
Hey
I adore mules although I've never had the chance to be close to one. Around here one is produced usually only as result of a not-too-happy accident.
I think they're beautiful animals, I heard they are very intelligent although stubborn, sturdy, confident and healthy. I especially like their head and eyes shape.
I have a question: Is it true that all mules are sterile?
Please post here any picture of your mule - or someone else's mule as long as you have permission. Any story about them or any fact that we may not know about them is welcomed too. Just like the title says: anything about them is welcomed!
Edit: oops, just read
http://en.wikipedia.org/wiki/Mule
...Okay, about hinny's too!
---
:)
I love mules too. Have been fortunate enough to have met a few, though was never able to do anything with them. Yes as far as we know all mules are sterile, though I do know of a person who for some reason is doing "experiments", and as she breeds zorses too who are also sterile, she is trying to see if the mares come into a true heat, and trying to see if she can get them pregnant. I know that mules are quick on their feet and very agile, had a friend who does hunter jumper shows, and a lady with a mule showed up for competition, and that mule beat all the horses lol. Someday I would love to own a mule, they are such neat creatures.
We have had mules most of my life. I personally prefer horses because I understand them more but with the proper training, mules are very trustworthy and enjoyable mounts. We mostly used ours for farming but there has been 1 that I rode for a while after his mate died.
---
Always remember that feeling of looking at a big, open country over the ears of a good horse, seeing a new trail unwind ahead of you, and that ever-spectacular view from the top of the ridge!!! Follow my training blog:
http://robertsontraining.blogspot.com/
Mules!
I love them.
And to answer your question, yes, mules are sterile. It is thought that their uneven chromosome count doesn't allow them to breed. There are exceptions to this rule, however. Mare (molly) mules have had foals before. One molly had two foals, one from a donkey sire and one from a horse sire. The foal by the donkey was 100% pure donkey (no horse genes at all) and the foal by the stallion was 100% pure horse. Another molly mule had a foal by a donkey jack, but this foal was 75% horse and 25% donkey, making it half mule and half donkey. There are other isolated cases, but, for all practical purposes, mules are sterile. (Also, there has never been any documented cases of a fertile male mule.)
I love mules!
I use to think they were kinda...ugly but now I find them beautiful!
I wanted this one mule....one owner was really mean to her and she had marks all over her. The guy that was helping train her said that she will make you do a double barrel..I didn't believe it and he made me lunge her cause..well I talked back to him about the mule and he always has to be right..annnyways,so I had to lunge the mule and it was pretty easy! She was very timid.I think and almost know she was abused. She would come up to me if I waited patiently but wouldn't get super close. I remember seeing the mule run around in the pasture of the owners house and they left a halter and lead on her cause they couldn't catch her.

I hope that she is okay.
I have had the oppurtunity to ride a mule. The guy only rode mules, he trained them. They were even used in some western movies =) She very nice and they were all very calm.

I did here though that if they are abused, they are not anywhere near as trusting or forgiving as horses. I have also been around, rode and trained several mammoth donkeys. Donkeys, when you can get them to canter, have the smoothest gaits in the world! I couldn't even feel she was cantering! They reason... alot. lol. And, they can form an incredible bond to you. But I hear that if they have been abused, you can forget it, you can't turn them around.
---
Lettin' the cat outta the bag is a whole lot easier than puttin' it back. -- Unkown

My first riding animal was a 15.3 hand mule named Beulah. She was nice, but very slow on the trail and hard get going.
Click to enlarge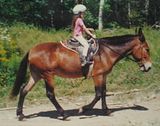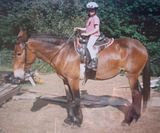 Similar Threads
Thread
Thread Starter
Forum
Replies
Last Post
Mules

armydogs

Horse Breeds

42

07-01-2010

11:20 AM

Mules?

ThinkingOfRiding

Horse Breeds

10

06-10-2010

11:08 PM

anyone who has mules

harhaijaka

Horse Breeding

9

03-01-2010

11:20 PM

Mules!

Brighteyes

Horse Breeds

12

07-27-2009

06:19 AM

Mules...anyone?

mxgasa

Horse Breeds

7

04-09-2007

09:06 AM