Apollo in a field of dandelions
---
I had the morning off of work and don't have school until later tonight so I spent some time cleaning him up and just hanging out in the field with him (he's still in the mud lot and only gets turned out for a few hours a day on the grass and will eventually work their way up to the entire day on the grass). He usually has today off but I figured he'd like some extra attention and getting to munch on some grass.
He LOVED the dandelions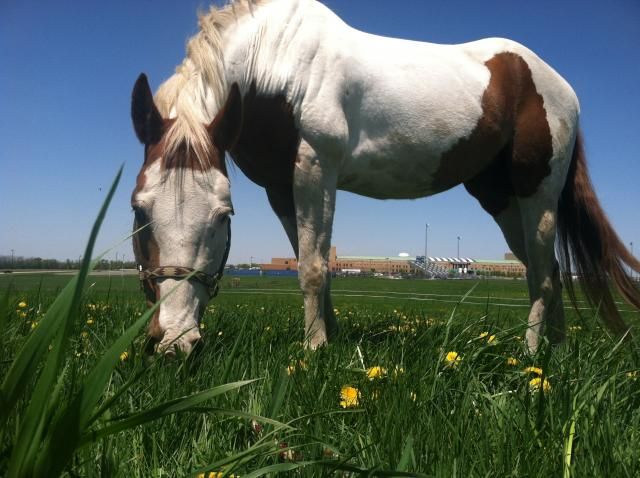 I'm also curious about what you guys think about his weight. When I got him in December you could feel every bone in his body...I know he is still under muscled right now but he's only been riding under saddle for about a month now.
---
Last edited by shellybean; 05-13-2013 at

04:32 PM

.
His weight is good. He needs more muscles but will gain that with more rides.. handsom guy!
---
Last edited by farmpony84; 05-14-2013 at

02:26 PM

.
Beautiful boy and pics!! I think h looks really good! I have a pic of my boy I was actually going to post of him in a field of dandelions :) As far as I know dandelions are not toxic to horses. At least I hope not because my pasture is full of them!!
Aren't Dandelion's what they call "Greens" in the south?? That they just love??
---
Melinda
He looks wonderful :) Keep working more muscle on him and then he'll look even more put together
---
"Strength is the ability to use a muscle without tension"

That first pic is actually really cool!
---
Melinda
shellybean - I just want to say that your pictures are lovely .. and so is your horse. Thanks for sharing.
GD, your horse looks great. He's an older horse, right?
MOD NOTE:

In an attempt to keep this thread on track, discussion regarding the dandelions has been moved into the horse health section and named "Dandelions".
---
"Be a best friend, tell the truth, and overuse I love you
Go to work, do your best, don't outsmart your common sense
Never let your prayin knees get lazy
And love like crazy"
Where did you get Apollos halter from? I like it.