arabs post yours
---
i want to see ur arabs.
---
Last edited by cinnamon; 12-06-2011 at

06:22 PM

.
SVS Il Divo (SVS Fornaio (Khadraj NA) X Patrice C (*Padron)) at US Nationals in Tulsa, 2011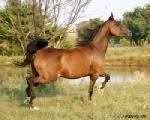 Sana's Magic Dreamlet DCA
(Magic Dream CAHR (Ali Jamaal) X Sanadika Shaklana (El Shaklan))
---
My fatty Storm -pic was even taken today. being free lunged, losing some weight....
I love the head on Storm, he looks like such a charming fella.
oh he has his moments.. Haha
Posted via Mobile Device
I know you asked for Arabians but I have two half Arabians so it should count. LOL.
Molly [Morab] :
Raja [Arabian/Appaloosa]:
---
It's something you need almost like air or water. ♥

Love the first pic of Raja! Looks great in lime green too!
Thankss(: He's usually decked out in pink but it was all getting washed so we had to make do with what we had in the tack room. LOL.
---
It's something you need almost like air or water. ♥

thanks guys heres some pics of mine