Auction Rescues / name help welcome!! picture heavy
---
Well long story short we went to the local auction and these poor babies were headed to a slaughter plant. ( I live right by the border so they would have been destined for Mexico.) Unfortunately there were some very stunning horses that slipped through the cracks. Including 2 very nice Arab stallions which went for 100 each.
I'm going to keep the little chestnut colt and my friend is taking the black filly (will most likely grey out). Both are full QH not reg of course. They are in quarantine for the next few weeks both are snotty nose/eyes and coughing. The chestnut is about 8 mths and the black probably closer to 1yr. Neither one had been handled before so it has been fun....
If you have any name suggestions feel free to post them. I'm not very good with names...lol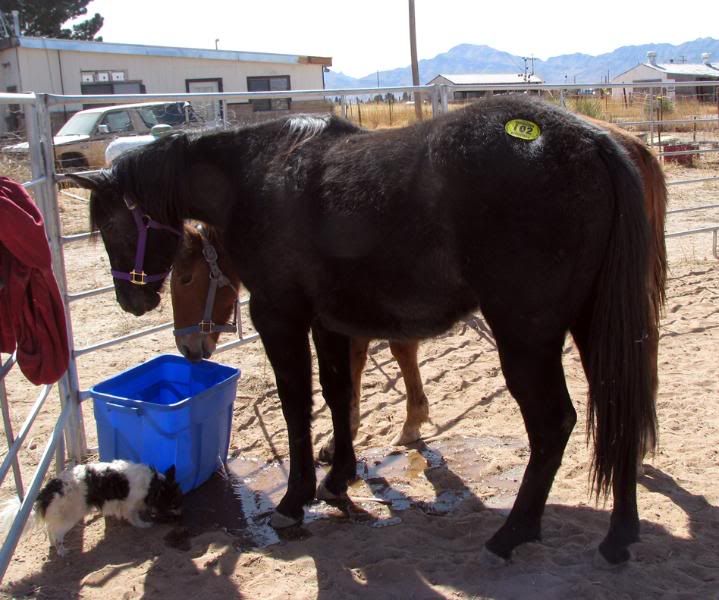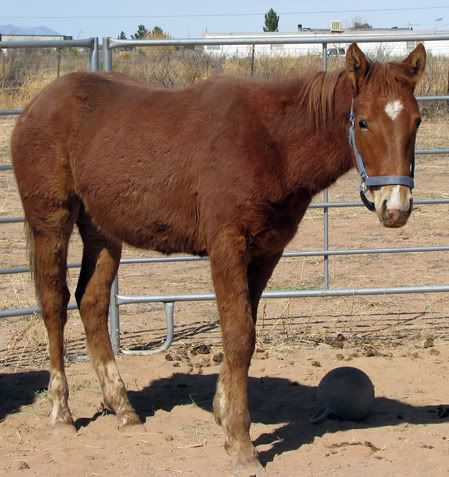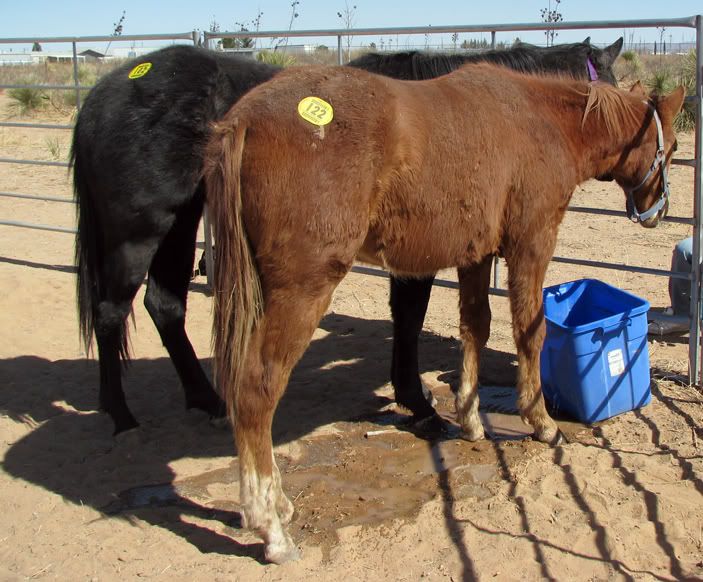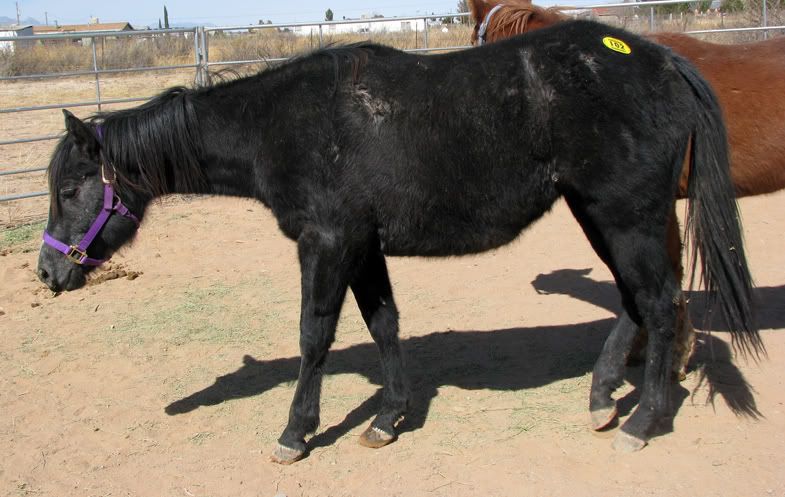 they are very cute!!!! And lucky!! i love the chestnuts nose!! so cute!!! lol!
names..... i dont knwo if you wanted name suggestions for the black filly too or not but i think she looks like a rosie, dana or alex or something like that.
for the chestnut,... I think he really looks like a jackson! or maybe benjy, franky, max, ricky, zeus..... im not too great with names either lol!
What did you decide to name them?
---
Cocoa - 32 yr old QH, Cherokee - 8 yr old TWH & Toby - 16 yr old QH
R.I.P. Cocoa 4/13/78 - 2/9/11
And thank you so very much for saving their lives
---
Cocoa - 32 yr old QH, Cherokee - 8 yr old TWH & Toby - 16 yr old QH
R.I.P. Cocoa 4/13/78 - 2/9/11
That is a great thing you did!!!!!!!! People can be so cruel!!!!! For the stunning chesnut one maybe... Handsome, Artie, or King?

The black filly could be -Shadow
-Cricket
-Bella

I'm really bad at horse names too!
---
Ask a mare, tell a gelding, and discuss it with a stallion.
The chestnut could be....
Boomer
Chance(since he got a chance to live his life)
Trouble
Rebel
Abracadabra =D
Breezy

as for the black filly....
Belle
Sheeva
Beth
Buttons
Jazzy
Junebug(june, junie, bug for short)

im not that good with names =P anyway, its great u saved their lives! hope they turn out to be great horses!
Okay Im a huge Harry Potter fan and since you rescuing them was awsome and magical so here are my suggestions:

Luna (Lovegood) for the filly
Trevor for the colt

Bless you for caring enough to take them and give them a chance at life.
For the filly-Ebony
For the colt-Rusty or Clay
---
Dana
Riverside, CA
Well I am watching one of my favorite movies on TV right now and have the perfect names (in my opinion).
Ginger for the Chestnut and B.B. (Short for Black Beauty) for the colt. Can you guess what I am watching?!
Rosebriar for the filly
Icarus for the colt

Other good ones are:
(girl)
Nightingale
Sapphirine
Pepper
Bryda

(boy)
Valkrist
Firebird
Peregrine
Odin
---
I'm my spare time I ride dragons and runners, practice my Harper skills, talk to dolphins and hang with MasterHarper Robinton.
---
Last edited by manhirwen; 02-25-2009 at

10:00 PM

.