The Awesome Mr Gibbs goes showing.
---
This last weekend was a first for me and Mr Gibbs, his first ever show, my first large show, and a 3 day one at that, so we left Thursday night, and got back Sunday night, and had a great time in between. There were 7 of us from my barn, it was great being in a group, and a very rowdy group at that.
The boy was a bit unsure of the ring on Friday night when we did our schooling spot, he was pokey and calling and being a pain. He settled down some but was still a pig to ride. Probably some of that was the trauma following his first ever bath.
Saturday was a beautiful day, all the Western Dressage classes were late in the day, so I got to spend some quality time with the boy, that was nice, just grooming him or taking him out for grazing in hand.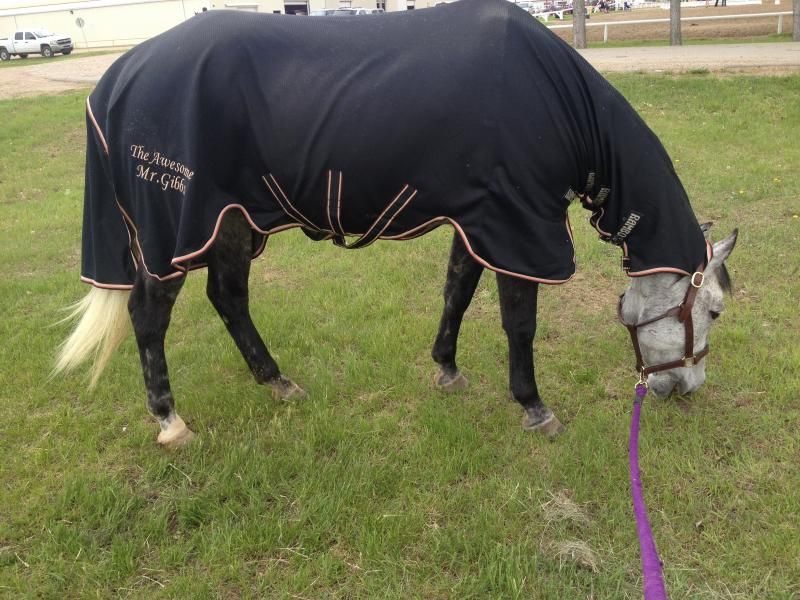 Plenty of time to go visit some tack stores, wander around the Arab barns, as their show was on at the same time, all was good. Then all too soon time to get tacked up and go and warm up, just as the clouds started rolling in, and the rain started to fall. He warmed up nicely, but was a bit of a pain in the ring, my entry was horrible, my trot straight from A to C was a long and winding line, while Gibbs tried to turn out of the rain, complaining that the strange car with people in it at C hadn't been there at the warm up the night before. Judge comment 'drifting' thought that was polite! Three tests on Saturday, scored 53.54, 53.95 and 53.92, very consistent scores, and very consistent placings, 6th in every class, and 2 of the classes had more than 6 people in them!
After a night on the town, too little sleep and possibly a little too much to drink, we were up bright and early, no that's a lie, neither the weather or the people were that bright, it was pouring with rain and we were possibly a little tired. There was a debate if the classes were running at all, eventually it was decided that it would be open card, no time slots, you got ready, went out and booked a slot and rode. I at first chickened out and decided I wasn't riding, right the way down to a melt down, crying I'm not riding, got taken for a walk by my trainer, and suddenly I was now riding, just my walk trot tests, not the lope test.
I was glad in the end, Gibbs rode beautifully, he was so different to Saturday, and the scores reflected it, 63.54 and 63.75, and some lovely 7's scored, even though there was a flood all the way from G to C and all the way over to the edge of the arena. I was more than delighted with the scores and the judges comments, and beyond delighted when the results were published last night, we had won the first class and come 4th in our second class.
Pictures from the weekend
Waiting to load
Gibbs in his fancy new sheet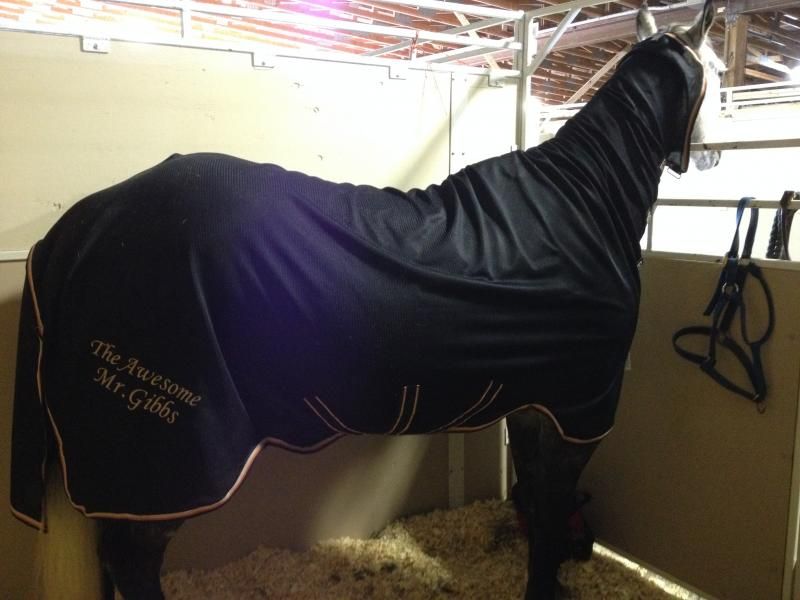 Saturdays tests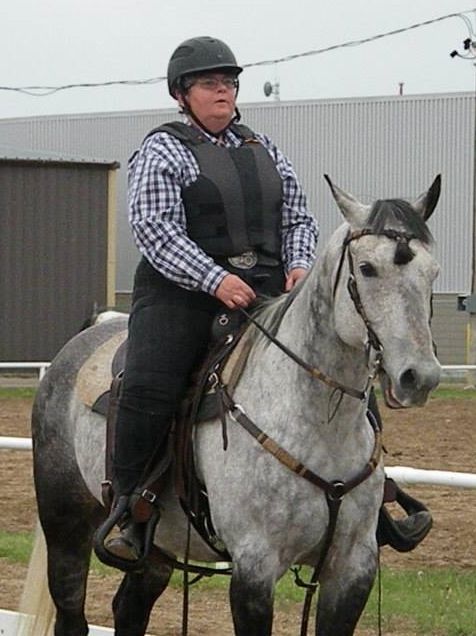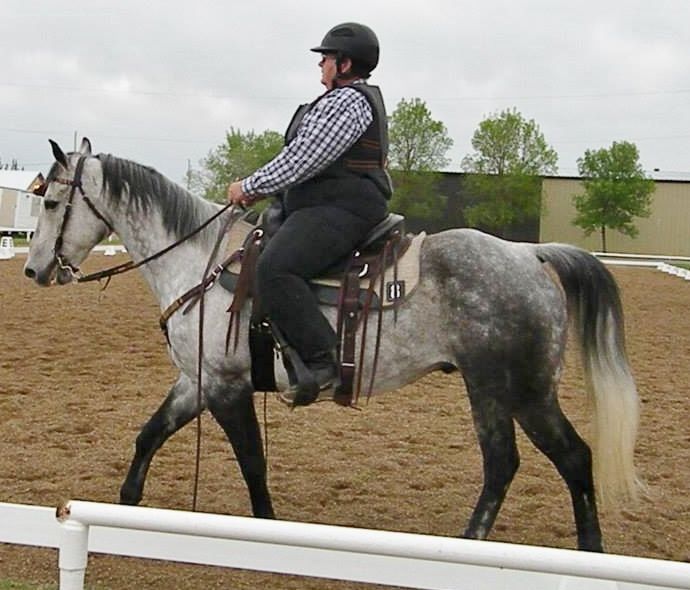 After the last test
We have ribbons!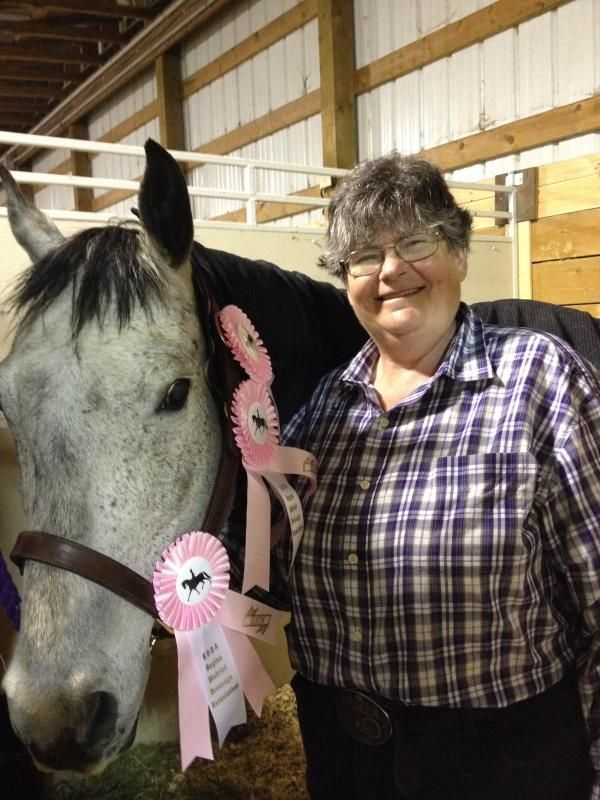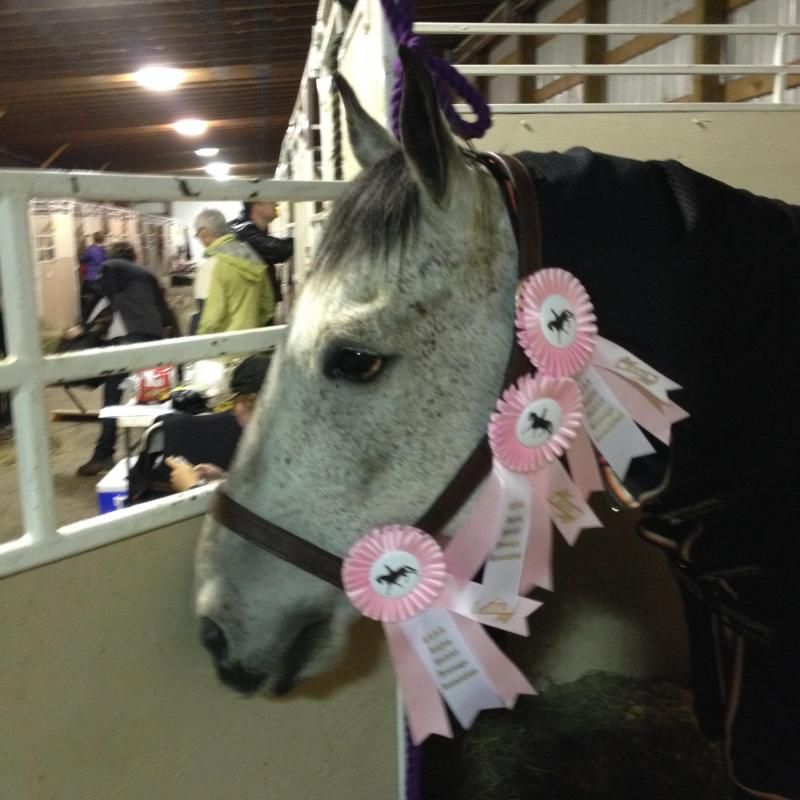 and a celebration
No pics of the tests on Sunday, it was just to wet, warming up looked like this in the good areas
and like this in the rest of it
Next show in a month, bring it on.
I am so so proud of you two!!! Awesome!! We had one of those wet wet wet shows this weekend and I was glad to just be watching for sure.
Posted via Mobile Device
Your smile in the pic of you and Gibbs with the ribbons says it all! Congrats. Showing on a "lake" is no easy feat.
Woot!! Good job you two
.
The awesome Mr Gibbs looks rather smexy in his sheet...but very unimpressed with the ribbons LOL.
---
Always remember that feeling of looking at a big, open country over the ears of a good horse, seeing a new trail unwind ahead of you, and that ever-spectacular view from the top of the ridge!!! Follow my training blog:
http://robertsontraining.blogspot.com/
Golden Horse, you are my hero!
Honestly, after all you've been through, you've still got the hutzpah to get out there, get up on The Awesome Mr. Gibbs and do your thing. I don't know if I'll ever get to where you are now, but when I start to doubt ever getting back up on a horse (which is a daily occurence), I'll have to come back to this post to see that smile on your face. You are my idol! And, lady, do you have some serious balls! (or is it the Coronita?)
Quote:
6th in every class, and 2 of the classes had more than 6 people in them!
Best quote ever!
Well Done! you've come so far; from a hospital bed to ribbons, in just months! amazing.

was this dressage or western dressage?
This is Western Dressage, I really can't even think about an English saddle without hyperventilating at the moment, so Western it is, and I am enjoying every moment of it.....when I am not shaking in my boots at the thought of getting up there.

Spanish Rider, really and truly, if Gibbs had not of come into my life the day before the accident, I don't know if I would have ever got back on board. The test ride I had on him literally 24 hours before, had me trusting him, which is the only reason I bought him. Because he was here, and I knew that he was a steady boy, I was lucky, I took every slow step back holding onto his tail. He has waited patiently while I have melt downs through fear of getting on, he has carried me carefully, and even when he is being a pig, it is nothing worrying.

Riding is a partnership, and if you are blessed with a good partner it makes it so much easier.
I was waiting to hear about your show and here it is!

Wonderful read, rain and all.
---
Sometimes I wrestle with my demons.
Sometimes we just snuggle.
Good job! That is quite the smile in the pictures with the ribbons!!

And if you don't mind, I may use you as my inspiration to getting back on for real riding! I will finally be able to get back in the saddle some time in Mid July/Early August, and the thought has me wanting to puke! You have seriously come SO far!! Good work!