Baby pictures of your horse :)
---
I love nothing more than to come across baby pictures of horses I own or work with :)
Post a pic of your horse as a baby, and pictures if it is still is a baby :)
I don't have any of my arab gelding, which is sad because I bet he was an adorable baby!!
Here is Derulo as a bebe:
---
Every great dream begins with a dreamer. Always remember, you have within you the strength, the patience, and the passion to reach for the stars to change the world. ~Harriet Tubman
The only picture I have of Abby is from her APHA papers. Dear God. This picture is the epitome of "ugly foal stage". (As if she grew into a fantastically conformed horse.. [/sarcasm]). At least she grew into her blaze.
Oh!! I do love foal Pictures - I have only ever had one foal and I am so proud of her. This is my perfect baby (I am a wee bit biased) Angelina.. She was born November 17th 2008.
---
Here's my 3 year olds Paints as babies.
Apache. He was born May 6th 2008.
Lakota. She was born May 7th 2008.
Cheyenne. She was born May 11th 2008.
---
Being horseless is the pits!!
Bugsy and his mummy with their breeder
---
"We are the light, in a street of sparkless matches" - Shaun Diviney
Heres Rodeo as a baby. He was 3 months old here...
Here he was at 10months old...
Here he is now at 16months....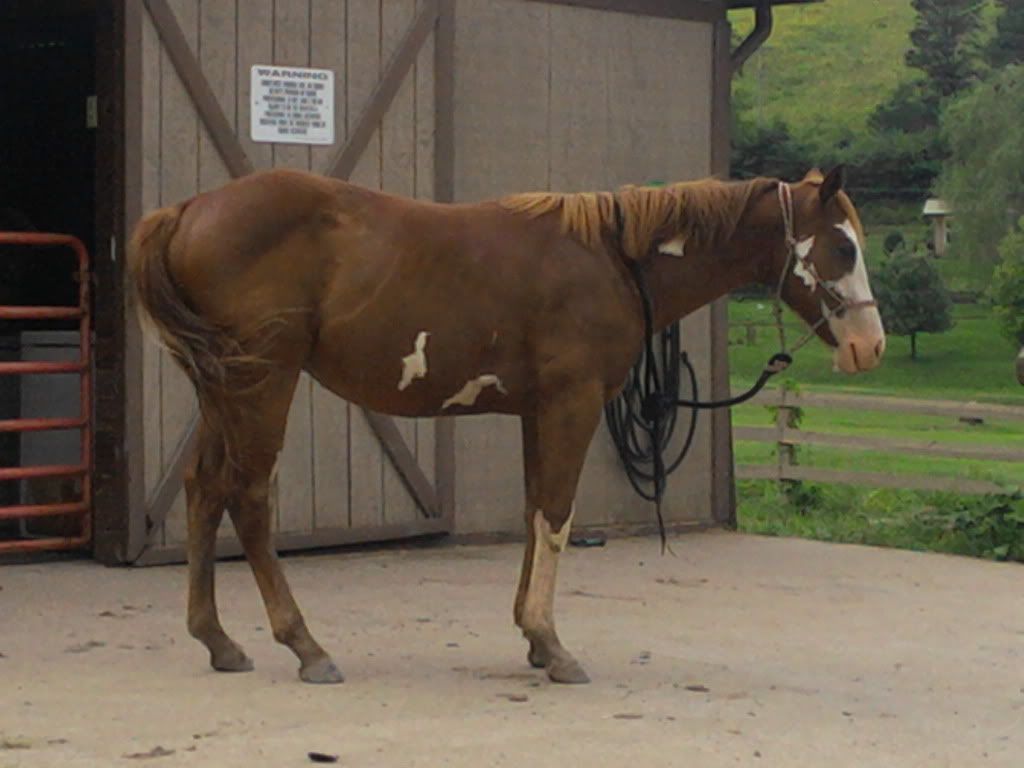 Deja at 34 hours old.
---
"You're just as sane as I am."~Luna Lovegood.
These baby pics everyone is posting are cute!!!
---
Barrel Racers- We aren't afraid to get a lil dirty
You Wish you could ride like a Barrel Racer
The only true "Bab" photos of my horses I have are of Trader. Bought him at 6 months old
Cute little fluffy xD
6 months