Bareback Rides. (:
---
Soo..got together with Copperhead and had an awesome day!

Trimmed up Lucky's front feet and rode her bareback a little to hopefully fix some issues her lease has. She's only allowed walk and two circles of trot for now until I can get her on a supp for her hocks and maybe a chiro out for her back end depending on what it ends up being (I just see stiff/arthritic hind end).
Her hooves are gonna take awhile..her white line stretched up to her long toes and I can't take anymore off..sadly. But, unlike some farriers in the area, I don't plan on chopping off her whole foot..lol.

Soo..we ended up going out to Copper's barn that she boards at and watched her ride and even got to ride myself. (: I'm definitely looking at boarding there. I love the set up and it just..has a good feeling to it. PLUS, pasture board is SUPER affordable and I like the fencing/pasture. So, that may happen next month or the month after.

I came off Reina..kinda bailed, lol. I got on bareback and had to slide over a little which made her more than uncomfortable and she spazzed, so I swung my leg back over and landed about where her head was and my knees barely brushed the ground before I was standing up and moving out away from her, lol. Got back on and sat two spooks (and a rough, speedy trot lol). I think it went great. (: But, first and last time I hop on a horse bareback the first time I meet it, especially when it doesn't get ridden by other people, haha.

Soo..all in all I had an AWESOME day with a friend and the horses. (:
Pictures are currently uploading, so I'll post them once they finally finish (could be 20-30 minutes, haha).
Posted via Mobile Device
Alrighty, we have pictures. (:
Luck before her trim:
What I get to work with and Copper's sense of humor while I was inspecting something close up:
Lucky's little bareback ride:
The amazement I had when Luck remembered how to stand ground tied, even with the enticing hay sittin' right there, haha:
Me on Reina, Copper's mare:
Copper on Reina:
I know some of them are dark and slightly blurry, but I'm sure we all know how indoors make things look with phone cameras, haha.
Posted via Mobile Device
haha yeah...sorry about Raina. She can be a bit of a handful sometimes but she has come leaps and bounds. She used to have that choppy trot with me until she learned to relax. I think its a trust issue. Until she figures out you "got this", she's a bit of a goob. No one else really rides her either so that must have been a shock to her!
Lucky was very cute. I was really happy I got to meet her. Her feet will come along with time. I think it'd be a lot of fun to have someone I know at the barn. I normally just keep to myself since I'm not there often enough to make many steady friends. Trail riding with a buddy would be great!
I was pleasantly surprised by Raina today. I was trotting her on a loose rein and she started reaching for the ground. It took me a second to figure out what she was trying to do and then it occured to me that she was reaching for the contact. Lovely, lovely surprise!
I want to state that I am not teaching her WP and to "roll peanuts".
I had no contact on her and she was down and reaching for it. Another disclaimer: I know she's on the forehand. We were just playing around today with no serious work involved.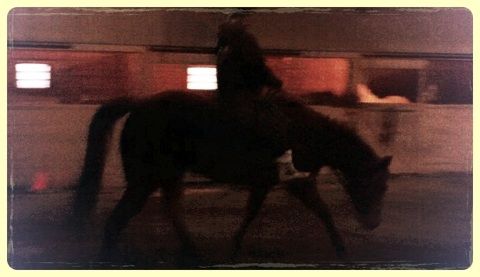 I had a lot of fun today. We should do it again soon!
---
And those who were seen dancing were thought to be insane by those who could not hear the music
There is nothing like a day with a horse or horses :)
---
ride a draft and see the world differently
We had a lot of fun. Its not very often Raina gets to terrorize someone else. I'm sure she was quite pleased with herself!
And Lucky was very adorable. It was Iseul's first ride on her as horse and owner. She was a tad pushy but nothing that won't be fixed with some time. We took a ton more photos and some vidoes, but I think we're a little too bashful to post them all
I've taken nonhorse people to the barn with me but they just don't "get it". It was really nice to spend the day with Iseul and talk "horse" the entire time. I don't get that too often!
---
And those who were seen dancing were thought to be insane by those who could not hear the music
Nahh, no need to apologize :p I slid on like I would Luck or ST and didn't pay attention to whether she would react the same, my fault, haha.

I'll just be giving a touch up on her fronts every two weeks and keeo her backs on a 4-5 week until I fix frog issues and such. Her bars were so overgrown ;; And she's so fat, I can barely keep her foot in a comfortable position and still get to where I need to xD

I agree with the non horse people..they really don't get it lol
Posted via Mobile Device