Before and After of coming 3 year old
---
So this is a little filly we have at my barn. When she arrived she was sold as a 3 year old, sight unseen. However, I believe at the time she was not that old. I believe she's NOW coming up on 3.
Here is the before and after of her progress. What differences do you see? How old to /you/ think she is?
Note: I believe this filly was not allowed to grow out early on. She was orphaned at 3 months old. =(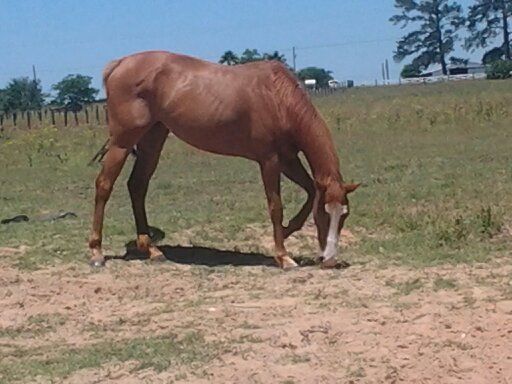 She's a petite little thing.. and she does not look too happy in that first picture! I've seen that same expression from my cat (he's not with us anymore) after we gave him a bath.

Can't tell much from the second picture.. she's still rather small but she doesn't seem to be standing too close together with her hinds anymore.
---
"Strength is the ability to use a muscle without tension"

She's defiantly filled out a lot more and her body seems more proportionate with her head in that last picture and her coat looks a lot healthier, though it could Kay be because it's not wet like it was in the first one.

Would love to see some more new pics of her!
Posted via Mobile Device
She is extremely petite! She is supposed to be APHA bred, but she is very tall. Since that first pic she's exploded with a growth spurt. It is deceiving, but she stands over 15hh.

Her coat was in terrible condition when she arrived. It was very dull and coarse, and took several wormings to shed out to her summer coat. She now shines like a penny.

Her feeding schedule is (and sorry, I speak in scoops and flake terms. Scoops being the 2 quart feed scoops) 2 scoops of Strategy twice daily, 24/7 access to grazing and a round bale of Coastal hay, and she is supplemented with a scoop of Amplify (can't remember what measurement the Amplify cup comes in), at each feeding. She is on a routine worming schedule which she was NOT on before.

Note: Our runs stand 6 feet tall (waaay over my head). And in this pic she is standing at the outside of the run, refusing to come under the covered part to get out of the rain. lol You can lead a horse to shelter, but not make them get in, right?? haha