Quote:
Originally Posted by
deserthorsewoman
View Post
BorntoRun, I think I see certain similarities here
Hehehe, did you rescue too?
---
Thank you for feeding us years of lies. Thank you for the wars you left us to fight. Thank you for the world you ruined overnight. But we'll be fine, yeah we'll be fine.
Kinda....she was recipient for embryo transfer at the university and too old according to the professor(12). They cull every fall, sell them for next to nothing to anybody. So the meat buyers are there, of course. I rehomed her when I left Italy. She is a family pet now, has 5 acres really good pasture she shares with a horse who was borrowed just to keep her company
Wow. I love threads like this; so many happy endings!
Here is my Tennessee Walker's before and after!
At the time of purchase; she was really a mess in almost every way...
100_2540.jpg
100_2568.jpg
This is after only a month; she gained the much-needed weight and her hooves were starting to be corrected. And yeah...I know she is in the fence. You know the saying that the "grass is always greener on the other side"? She certainly thought so!
100_2591.jpg
Late summer of that year: We put her on HorseShine and it helped her terrible hooves grow out, and her coat got shiny and didn't fade as much in the sun.
100_3298.jpg
The second year. And this time she gained a bunch of
unwanted
weight! She was still pretty difficult to ride at this point and BOY did she have an attitude when learning something new! Now she tries different things to find out what I want, instead of panicking. Her ground manners had gotten far better by this time.
100_5631.jpg
And here is my pretty girl now! Had her lose a couple hundred pounds after she foundered, worked her out more, gave her Bioton, and started conditioning her mane and tail religiously before combing it all out often with a Grooma Rake. Her hair grew so so much, and since I LOVE messing around with hair...let's just say she has an awful lot of practice standing still while I play around.
She is pretty fun for me to ride, too, and has finally started learning how to learn. Still not easy for the novice rider though. She is learning how to canter on cue now, is responsive to leg cues, and I am working on bridleless with her now. Making very good progress with it too. It's so much fun to teach her things now!
DSCF2269.jpg
DSCF2439.jpg
DSCF2397.jpg
---
**I must not forget to thank the difficult horses, who made my life miserable, but who were better teachers than the well-behaved school horses who raised no problems.**

Good for you Horsecrazyteen - your girl is beautiful!
Great pictures! I love before and after threads :) This is my girl Izzie when she she was a foal
The day we brought her home, May 13th, 2011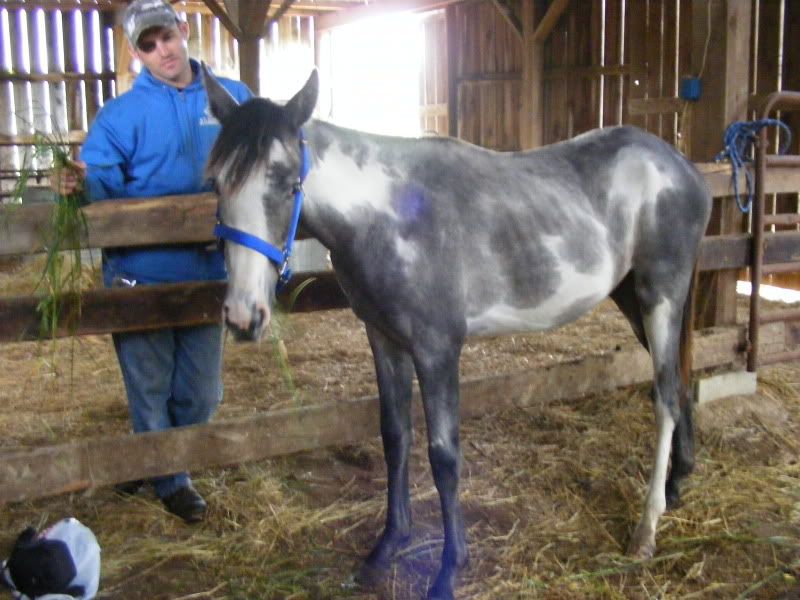 And just recently at around 2.5 years old. Ignore the hairless patch on her shoulder/near her wither. Ding dong ran through some trees lol