Hes huge!!!! I cant believe how tall he looks in these pics! Rodeo will be 4 in April, and Ill be lucky if he gets over 15hh! Well, he might be, but he doesnt seem to be too much over it!

He is gorgeous though! He sure had the ugly duckling story didnt he!?
He's going well Mandy, he's been at the breakers for nearly 3 weeks but I'm working out at an outback station for 2 weeks so haven't seen him and haven't spoken to the breaker. But before I left he said he'd settled in well and all looking good no major dramas. He has shown a bit of resistance to pressure but nothing terrible - pretty expected considering I've done next to nothing with him since he turned 2!
Posted via Mobile Device
Great news! Look forward to seeing his handsome self under saddle.
Posted via Mobile Device
I went to visit the little bloke yesterday as I had a very welcomed day off work.
He has shot right up and is looking a lot more mature in just 3 weeks of work. The breaker was very happy with how he is going, and was surprised that he's not your stock standard 'dumbblood' and actually retained everything he was taught, and learnt very quickly.
Exactly as I suspected, he's pretty lazy so needs a bit more work on the 'go' button, but he's cruising around at walk, trot and canter in the roundyard and for the first time yesterday out in the paddock with tractors, other horses yarded next to it, dogs etc. He had a look at things but no violent spooking. He has no tendency to put his head down for a buck, and certainly no rear or bolt has shown up.
I should have him home in about a week, but I'm quite happy for him to stay longer and get more established if need be - I can't afford to be injured at the moment with only 5 weeks left of my course.
He is about 16hh now - my breaker is a solid 6'6" so makes him look like a pony!!!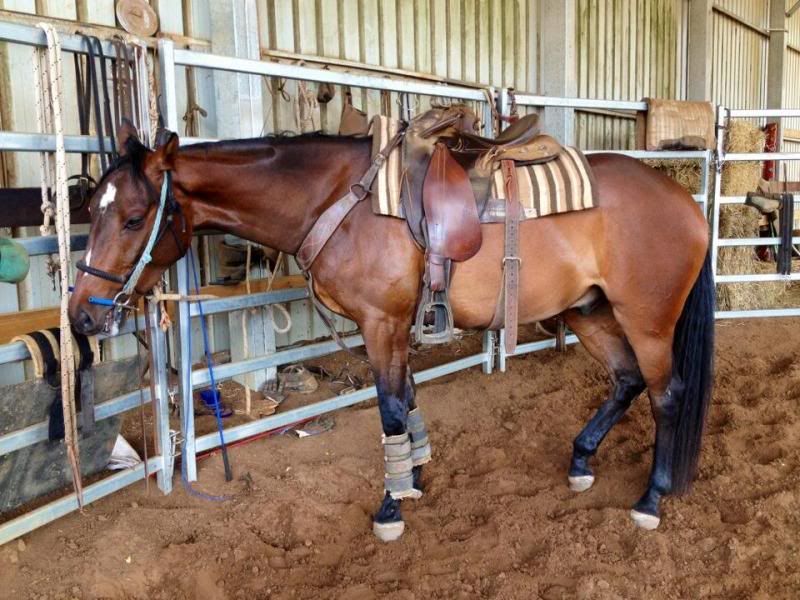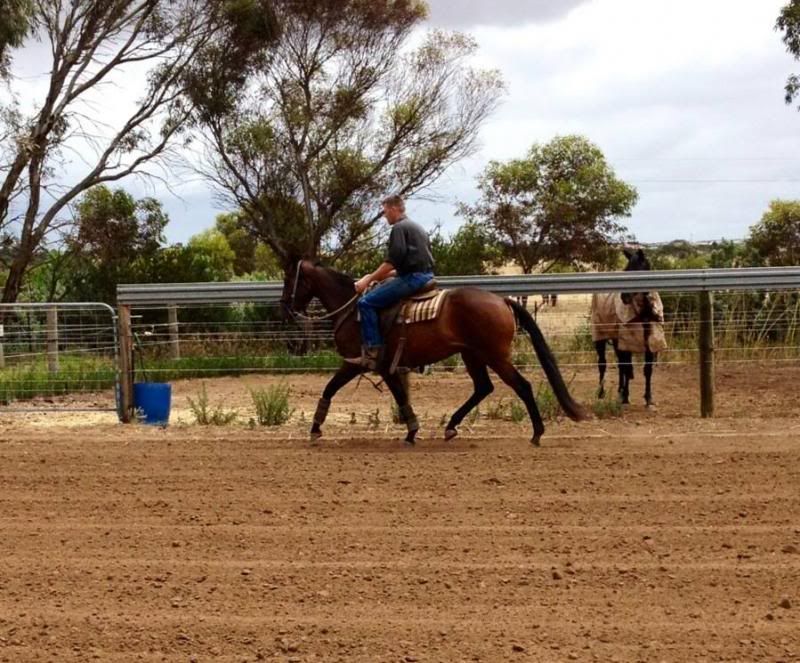 Lookin good Billy Boy!
Posted via Mobile Device
Ha, he looks so cute in a stock saddle under a 6'6" bloke! Trying to picture him in a dressage saddle instead
Glad to hear he's going so well! He looks like a lazy bum, standing there snoozing
By the way, in your earlier photos...woman, you have guns! Check out those biceps! *tips hat*
---
A crazy girl with a crazy horse
Haha he might get a shock when I jump on - Dressage saddle that weighs about half of the stockie, and me who weighs a heck of a lot less than the breaker!

Yeah 'dem guns', are the result of me spending excess time in the gym while out of the saddle and for my fitness requirements at the academy... I tend to build muscle VERY easily!!!!
He's looking great! Can't wait to see you on him. Kind of sad he doesn't look like a baby anymore though. I'm feeling that way about Merit too, he'll be 3 in May. Has went really fast.
---
Life is like a camera. Focus on what's important, Capture the good times, Develop from the negatives and if things don't work out, Take another shot.