Looks like he is having a great time.
His potential is obvious. He is beautiful and has such natural movement.
Wow!!! He is looking outstanding! What a change in him, amazing isnt it?! Ive loved watching the growth of my little guy, hes just now at 15hh, haha, so Billy has some height on him already! Cannot wait until this time next year for the two of you! Hes gonna look dashing under saddle!!
Quote:
Wow he is gorgeous. He is huge! Definitely filled out since the last pictures i seen. Hard to believe hes as big as my moms gelding of 12 years...at just 20 months.
By the way, middle of winter and no snow? Do you ever get snow or doesnt it not get cold enough?
Posted via Mobile Device
Yes it's weird thinking of him as my 'little guy' when I've had other horses slightly smaller than him out competing and doing well in open dressage. He's only a whisker off Spighi, my 10 year old who's a midget at only 15.2hh but very solid. And Billy is bum high again and getting more so every day - so a big growth spurt is looming, it will probably take him over 15.2hh when his front end catches up.
And yep, middle of winter and no snow ;) We don't tend to get any colder than 0 degrees Celcius overnight, sometimes down to minus 4 when it's REALLY freezing so we'll get a bit of frost on the ground. I'm close to the coast, so a little further inland up in the hills and a couple of small mountains, we'll get a sprinkle of snow every now and then, but not more than a few flakes that melt pretty well as soon as they hit the ground.
We just get LOTS of mud. We've had the wettest June on record this year, we had a couple of dry days hence I took advantage of it to bring Billy out for a play :)
Csimkunas6 - YAY *does a happy dance* Billy has finally overtaken Rodeo
I'll be very happy if his winter coat is always like this, he's less hairy than my 10 year old and he was clipped!!!!
He's looking great, Kayty! Can't wait to see this guy progress.
Showing
Join Date: Jun 2011
Location: Cariboo, British Columbia
Posts: 11,952
• Horses:
3
And Billy has stuff to strut! Awesome pics, thanks for sharing them.
Thanks folks, I'm pretty stoked with my little guy.
He'll get mouthed at the end of winter, I just need to get the dentist to see him first, make sure his teeth are all in order then away we go :)
He's turning into quite the ratbag and gets super excited when he sees me coming with a halter, so I'd say its high time he starts getting a job. Mouthing, driving and then showing in hand over summer should keep him occupied for a little while at least!
hes so gorgeous kayty! what a lovely horse you will have when he gets older :)
No point making a new thread for two photos -
Billy wore a bridle and bit for the first time today, and took it like an absolute pro. Munched it for a while, but no gaping mouth, throwing head around etc. Just mouthing it and looking at me with a questioning expression on his face :P
I've put him in a flavoured happy mouth straight bar for now, since I'm not going to be leading him off the bit for a while yet. Will be switching him over to a full cheek once I start actually mouthing him.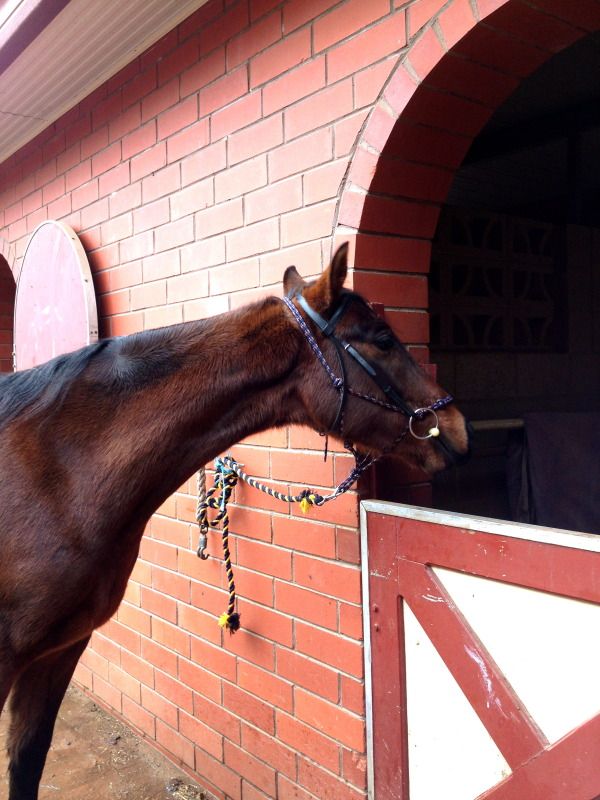 Ooh He looks like a proffesional wearing that! Love his halter by the way ( have the same one ;P )
---
Pocket - 8 yr old, 15.1hh Thoroughbred Mare
~You know you're a horse person when you say 'whoa' to your dog~