Check Him Out!!
---
So today I bought another horse!
I'm very excited about this little guy and can't wait to get him home. His name is "Boon." He is a yearling AQHA stallion. Please check out is pedigree!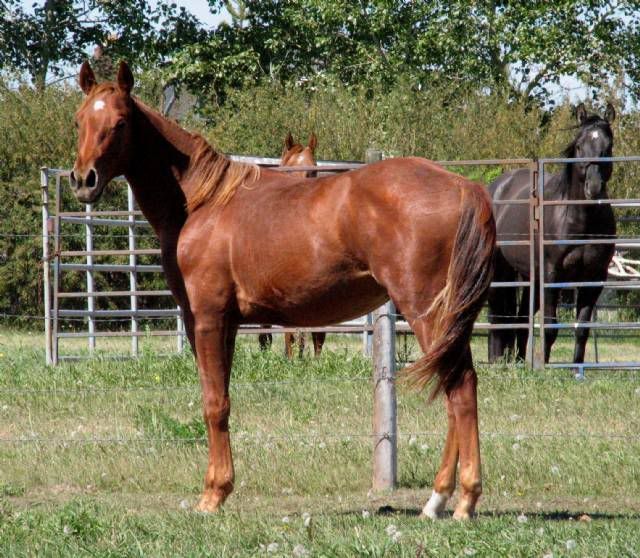 Pedigree:
http://www.allbreedpedigree.com/pc+smart+lil+boon
Lucky you, FGR!
Congrats! He is soo adorable, looks really sweet!
---
Ride more, worry less.
Thanks Pop. He is not stunning, but he is practical and big ranchy looking boy. I'm very excited for him to be my next reining/cutting prospect!
Are you going to keep him a stallion?
I'm not sure yet. I'm gonna keep him and my other yearling in tact for now. I will train both of them first and see how it goes. I hope he turns out how I like because I love his bloodlines, but only time will tell. Regardless one of the boys will no longer have boys...lol
Lol, well he is very cute. I absolutely adore his little star.
Thanks!
He does have a cute little star!
Super cute! I would love to see more pictures of him!! If you don't mind me asking, how much did you get him for??
---
"Can't teach something to love, but you can show them how."
I don't actually have any more pictures of him yet. He is not home, he comes home in the first part of October. I tried to get pictures of him today but he was in my face so I couldn't get any. I got a reeeally good deal on him(Considering the stud fee on Peptoboonsmal is $15K on it's $2000 on his daddy, they just really had to get rid of him, no room for a stud.) I got him for $1200 plus GST. I will be sure to get some more pictures of him when I get him home or when I go out to visit him.
wow that's something i haven't hed in a long time.....GST.....although i thought they couldn't charge it on live stock......he's a looker!! i like him!! trade charlie for him?