Teen Forum Moderator
Join Date: Dec 2010
Location: South East Texas
Posts: 7,157
• Horses:
2
Clyde- sour's full brother! (NOVEL)
---
yesterday afternoon I was out ground-driving Sour, when the BO came over to me and told me that he had a suprise that would be arriving at any moment, and that he wanted me to be the first to see it. Ofcourse, this got me curiouse, so I put Sour up and went to wait with him.
Now our BO tends bring home a lot of fixer-uppers...of anything. Half-finished tables, tack that's missing a piece or two...we've learned not to be suprised by the things he brings in to fix up and use (and he usually does a beautiful job). I have to say that I
was
suprised though, when a truck drove up with a trailer behind it! I heard thrashing and scraping inside, so I didn't know what to expect.
The driver hopped out and immediately grabbed a bull whip (if you haven't seen one, they're terrible devices. They burn worse than any other whip I've ever seen, and make nasty cracking noises that even scare me when snapped) and a twitch. At this point, I'm wondering just what the BO had gotten himself into. I'm thinking 'ohkayyy. 6'5 man thinks he needs a bullwhip and twitch for this horse. What is it? a demon from down under?'
Well he takes down the ramp and jumps back- giving me a view of this demon horse. And I couldn't help it. I laughed. In this 7' four horse trailer stands a 24" miniature horse, braced with legs splayed out and nose in the air! It was funny...until I realized that this man was actually going to twitch this little animal. I immediately went up to him, grabbed the twitch and whip (not the best idea.
I tend to get very...stupid- when I'm angry) and told him that there was NO reason to use that on such a little horse. The man just looks at me, wide-eyed (I mean really, imagine a 4'11 teenager marching up to you and taking your stuff!) and goes 'uh...I didn't even know
how
to use it. The guy told me these were for dangerous horses, and this guy is a MONSTER!' I heard the BO laugh, and motion for me to try unloading the horse. 'that's alright' he says to the man. 'she's got him from here.'
Now anyone who's talked to me at all on here knows that I tend to be on the high-thrill side. My whole job out at this barn is tuning up cranky or peevish horses, correcting bad habits, teaching manners to spoiled brats (horse and human alike
) and all around, doing what everyone else doesn't want to do. A 'monster' mini is nothing to me. Now don't get me wrong, I'm extremely careful. I understand the danger of horses...I just don't feel like extremes such as a twitch and bullwhips are needed in situations like this.
Poor colt was terrified. It took me fifteen minutes to get him to let me grab his halter- after he'd already backed himself up into the very farthest corner of the trailer. Eventually I got him to let me lead him out though, and with a snotty little half-rear and crowhop, he jumped out of the trailer and proceeded to buck wildly like some kind of rodeo bronc. The man (who I didn't even know was capable of such a high voice) screamed 'he's gonna kill her!' not helping at all, as I slowly coax the little guy into calming down.
Turns out, 'Clyde' as he's called, was bought by this man from us as a weanling, as a christmas present to his little boy. They had fun for a while, wrestling and running around together- and- typical miniature horse and amateur horsepeople story - as he grew, he began to get more violent- kicking and biting and rearing when he didn't get his way or was playing too rough. One day he kicked the boy in the arm and broke it- and he was promptly put into a large dog run and left.
He's two and a half years old, and extremely rough, responds severely to sudden movement and/or other stimuli, but the BO and I both knew it was nothing I hadn't seen before. His condition is poor- he appears a bit wormy and very dirty- with hooves that have grown into slippers and thrush in one of his front hooves. Underneath all of the poor care and dirt though, I saw something very familiar about the little guy's looks.
I almost wasn't suprised when the BO told me that Clyde happens to be Sour's FULL brother! I was so tickled to find out. He has that same look in his eye, and pretty much the same conformation that Sour did as a two year old (she's now 3 1/2 and has a very nice build) so I think that once we get him prettied up, he'll be lovely. He isn't up to date on his shots and he's still a stallion, but I see potential. His coloring is absolutely lovely.
I was afraid he'd show the same nasty hate for people that Sour had when I first got her (nearly the same situation, except she hadn't been touched at all until she was 7 months old, then was thrown on the ground as a form of 'breaking' her. same outcome though- an untouchable monster horse that no one wanted) but I really think he's going to be a sweety once I get those unneeded man-parts off and some manners knocked into him ;)
OK. I've made a novel of this. My appologies, I'm so excited because the BO has practically give him to me. Now for pictures!
these are about an hour after getting him. I already had him tied nicely and letting me scratch his neck! he's a little grumpy, and very mouthy, but I'd probably be the same way. He must feel horrible with such bad feet! Luckily they're nothing we can't fix- though I think they'll abcess. After these pictures I thoroughly cleaned and packed his feet (he didn't like that one bit. I'm sure it hurt!) and attempted to get some of the dirt off...he has a vet appointment tomorrow morning.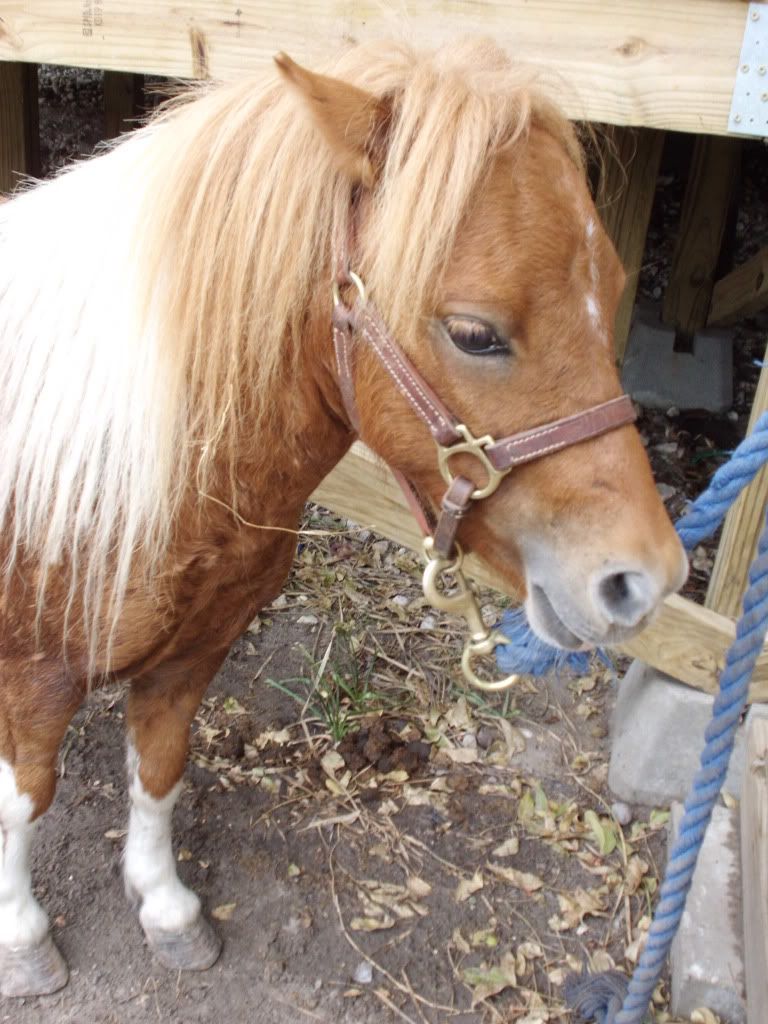 pardon the halter size- it's Sour's. He's only 25 inches (takes after daddy!) and she's 32" xD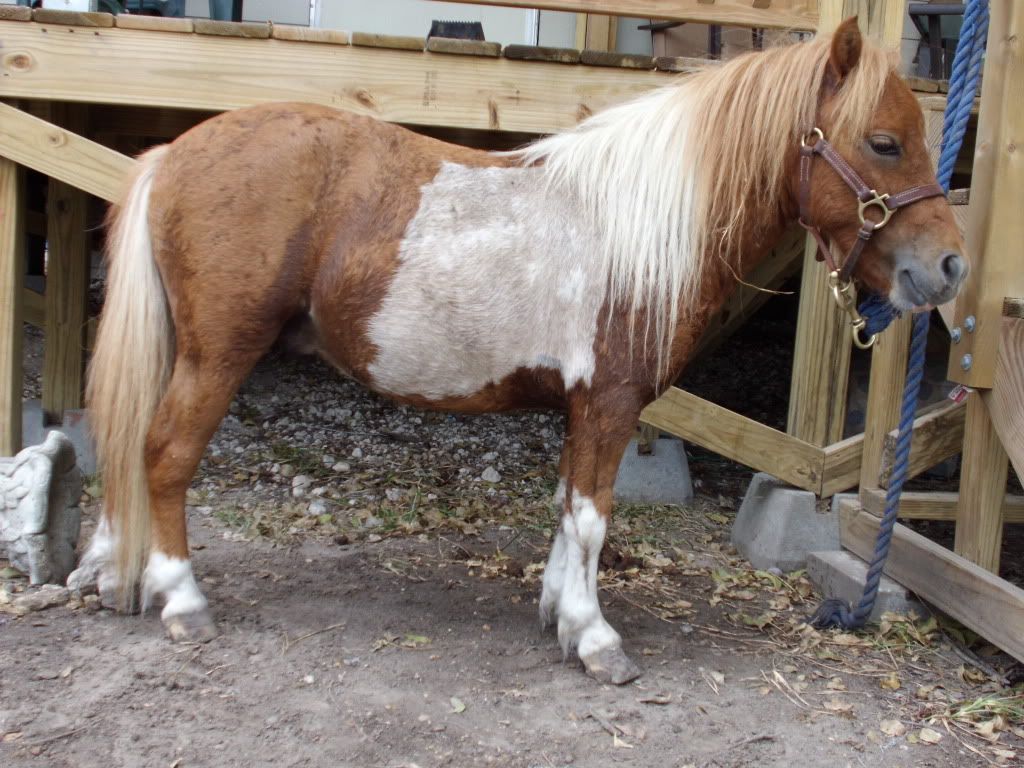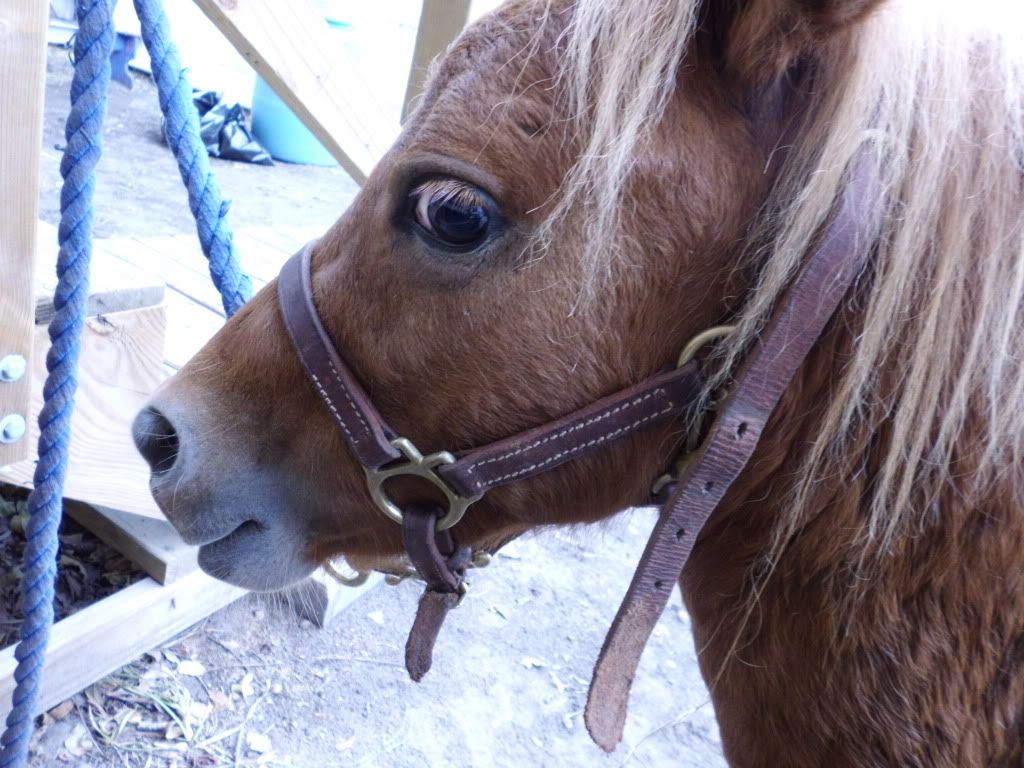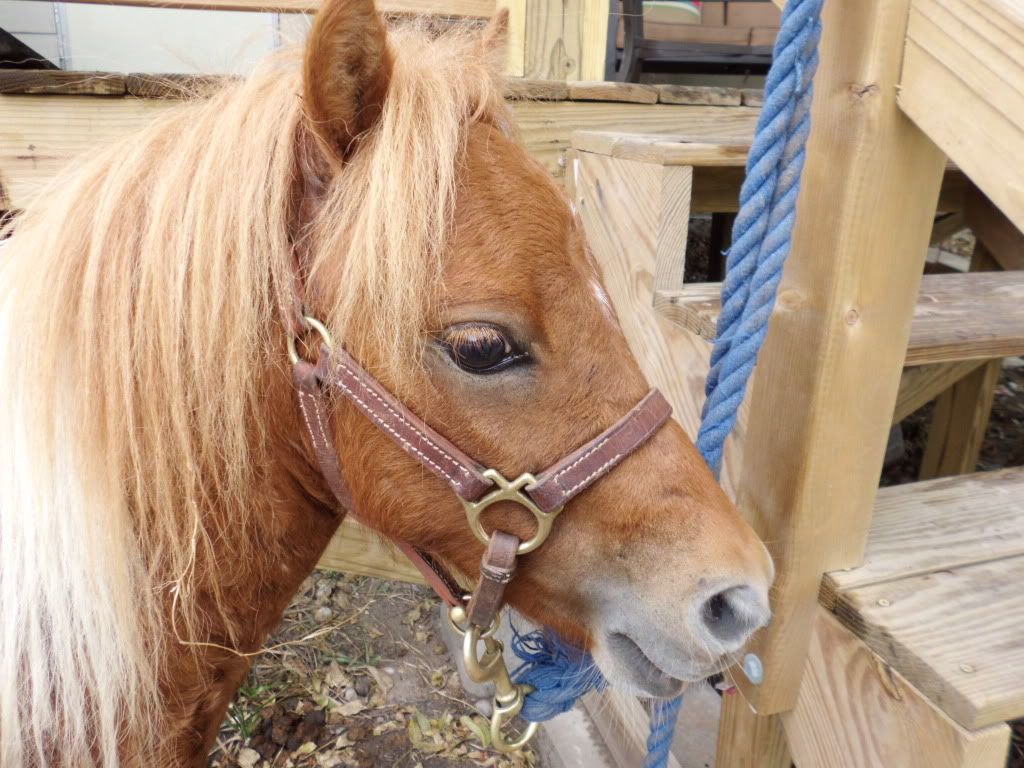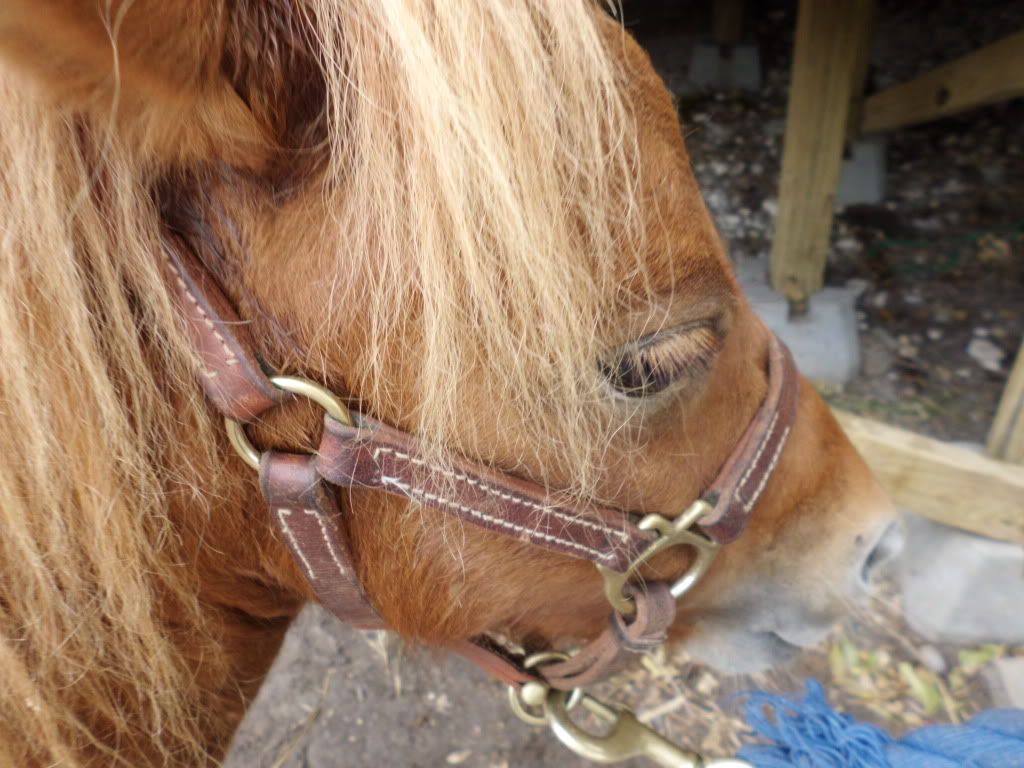 he seems to be quite the character. He was already trying to eat my hair, brush, leadrope, and gauze! Something tells me he's just a lonely little soul looking for some leadership.
---
Everyone in your life is meant to
be in your journey, but not all of
them are meant to stay till the end.
aww you must be so excited! Sounds like you two are going to have quite a bit of fun! He is adorable XD
---
Horses lend us the wings we lack
OH my!!! He is adorable!! Congrats! I love him already!! Hes so cute its not even funny!! Makes me want to try to get Rodeo's brother from his new owner more than anything! LOL
Aww he has the cutest big eyes! I bet he's a character like most minis ;)
Aww he is so cute! Glad you BO got him out of the bad situation that he was in.
---
Amanda
Horses lend us the wings we lack.
So adorable for a little monster! I can't wait to see pictures of him and Sour together
---
Impressive Wild Angel- Ginger Happy Go Lucky- Duncan Little Boy Blue- MellowSweetwaters Eqyptian King- Sam

he's adorable! Hope to hear a bunch about his progress. Good for you standing up to people!
---
Teen Forum Moderator
Join Date: Dec 2010
Location: South East Texas
Posts: 7,157
• Horses:
2
aaaah you have no idea. I can just see it now. The two of them (provided that he grows another inch or two xD he's quite a shorty!) driving together, side by side. The vet should be out in a few hours to check him over, and we'll hopefully get his dewormed and the thrush cleared up in the next two weeks, then chop-chop! Once he's gelded and his testosterone levels even out, I'll introduce him to Sour (hopefully within a two months!). Expect a LOT of pictures!
he's definately stockier than she is, and looks to be built more like mom than dad (same color, too.) while Sour took after dad. They have the same huge eyes and baby-doll faces though, and LONG LONG LONG hair <3 ahhh the fun I'll have with that once he lets me braiding it ;)
I'm going to do a personality test on him today or tomorow, and start his ettiquette classes (hehe) in 4-5 days once he's settled in.
Here's a few pictures of Sour. Can you see the similarities like I can, or am I just being biased? xD
(1 year, 8 months)
(Sour at 2 years, 4 months)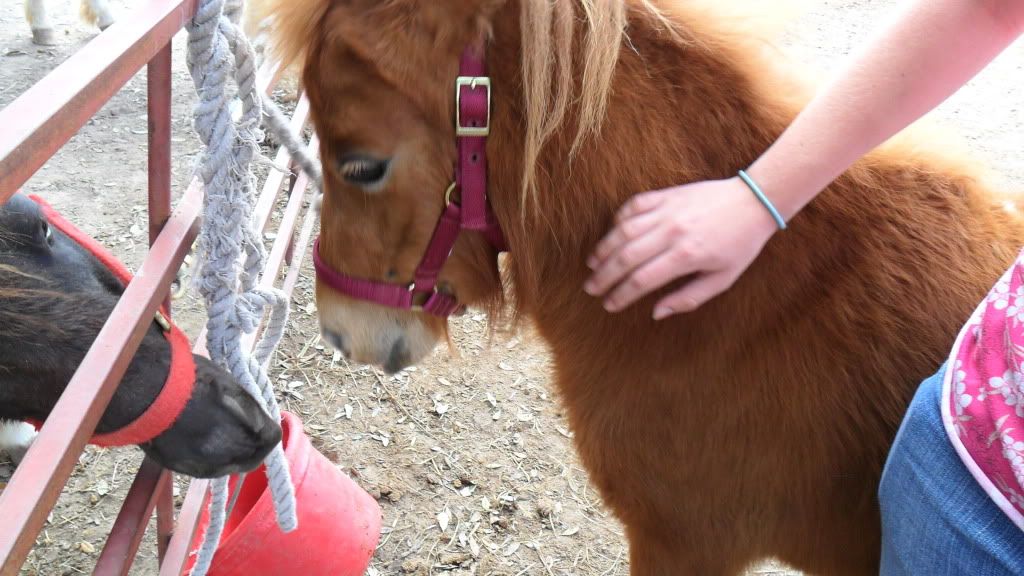 (2 years, 4 months)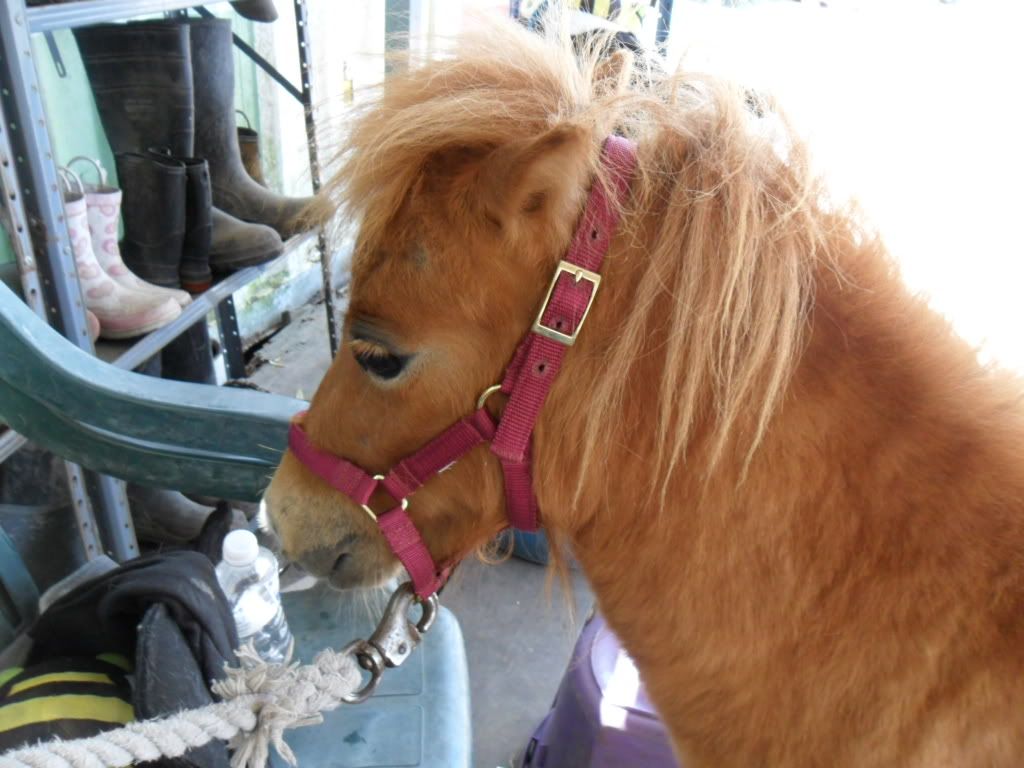 (2 years, 10 months)
AND I found some baby pictures of both of them! (I'm sorry, I'm going a little crazy with photos)
Sour- 45 minutes old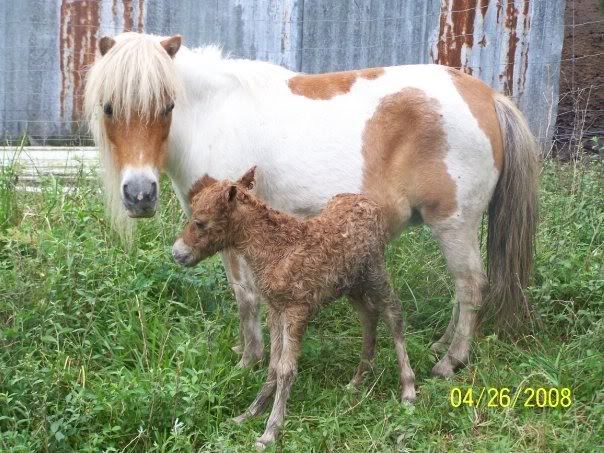 Clyde- 3 days old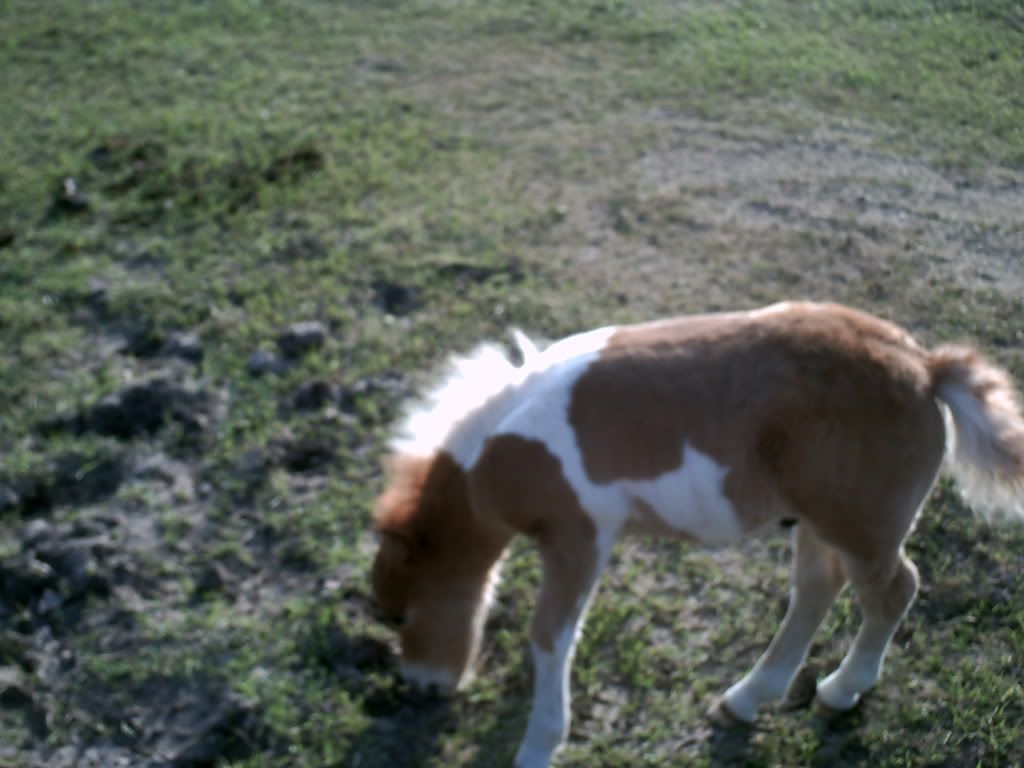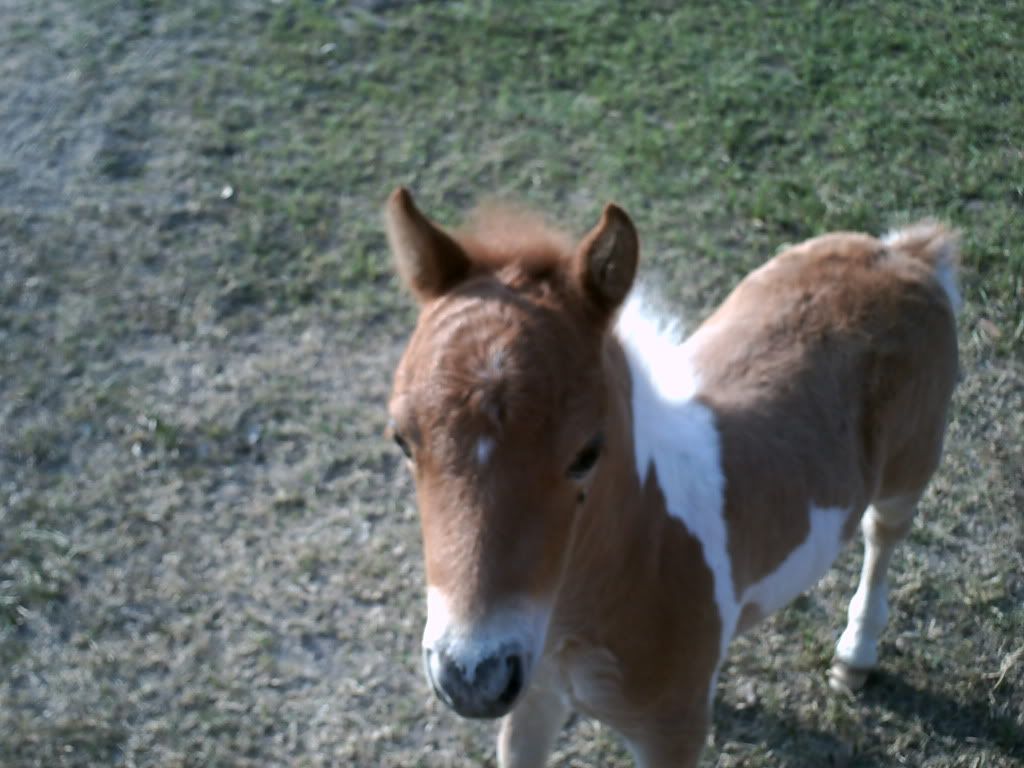 ---
Everyone in your life is meant to
be in your journey, but not all of
them are meant to stay till the end.
Oh my gosh what cute baby pictures! I agree it would be awsome if he grows just a little bit more and you could hitch them up to a cute little wagon together.
---
Amanda
Horses lend us the wings we lack.
No, they totally look related. They do have the same eyes and adorable face!
---
Impressive Wild Angel- Ginger Happy Go Lucky- Duncan Little Boy Blue- MellowSweetwaters Eqyptian King- Sam

Similar Threads
Thread
Thread Starter
Forum
Replies
Last Post
Clyde <3

alltimelowx

Horse Pictures

4

07-15-2010

06:53 AM

Quartz's full brother

Velvet

Horse Videos

1

10-13-2009

10:23 AM

My new Clyde !!!

belgianlover

Draft Horses

34

03-23-2009

10:24 AM

Clyde!

Goosen

Horse Pictures

4

01-25-2009

11:28 PM

Big Brother!

FGRanch

General Off Topic Discussion

15

04-24-2008

10:34 AM