Cocoa's 30th birthday
---
Well - this past Sunday was Cocoa's 30th birthday.
I made her a "carrot cake" out of grain, honey and mini carrots.
She gobbled it down but saved some for Angel.
:)
Last summer it was iffy whether or not she was going to live to 30 yrs old - but after finding out that the person I was boarding her with was trying to kill her on purpose - I moved her right away (2 days later) to a better place, a wonderful Barn Owner and she is doing fantastic! Now I look forward to seeing just how old my girl will make it. I have no doubt she will see 31 yrs old.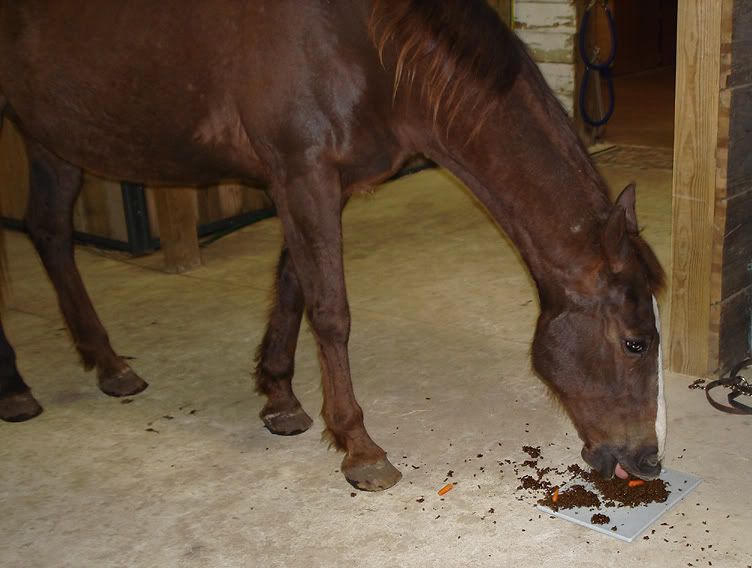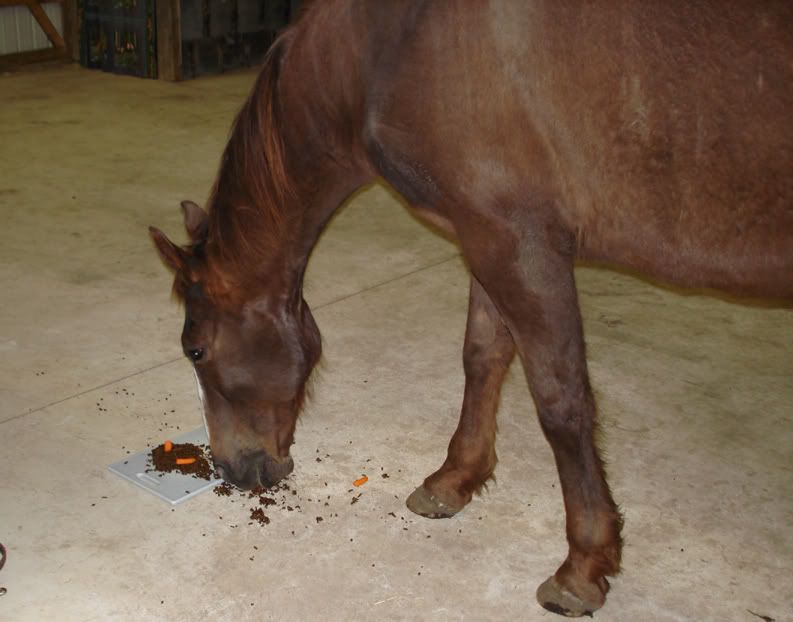 Happy Birthday!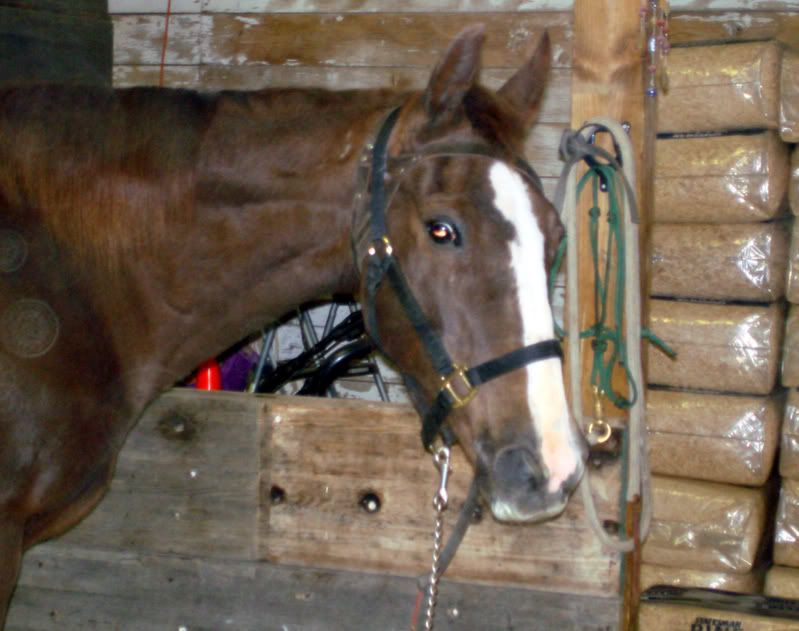 ---
Cocoa - 32 yr old QH, Cherokee - 8 yr old TWH & Toby - 16 yr old QH
R.I.P. Cocoa 4/13/78 - 2/9/11
I think she looks great! I bet she'll see more than just 31st bday... 8)

Why the person tried to kill her??!
Well my husbands friend has horses and we needed to move Cocoa as the stable she was at was closing. So he offered to let us board her at his house. His wife was purposefully not feeding her. She was there almost a year and then suddenly started losing weight (she is already a hard keeper) - we had the dentist out and the vet out twice. Both said it was "more than likely" her old age. As "the wife" insisted she was feeding her every thing she was supposed to be doing and giving her the supplements I bought.
But I was skeptical. I just didnt trust her. So I started going there two times a day with my own horse feed (rice bran, senior feed and crushed alphafa cubes. After about a month and a half of me doing that, Cocoa started putting her weight back on and was in good spirits again. Then "the wife" said to me... "Well I dont know what to do about Cocoa, we're going to get another horse and need her stall. I didnt think she'd still be alive by now but with you feeding her it looks like she is going to be for awhile yet. I was counting on Cocoa being dead before the winter" - I almost choked on the anger that boiled inside of me. I wanted to knock her out!!!!!
I said "Well I am sorry that my horse being alive is an inconvenience to you". She said "Well I just didnt think she'd live this long" (yeah sorry I didnt let you starve her to death!!!)
two days later i told 'the wife" I found a new place to bring her. And when I told 'the wife' that I was moving her, she was pissed. She said "I didnt mean you had to move her..." Ummm then what - you wanted me to put her to sleep!?!? So the next day I moved her - no one was home when I took her out of there.
Later that day, my husband over heard a phone call to his friend from his wife. She said "I dont know where Cocoa is. She is probably dead out in the bean field"
Thankfully I didnt trust her and realized that she just wasnt feeding Cocoa. Her constant "Oh she ate her hay already", etc just made me skeptical.
She hasnt even been at the new place for a year yet and she has put on all the weight she lost, her coat is shiny again, her attitude went from depressed to spirited again. I am so thankful that I didnt believe that wench.
...at the new place, this past week: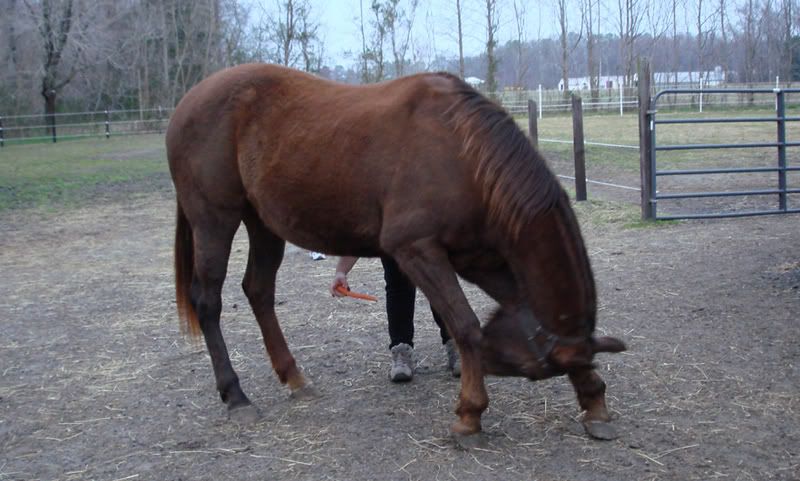 ---
Cocoa - 32 yr old QH, Cherokee - 8 yr old TWH & Toby - 16 yr old QH
R.I.P. Cocoa 4/13/78 - 2/9/11
after a few weeks of feeding her myself at the evil womans stable - I took some pics
She had already started to gain weight back, but you can see in this picture how her back bone, butt bones, ribs were all showing (this is still when she was at the wench's house):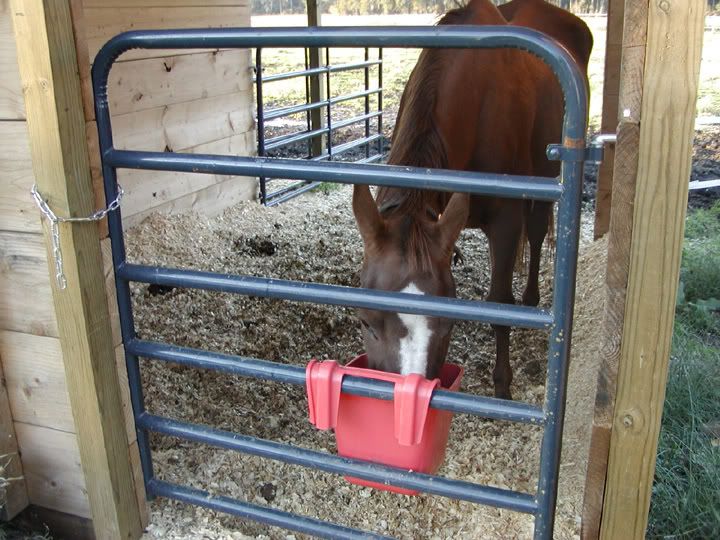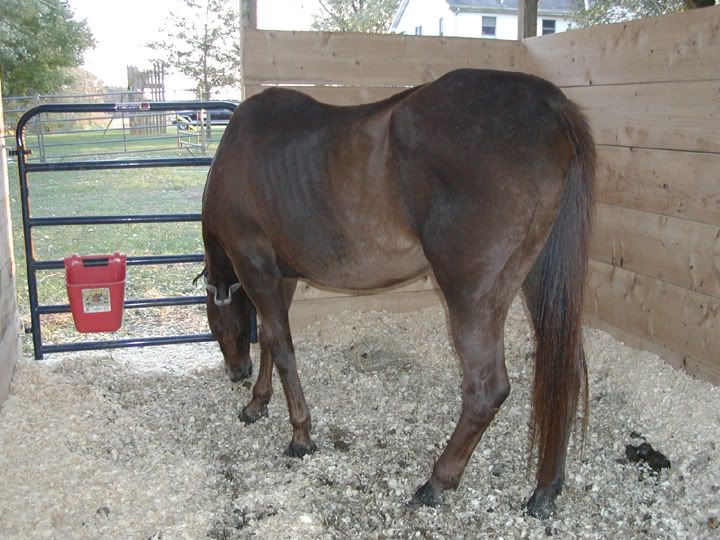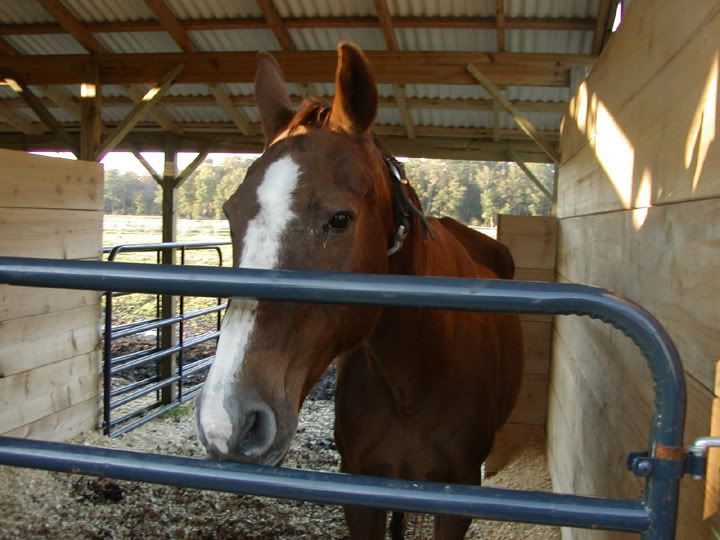 and her now...
(Christmas day)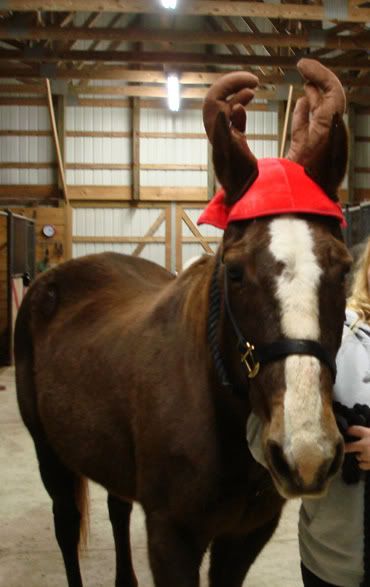 ---
Cocoa - 32 yr old QH, Cherokee - 8 yr old TWH & Toby - 16 yr old QH
R.I.P. Cocoa 4/13/78 - 2/9/11
OMG thats horrible that the woman tried to starve your horse. i would have sued or called animal control or something....
Such people drive me nuts....!
If you don't want to keep someone's horse just say that. At least, it's more honest than starve it.
I know the boarding farm close-by. Horses are kept 20-30 in field with couple round bales of cow molded hay given once in while. Guess what? LOTS of people still board there and when I tried to bring to attention that it's not hay, but I don't even know the right word for that substance.... Well... They said "owner is so loving and caring" blah-blah-blah (and yes she says all those words about loving horses and can fake basically anyone (including animal control) on that)... The person boarded there lost 2(!) horses in 6 months or so due to colics and all... Still no lesson learn...
She looks WONDERFUL for her age
She's so cute and beautiful!
I am so glad you were able to bring her up to health again...what a sad story
I'm happy for you!! People can do horrible things
OMG im so sorry! i wanted to cry after hearing that story :(. im so glad you got her out of there, she is looking great now! no doubt she has more birthdays to come :)
That is just so so sad. Im so glad she is ok now. How dare someone do that to your horse or to any animal. She looks so much better, the one pic of her face when she was at the old place is sad you can see how sad she is. She must really love you!
---
From east to west a travlin gypsy found her prancing pony for now their hearts run as one...into the north
~Traveler
When she was at the old place, when I was leaving, she would walk the fence line next to my car as I drove down the driveway and she would nicker.... it used to break my heart.

Now I am trying really hard to sell my house and buy this little farm so we can bring our horses home. Although where they are at now is awesome, there is no place like home....
---
Cocoa - 32 yr old QH, Cherokee - 8 yr old TWH & Toby - 16 yr old QH
R.I.P. Cocoa 4/13/78 - 2/9/11