CoCo's first turnout
---
CoCo had an eventful first turnout. I wish I'd had my camera out when it happened. She was turned out into a field separated by two fences from other horses. She jumped a four foot fence to get closer to the other horses!
They weren't kidding when they told me she was an eventer prospect LOL!
Anyway here are some pics after I did get my camera out of the car.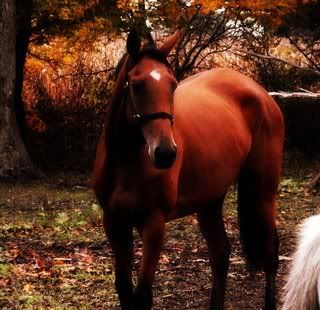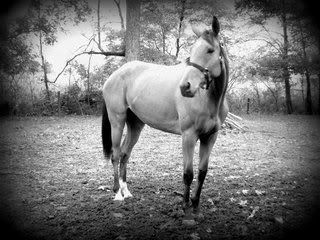 wow she is gorgeous and what an awesome story! Sounds like shes gonna make a great jumper!
---
-Horse racing is my passion-
Athena:15y Palomino QH & Shirley's Brittney:8y Bay OTTB
she sounds like she definitally will make a great jumper for you !
She is gorgous, she can spend a weekend down here with me
What a brat! But definitely talented!
---
"The ideal horseman has the courage of a lion, the patience of a saint, and the hands of a woman..."
Yeh no kidding! She loved being outside to run, she hates her stall. Poor girl :(
I did get her a jolly snack/ball thingy but I don't know if she likes it or not, guess I'll find out in the next day or so.

I walked her from the stables to my house and back and she trotted the whole way but was slow enough to keep my walking pace. I hope she does that when she's under saddle next year lol.
Look at that pretty girl! I'm not a mare person but I LOVE her.
Her personality sounds awesome.
---
I give myself very good advice, But I very seldom follow it
Started
Join Date: Aug 2009
Location: In the barn whenever possible.
Posts: 1,910
• Horses:
2
I LOVE the first picture!!! She's beautiful!
---
"Riding a horse is not a gentle hobby, to be picked up and laid down like a game of solitaire. It is a grand passion. It seizes a person whole and, once it has done so, he will have to accept that his life will be radically changed." -Ralph Waldo Emerson
I thought the same thing as Plains Drifter. And I love her star :)
---
"Horses and children, I often think, have a lot of the good sense there is in the world."
What a find! She is absolutely gorgeous. Have she and Carolina met yet?
Unfortunately Carolina and I had a very dangerous ride (she flipped over on me on purpose) and I gave her to a trainer who thought she was the bees knees. Explanation here :
http://www.horseforum.com/horse-talk...me-long-38157/
I get a daily email from the trainer though. So it doesn't hurt so bad.