Ok thanks. From what I read I'm pretty sure she is a sabino. But would she be a red or a blue? I'm so confused by her color change.
Do you have any better pics Whisper?
I would just like to say that its cool how your horses change colors! IM a little jealous...its like Wizard of Oz in real life.
---
Ready to ride!
Better pictures how? Different angles?
no ones that aren't so foggy. As in clear.
I have no idea if he does this every year or not. I got him in july and take pictures of him all the time and couldnt believe the changes in his coat. I did notice the other day that his coal black mane has suddenly started to get ALOT of white hairs in it. Guess I will just have to get my curry comb all warmed up for this spring so I can see what hes gonna look like for this riding season.
---
There Ain't A Horse That Can't Be Rode
And A Rider That Can't Be Throwed
Hmm, the pictures don't look foggy to me, but here are a couple more, one from that same day and one from the day I brought her home.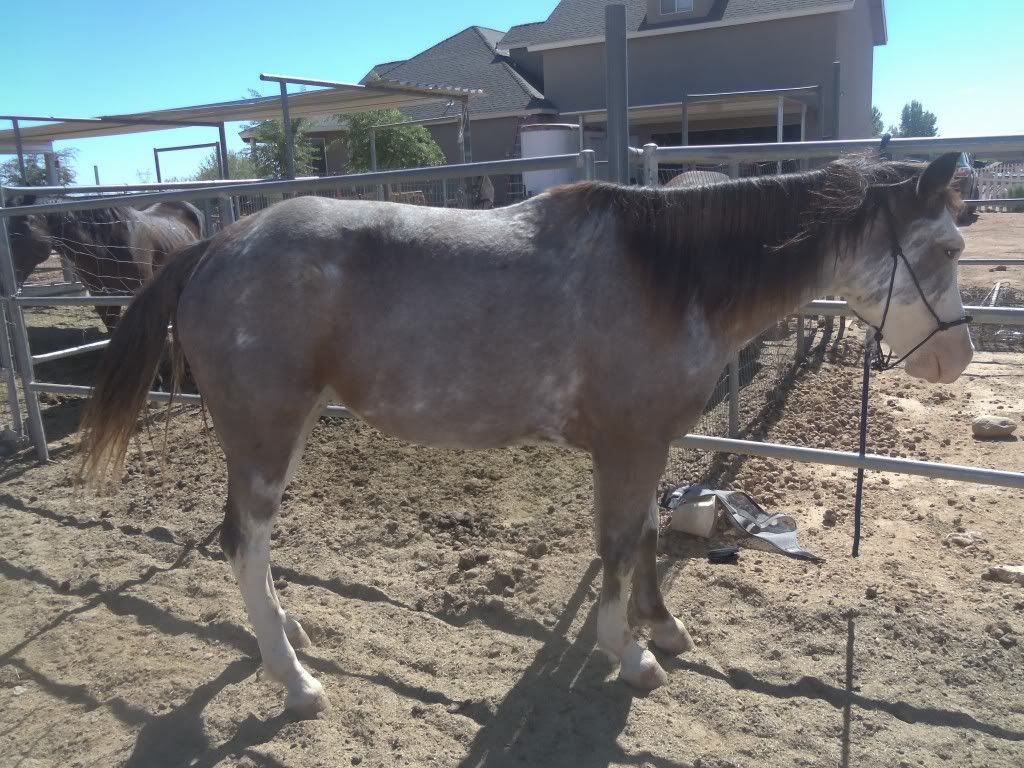 The other two look hazy as in you had a finger print on the lens of the camera or something.

Still kind of does in these two as well.

But they are good enough that you horse looks to be a bay roan. Not blue, nor red, but bay.
mine does to. these are his two extremes but he varies between the two as the seasons change. lol
Summer:
Winter:
Those are his two extrems, he varies over the course of the year lol
---
Beauty is not diminished by those who refuse to see, hear,feel or in any way sense it. If you refuse to see beauty its you who is weakened.
Thanks, NdAppy for explaining that.
After you said bay, I started looking into it more. Based on the description for sabino (tall white socks, bald face, and white on the belly) typically at least, bay sabino sounds like it would describe her better. I also read that bay roans would typically have a black mane and tail, where as hers is red.