Comanche Photo Thread
---
Hopefully I will be out and riding Com more, this is our third ride in three weeks. He is fat and lazy, so I hope to improve his fitness as long as the weather quits raining!
24th February 2009
We had more rain last night so the arena was worse than yesterday. Dad trimmed Kai's back feet, he was perfect for him. Rode Comanche. He was a pain in the butt. He hates mud and we had the centre of the arena to work in, but one side was muddy. He was acting soooo lazy, a step backward from when I last rode him, but I blame the mud cause he really hates it. We just trotted, lots. He didn't slip anywhere but I didn't want to risk a canter in the mud with his track record.
So we started with a walk around the paddock through puddles then came into the arena
And we trot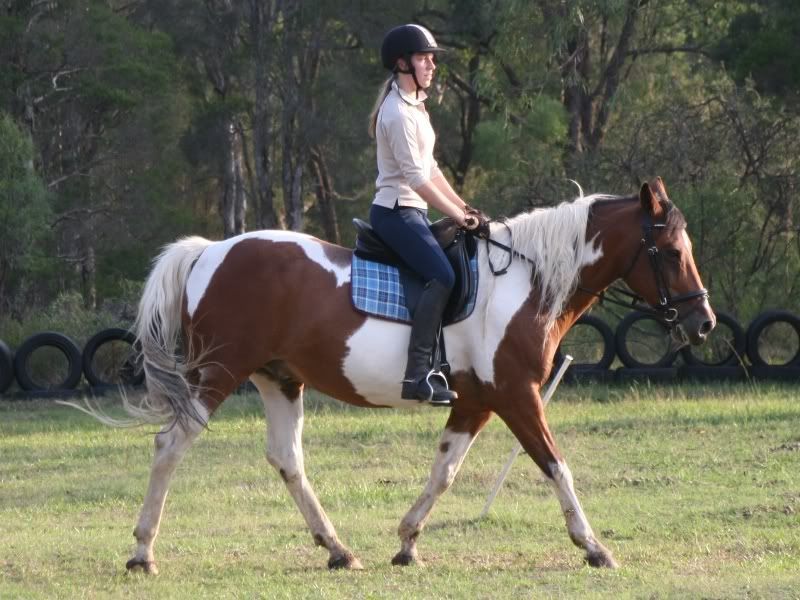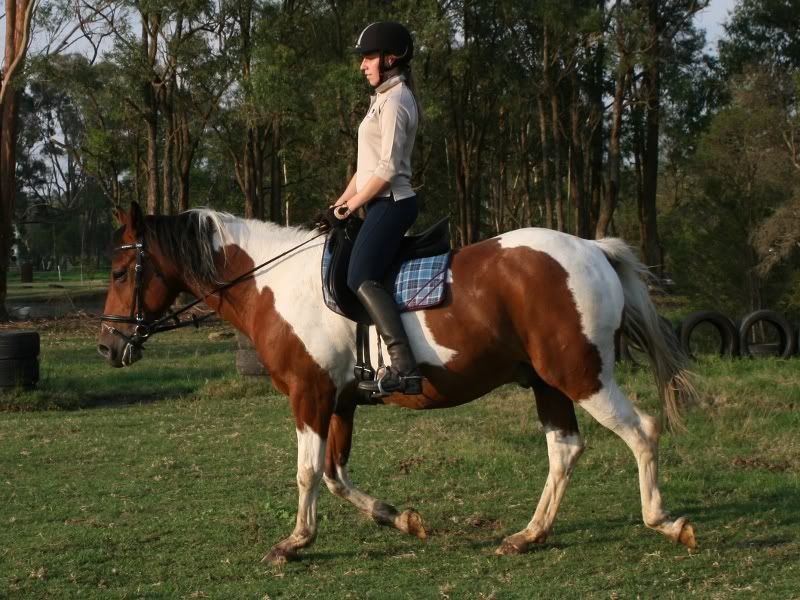 So exhausted after 20 minutes of walk trot, he tires me out
So now lets pray no more rain until next week!!!
-Prays- lol

Gorgeous horse btw :)
You are back in Australia? Its good you get to work your horses but must be hard.
I hate the mud as well, fortunately it has been extremely dry here. You both are looking good even if he was being a brat he's such a pretty pony.
---

"Until one has loved an animal, part of one's soul remains unawakened..."
- Anatole France
27th February 2009
Rode Com this afternoon. He is such a jerk. I caught him while he was grazing with Kai out the back of the arena, so calm and serene, but when I ride him towards the back of the arena he acts like the boogie man is going to get him! After being so good the last couple of rides and then such a jerk today it was so frustrating. So he started off lazy but ogling at the back, then bolted on me twice when I asked for canter, then he settles after I yelled at him and was going so perfect so I asked for canter again, no issues, and he was really good. So onto crappy photos, I had the camera on the wrong setting so the pics are rather soft looking...
Walky
Canter, after he bolted, he was a little high strung...
Still a little high strung
Calming down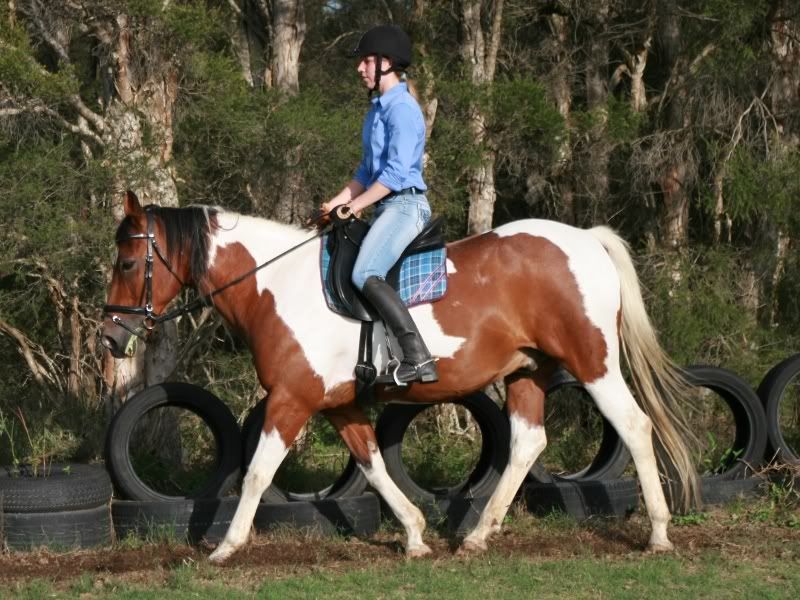 Canter this way was much better and calmer
Calming down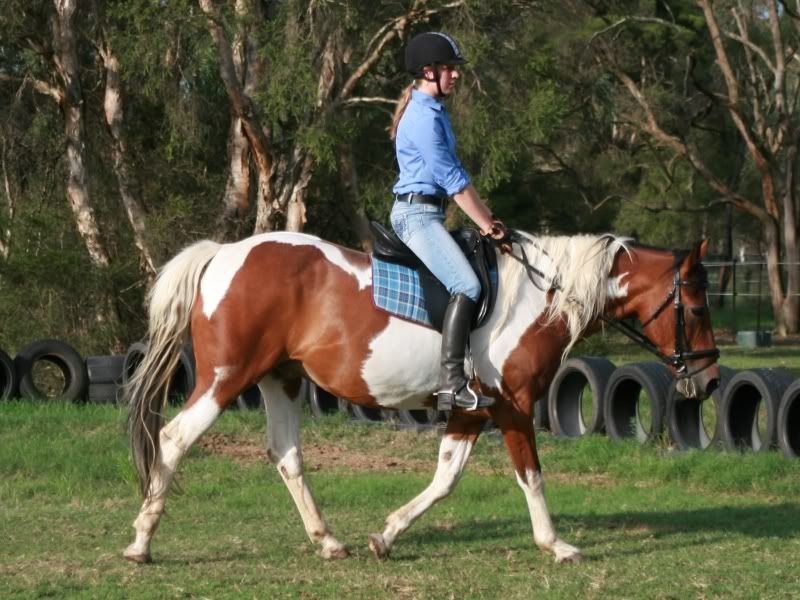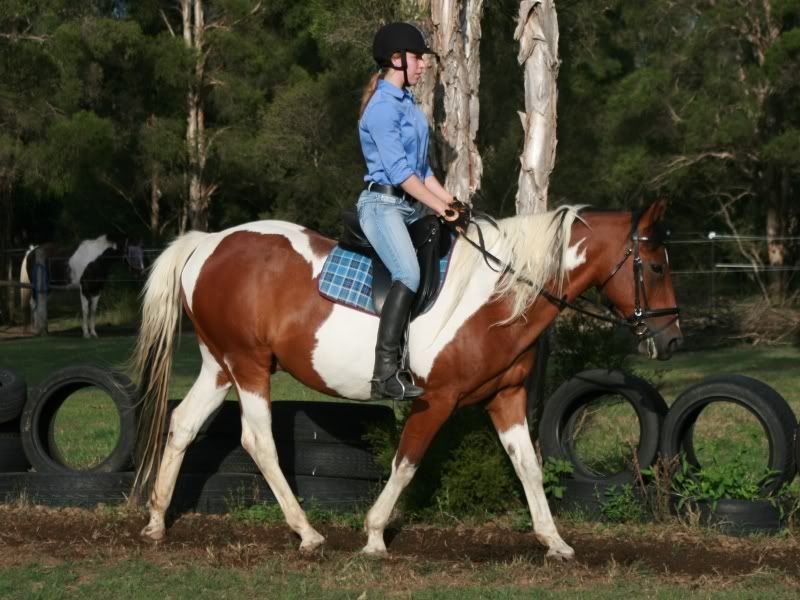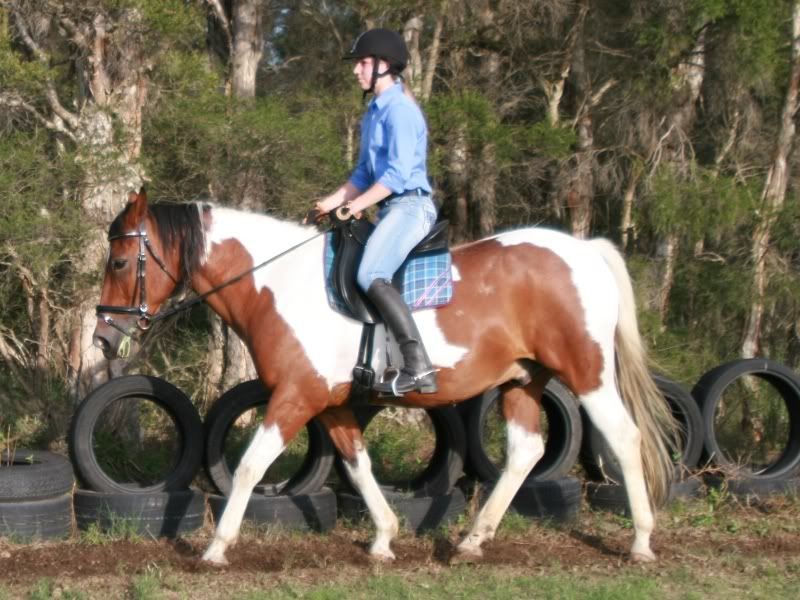 So hopefully next time I ride he has all that spazzyness out of him.
Wow great pic's. He looks a little fat in some of them. :P You have great posture, just so you know. -crosses finger for you- I hate the rain too, It is keeping me from going to my horse riding lessons...
---
Horseriding- The art of keeping a horse between you and the ground.
---
2nd March 2009
Worked all day came home and rode Comanche. Glad I chose him today haha, he was actually pretty good. He didn't bolt once! Yay! He was dead lazy but well behaved which I am happy about. We did sooooo much trot to warm up, lots of big laps of the arena, then 20 metre circles then serpentines. Then he got a break and we did some half pass at walk which he was pretty good at, then tried trot but he was being so lazy so it didn't work very well, hehe. we also had some canter. He is rather unbalanced but seeing as he didn't bolt I let him just canter. Then afterwards we had some fun canters outside of the arena through the paddock cause most of the puddles have dried up, hooray!
So a couple pics, mum wasn't out there for too long cause she had things to do so...
Half pass right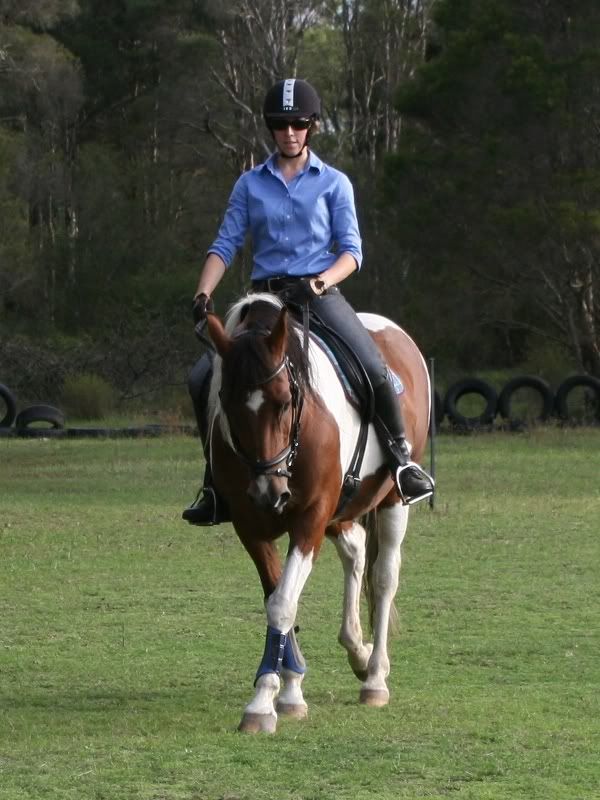 Eep, my aids are kinda over exaggerated
Trot right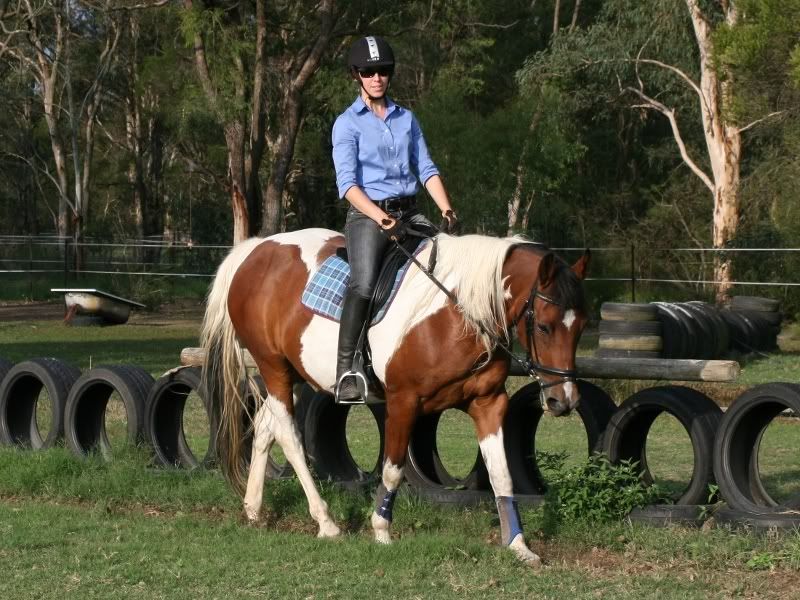 Canter right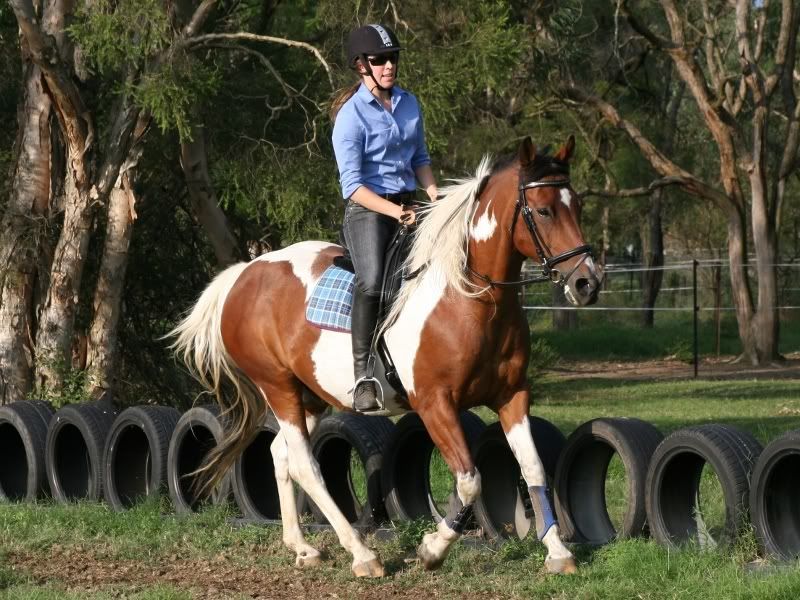 Trot left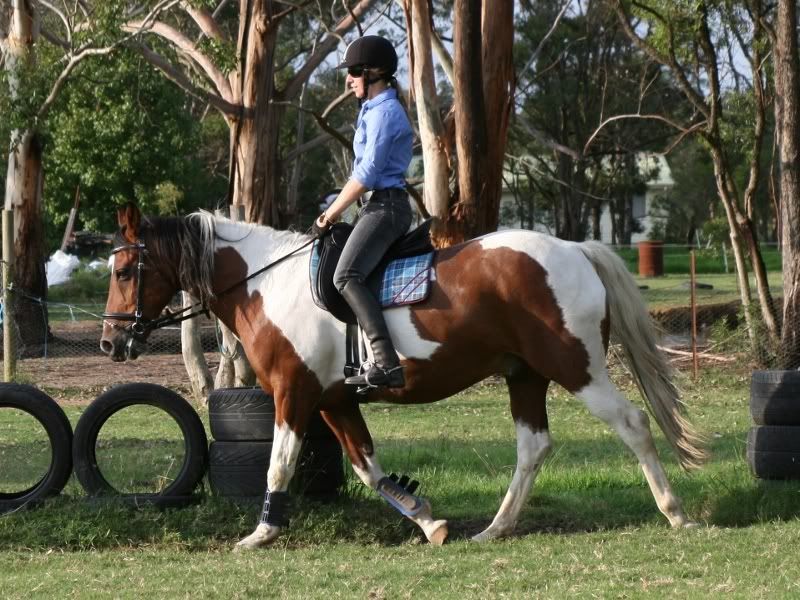 Canter left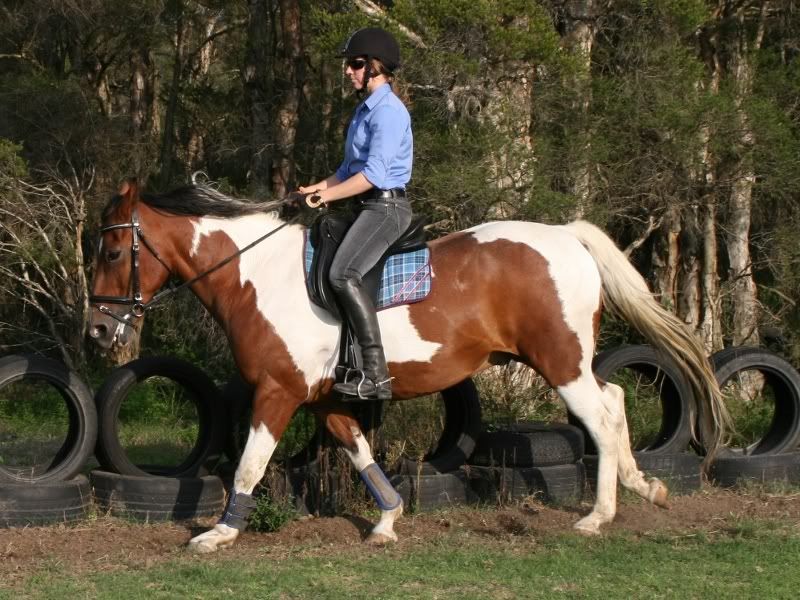 Thats all folks...
---
4th March 2009
Comanche day! It didn't rain today, woo so I rode after work. Com is really giving my legs a work out, big fat lazy bones! He was pretty good besides being lazy, no bolting or shying, yay! Mum came out and took a couple pics while we warmed up...
Trotting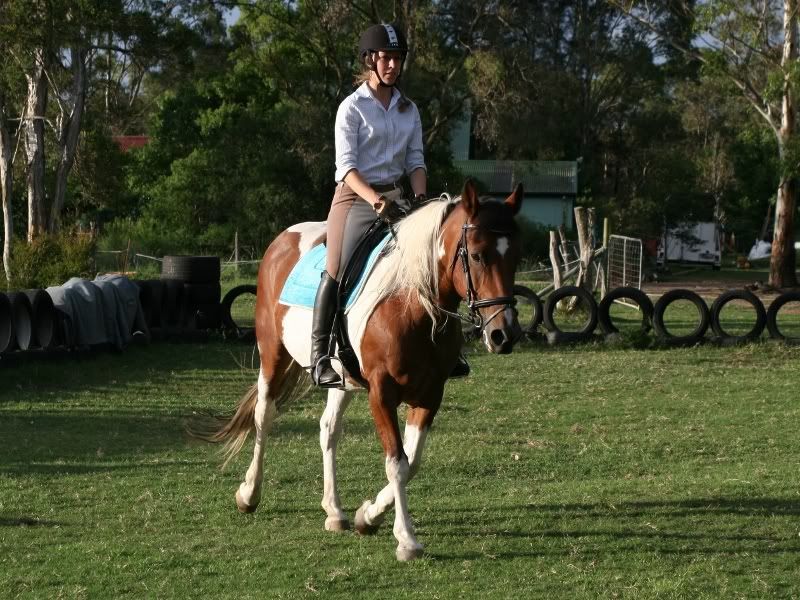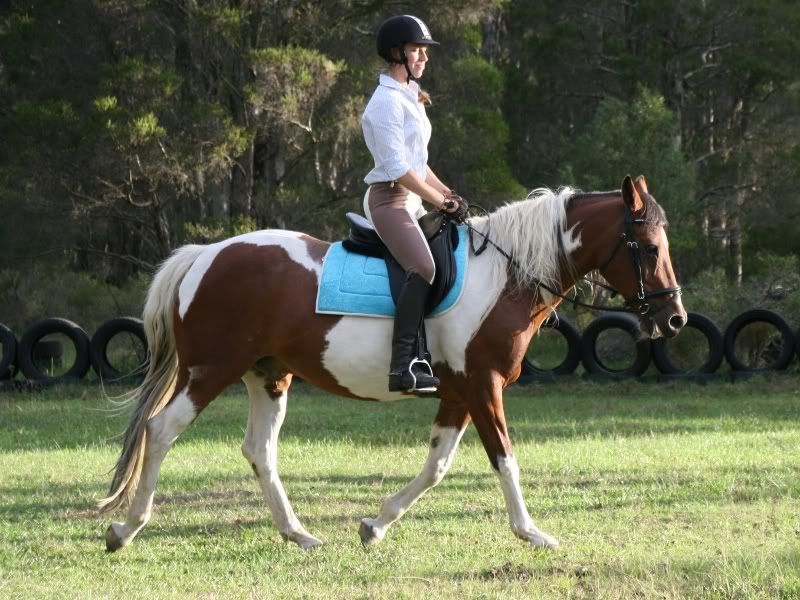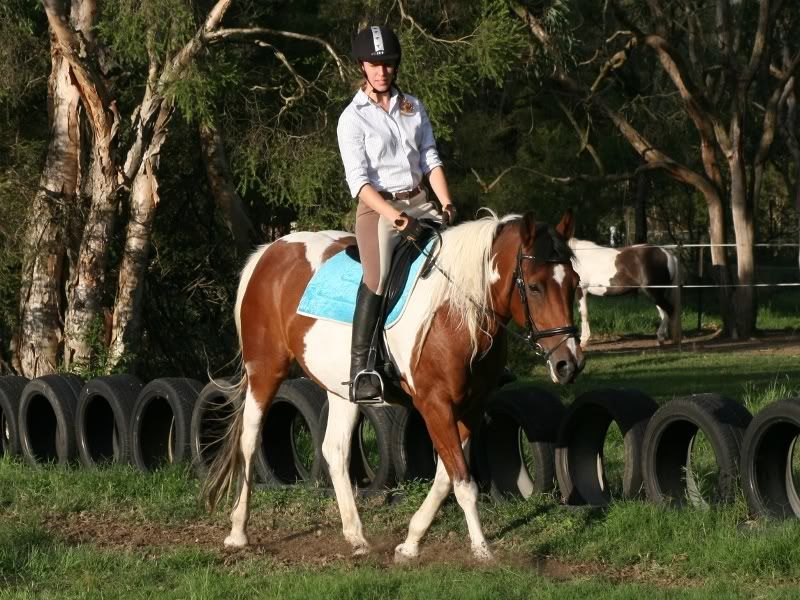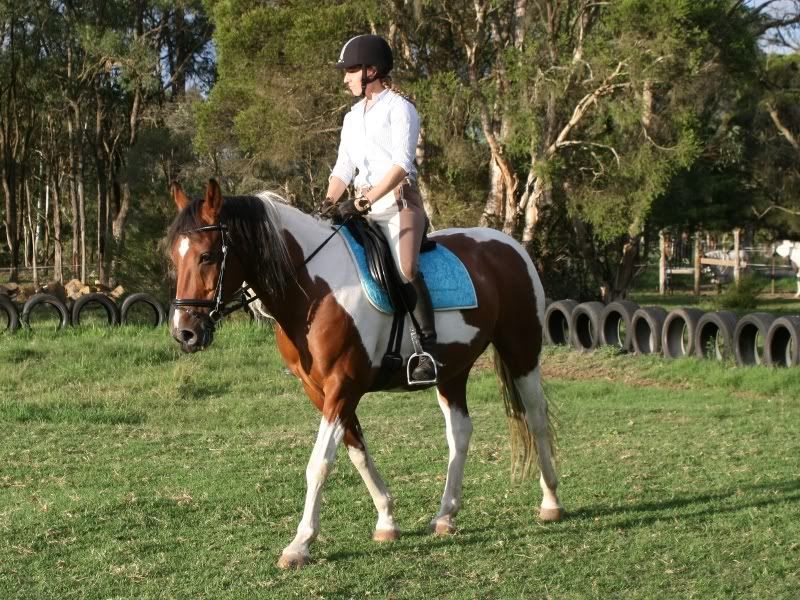 Canter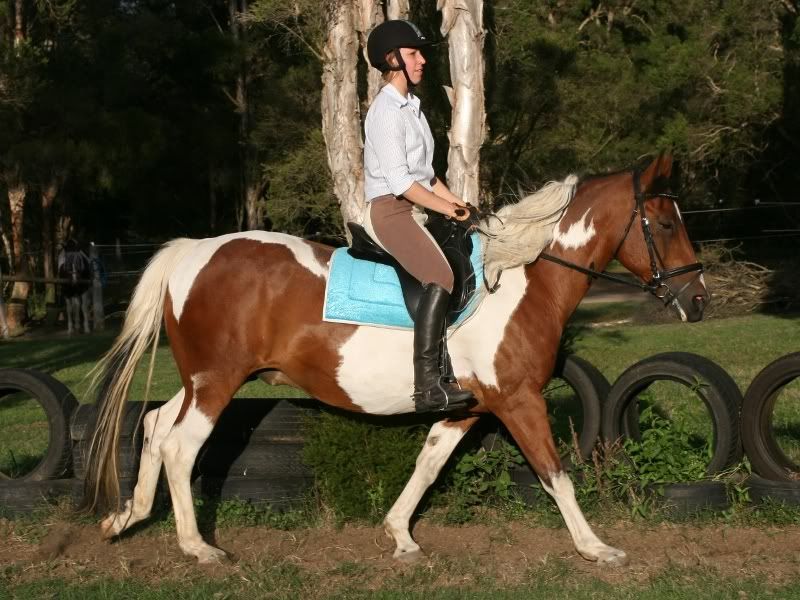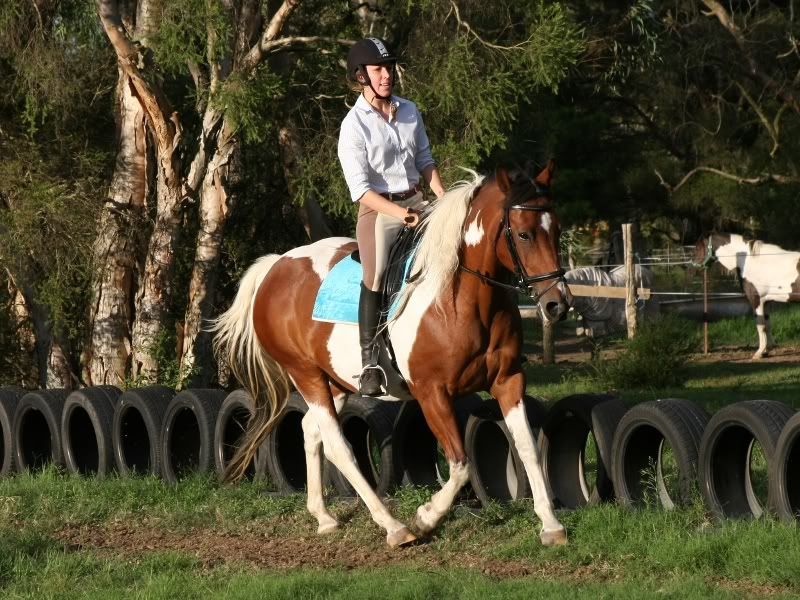 Back to lazy trot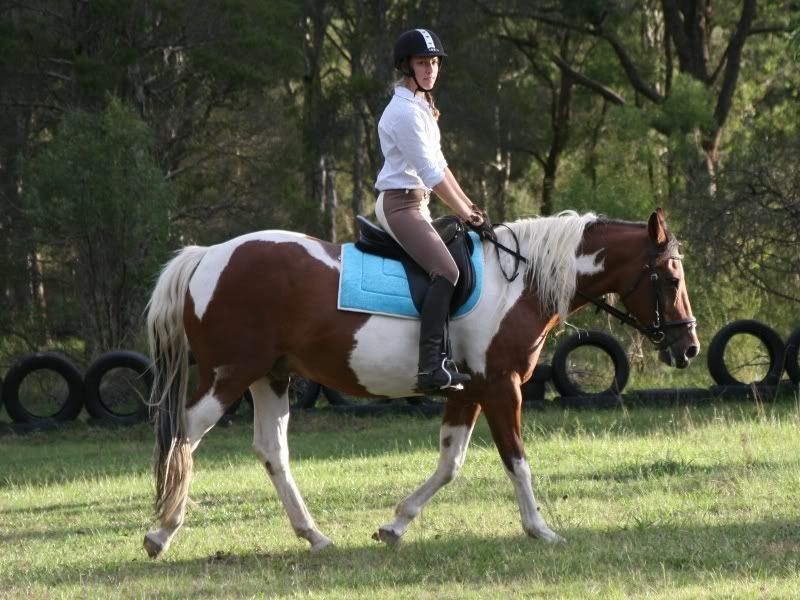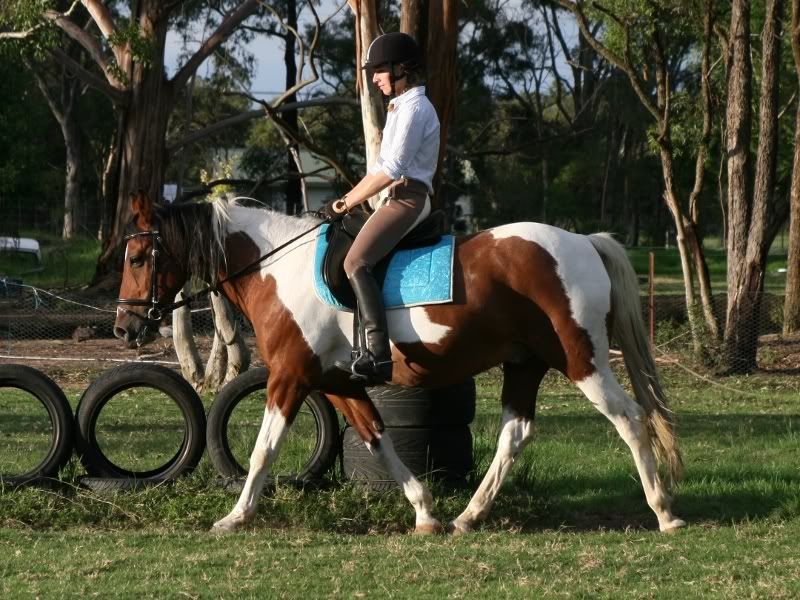 cont
---
Canter other side
Then we had a little canter out of the arena to relax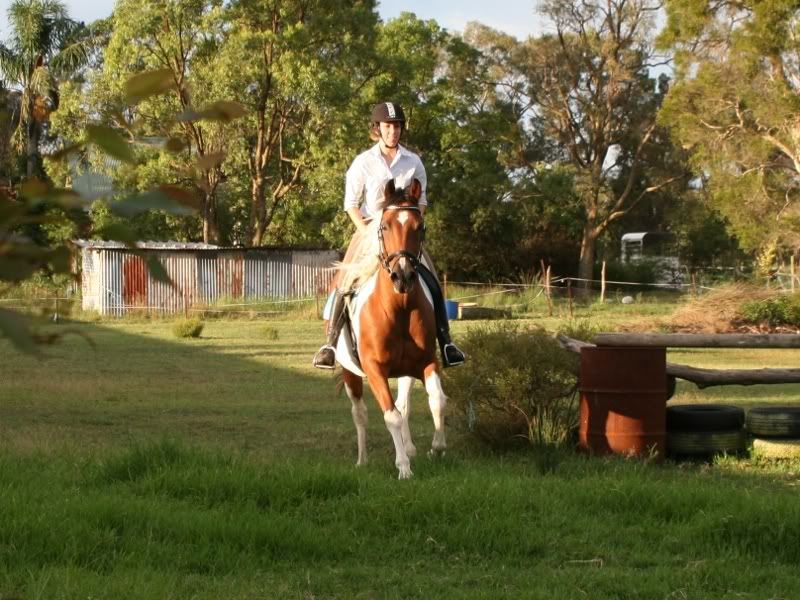 Here we come!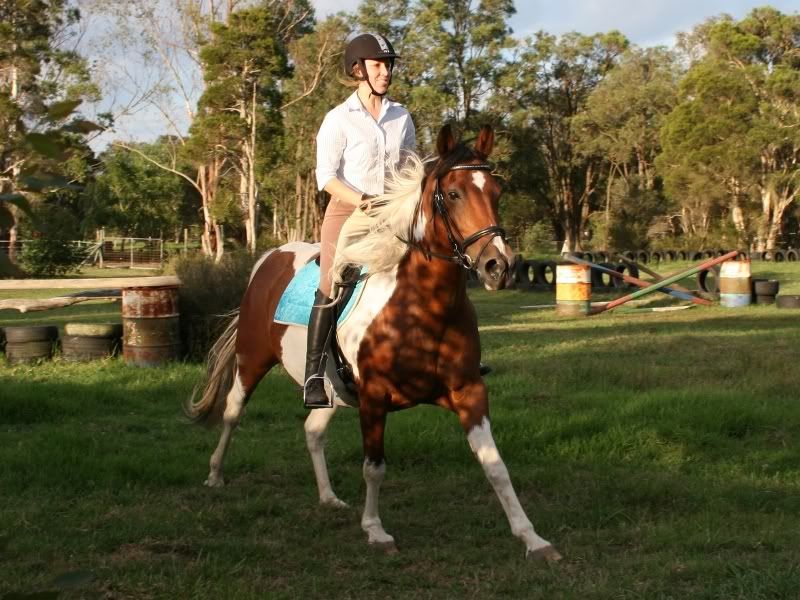 And up the bank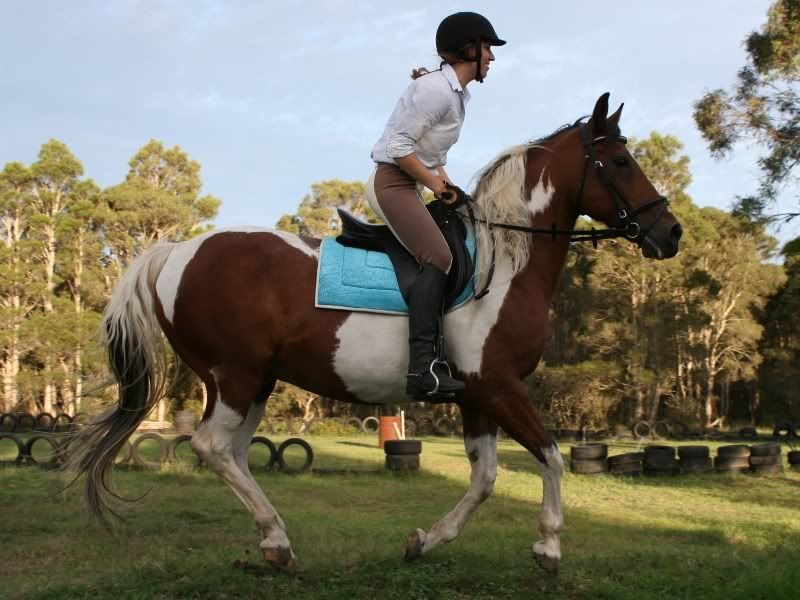 And then a pose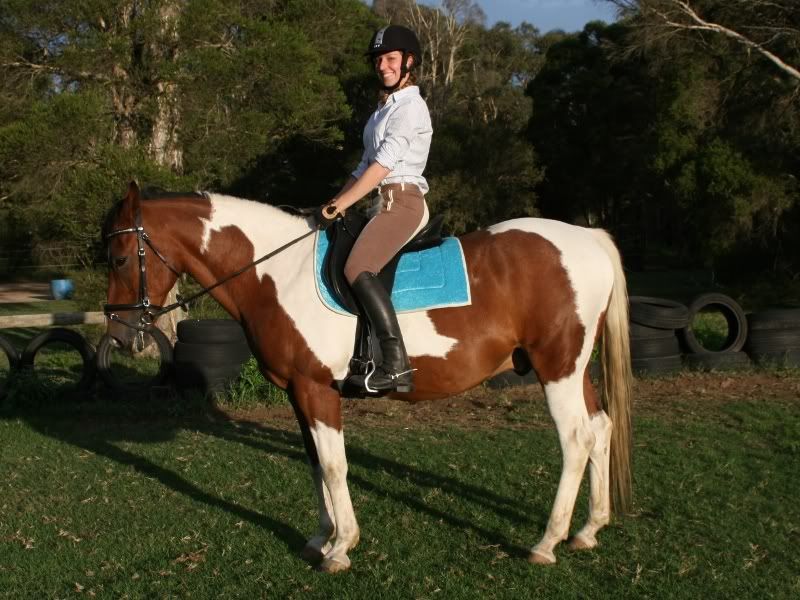 We then worked on our walk/trot transitions and lots of bendy squiggly shapes again. Then I set up jumps for Kai tomorrow, I re made my grid from weeks ago cause the ground under it is dry finally, yay! So hopefully so rain tonight or tomorrow!!!
---
so lets back track seeing as I am online now...
6th March 2009
Rode Comanche after work and he was pretty good. He actually was quite forward and went straight into canter, no running into it yay! So lets just go to pics... dad was playing photographer today...
Walkies...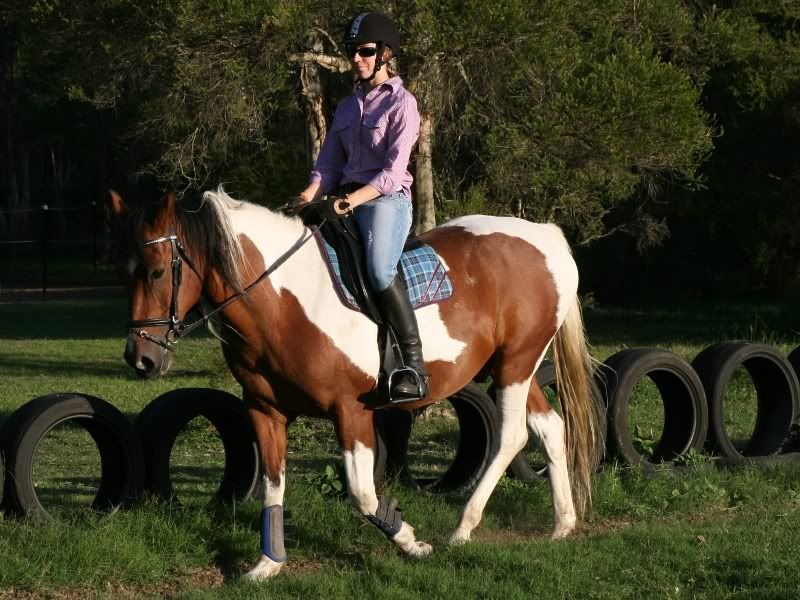 Twotting...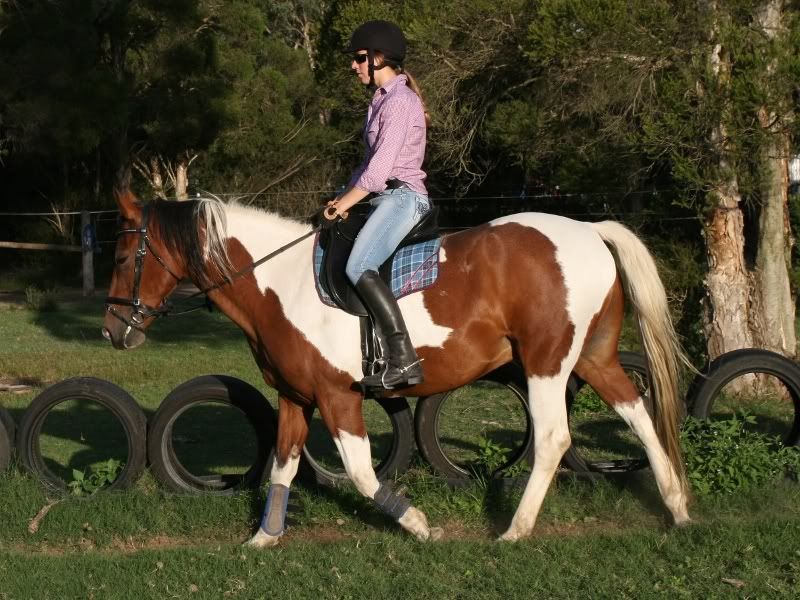 Just a funny timing and face pic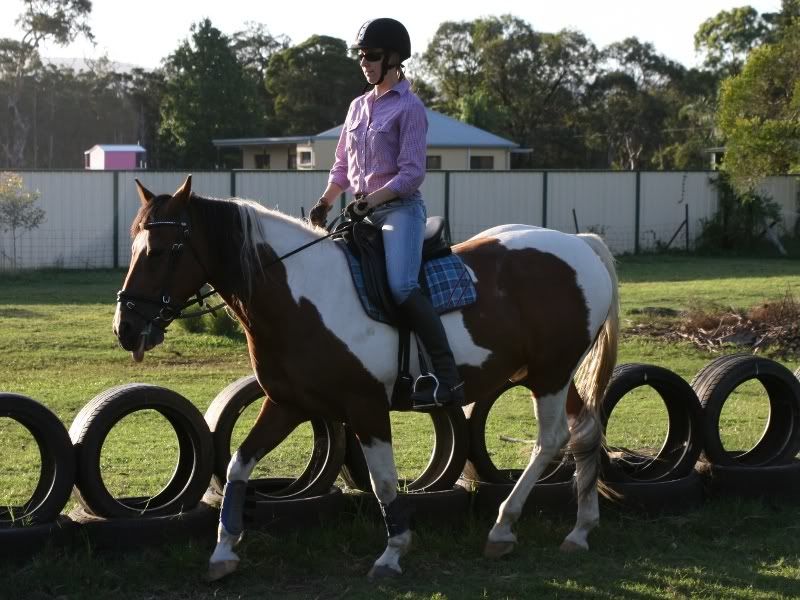 His canter was enjoyable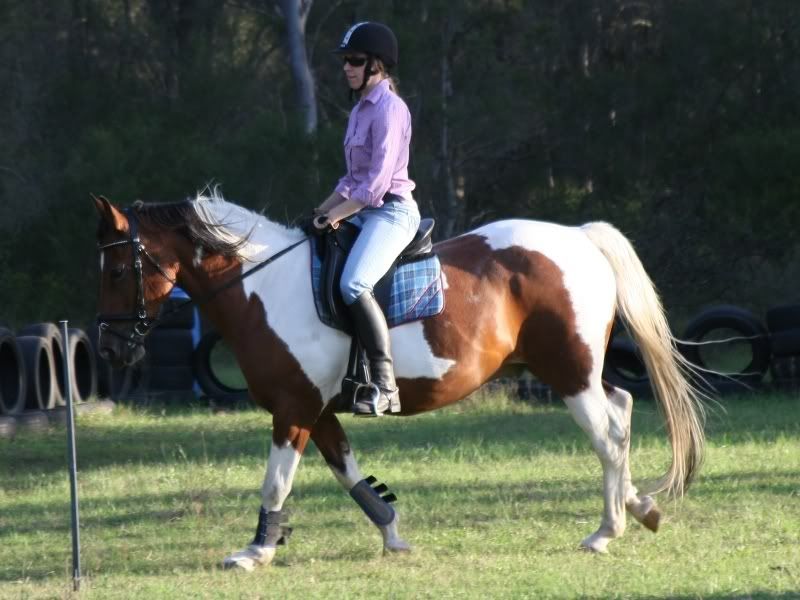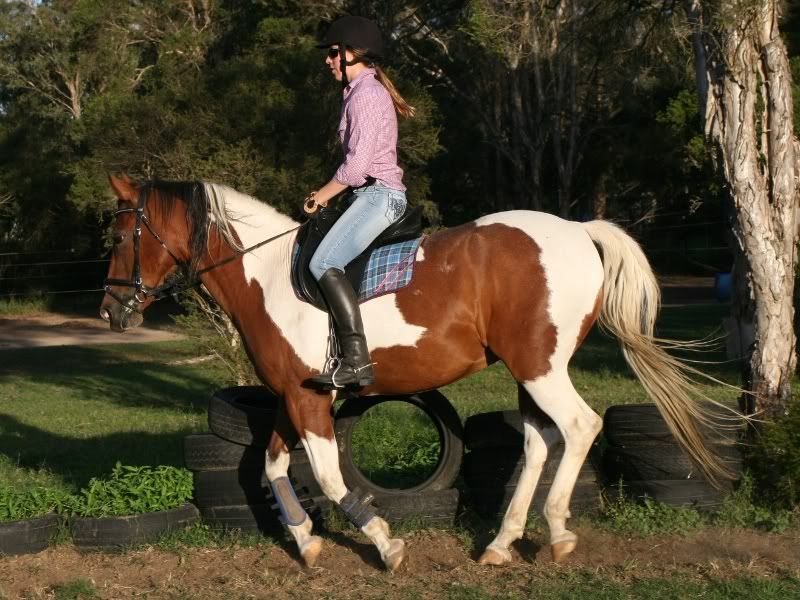 We change direction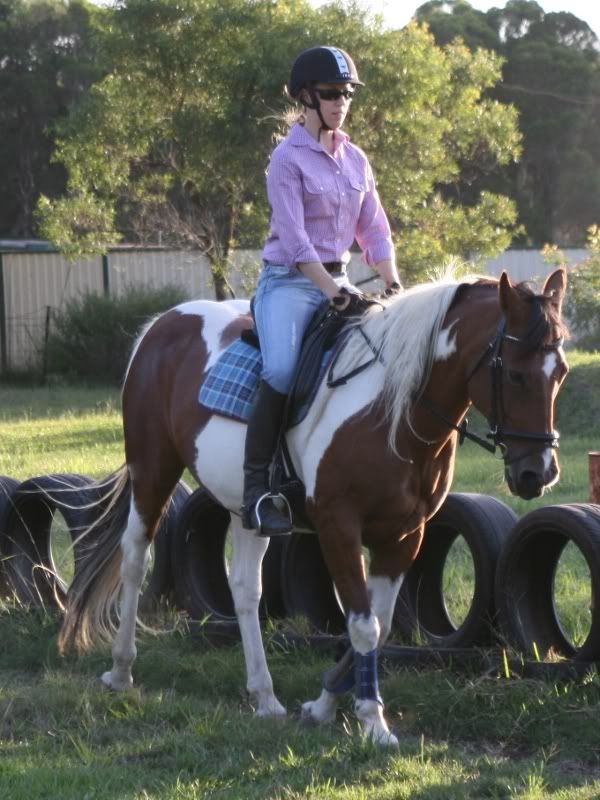 More fun canter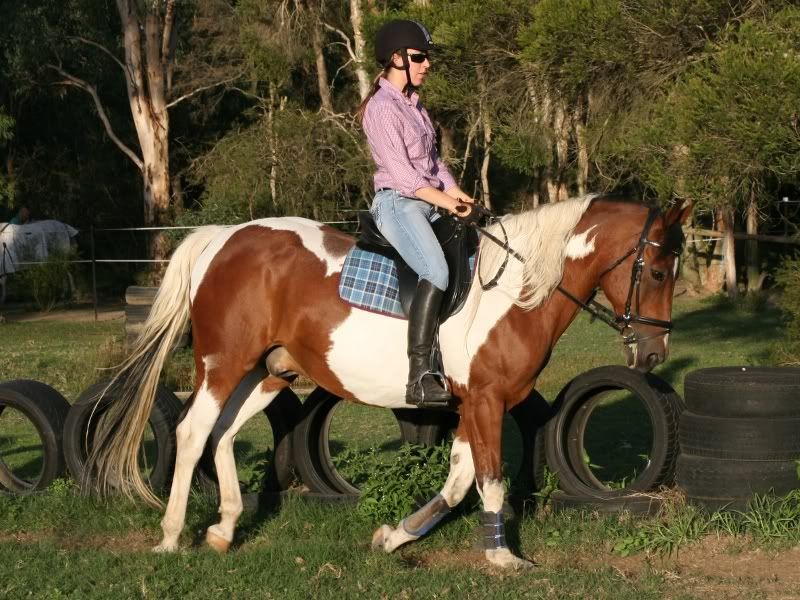 Still finding his balance but much better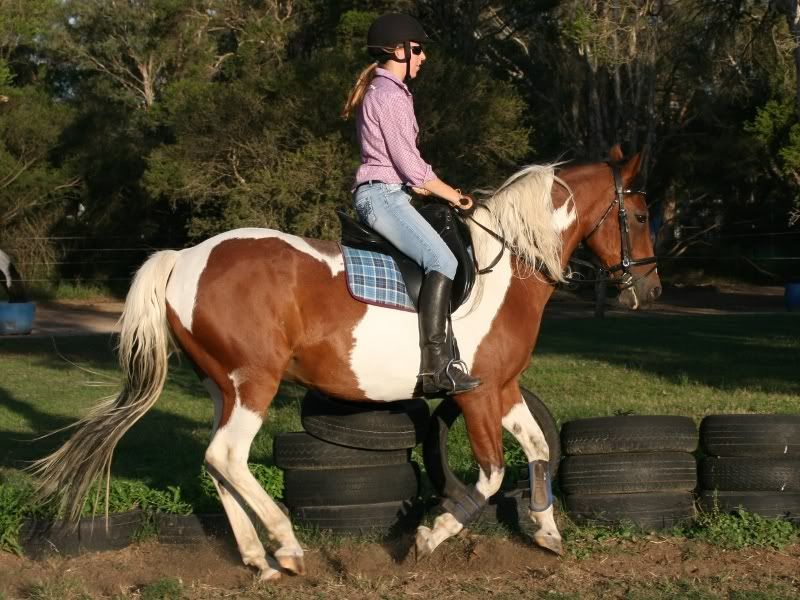 Such a pretty boy
He worked hard
So cute