Come meet Skye!
---
"Hello HF, my name is Skye!"
Skye is a 16 year old mare that wasn't working out for the local therapy riding program, so she got to come home with me! I plan to use her for dressage and maybe some low level eventing. She certainly has an appy-tude, but really seems to look to her handler for guidance.
Big stocky girl!
Her really neat leg marking
(feet are getting done ASAP, I just got her home sunday)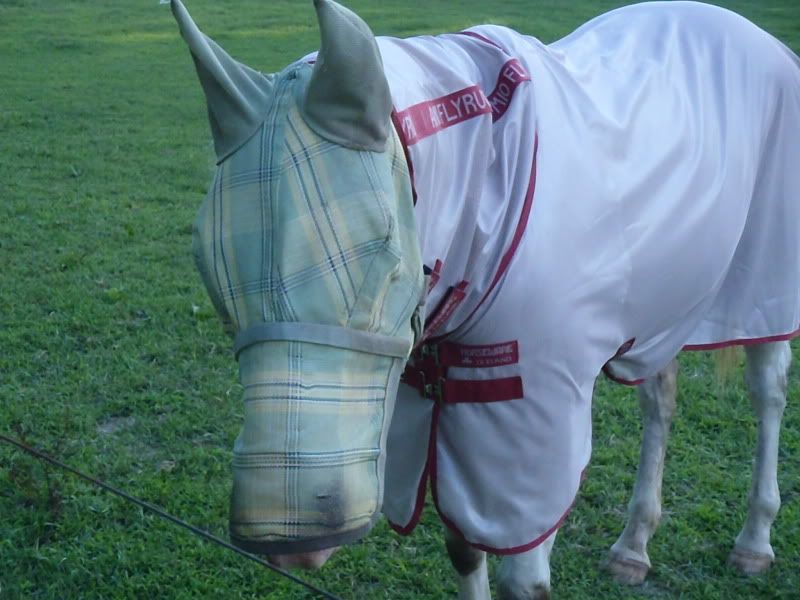 Showing off her full outside gear. Poor thing is almost entirely pink skinned.
---
RH Queen O Anywhere "Sydney"
2009 Sugarbush draft
LOL, gotta love the pink skin!!!
sept for when it get all hot and stuff during the summer!!! she gets sun burned and she sweats and you can see the dirt on her cuz shes white:/ haha:) my gmaws horse does the same thing:):)
oh!! but yeah:):) shes super cute!!!:)
Pretty girl!!!
---
Being horseless is the pits!!
Is it bad that the first thing I thought of when I saw her is that except for that leg marking, she looks remarkably like the horse Danny Glover rode in Lonesome Dove? lol

She is beautiful, even with all her pink skin!
---
Do not tell me I can't...because I will
show
you that I can.
Yep, she is certainly going to be a high maintenance pony with all her pink skin! I think it will pay off in the end. She is a lovely mover once you work through her appy-tude. :P Last night she was being a little stinker, but once I got her to understand "Hey, Im in charge" she can really move out.
---
RH Queen O Anywhere "Sydney"
2009 Sugarbush draft