Contest! Drafts & Draft crosses
---
Ok so I have noticed that there are all these contests going on!
So I wanted to create one.
This Contest is for
Drafts and draft crosses ONLY!
Rules:
Must be
your
horse Lease/owned
Max pics are 3 or less
Can be a head shot, body shot
Lets have fun!
---
Bailey's Mountain
6 year old tb
Here is my baby LOL. I don't know if under saddle pictures are okay but here goes.
First time under saddle
Me standing beside John and he happened to shake his head just as the picture was taken.
This is his 3rd ride and the first time bareback. It is kinda like sitting on top of a semi truck. LOL
haha so cute, goodluck everyone!!
---
Horseriding- The art of keeping a horse between you and the ground.
This is Amber my 4y/o Percheron/thoroughbred cross mare.
Body Shot
She's Laughing
My fav pic of her, gorgeous!
---
♞ Horse Crazy. ☀ Animal Lover. ☺Jeremy Renner Obsessed. ✇ Photo Taker. ♫ Country Music Listener.
♥ Erotic Romance Reader. ✯ Witch.
Foal
Join Date: Dec 2008
Location: NC soon to be VA....gotta love the military!
Posts: 211
• Horses:
1
Yay! I can finally submit to one of these things haha.
This is Max my Percheron. We're still trying to put weight on him so he doesn't look his best in them
Okay, does this count? Pride is a Percheron/Arabian cross, but he doesn't actually belong to me. He belongs to a friend of my parents. But I'm working to train him right now and I'm hoping to buy him in a year.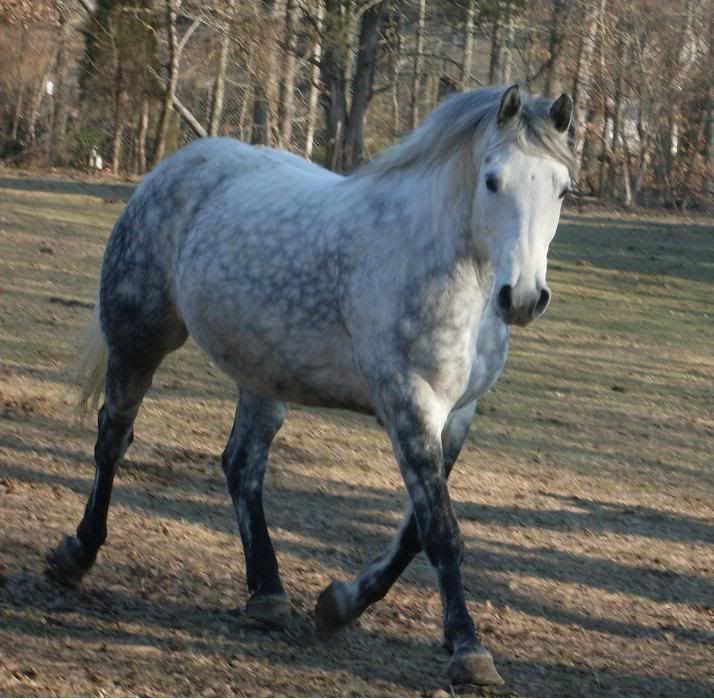 Yes, he is tall... but really I'm just very short. Haha
Jubilee
My Molly gets to play in this one too!!
---
Here are pics from baby till now (almost 3 yrs old)
Oh, Molly is really cute! What breed is she?

Jubilee
shes a canadian isnt she?
---
Bailey's Mountain
6 year old tb
Nope, I cecked hayburner's barn and she is a morgan/percheron cross. Looks a little small for a 3 year old though. ??????? hhhhmmmm. Maybe its just the pix