CONTEST!!! "just the right moment" pics
---
I love these contest things, they are good fun! so i thought i would make one. This contest is for pics that were taken at just the right moment.
RULES:
1. MUST be your own photo
2. MUST be your own horse/s
3. ONLY photos that were taken at just the right time
4. Maximum of 3 photos per person
The contest will end 3 days and every one will have one day to cast their votes after the 3 days. And dont forget to have fun!!!
here are my 3
Chucky. He looks like he is laughing!
Banjo. Poking his toung out!
Banjo and Chucky. Dancing in the rain!
Sorry they are so big, i didnt know how to make them smaller.
Yearling
Join Date: Jul 2008
Location: between florida and maryland, usa.
Posts: 759
• Horses:
1
I love that third one! I'll have to see if I can find some...
ill be back to enter my pics! cute horses!
I will be too. I have to get the pictures off of my computer at home! Great idea for a contest! I know of at least 2 that I have
---
TM Tardy's Chick "Hunter" - 13 yo Paint
Remmy - 18 yo Morgan/QH cross
Gunner 3/31/11, Heidi 7/2009 Miniature Sicilian donkey

My old horse, Floyd: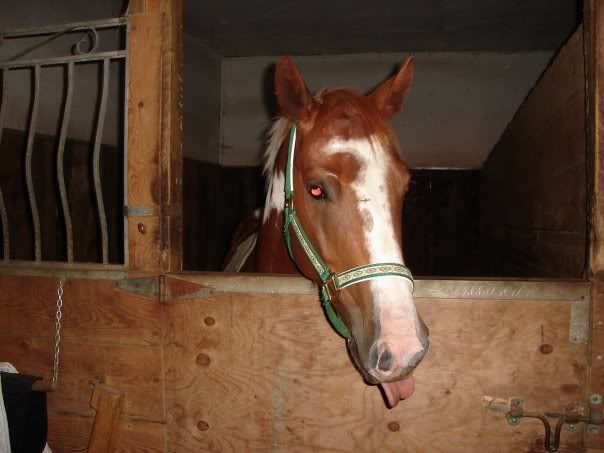 Justin Passed out at the World Show
---
This has always been one of my favorites (that's Wikke at 2 weeks old). Obviously I have used this as desktop wallpaper a time or two
Going down to roll but kinda looks like he has no legs!
Ahhh my legs!
Banned
Join Date: Dec 2008
Location: At my house, or stable, duh!(Michigan)
Posts: 2,479
• Horses:
3
nice pics everyone!!!!!!!!!!!!!!!!!!!!!!!!!!!!!!!!!!!!!