The Sisters
---
I just took these yesterday, let the girls out of the dry lot to run off some hay belly. they had a good time. These two are half sisters
I like this one with Saro's tail up
---

"Until one has loved an animal, part of one's soul remains unawakened..."
- Anatole France
---
Last edited by Vidaloco; 01-23-2009 at

12:57 PM

.
Here are mine!
Scooter
Hunter & Scooter
---
TM Tardy's Chick "Hunter" - 13 yo Paint
Remmy - 18 yo Morgan/QH cross
Gunner 3/31/11, Heidi 7/2009 Miniature Sicilian donkey

Ooh! Cool I will have to find some!
---
A good horse can never be a bad colour...
OMG ROFLOL! Sara, that is just too cute.
Anyway, here are my little heathens.
Dobe reminding Pokey who is boss
Denny sticking his tongue out while he is resting. It looks almost like he is saying "Leave me alone, I'm being lazy"
Koda "licking and chewing" while trotting circles around me in the pen.
---
Always remember that feeling of looking at a big, open country over the ears of a good horse, seeing a new trail unwind ahead of you, and that ever-spectacular view from the top of the ridge!!! Follow my training blog:
http://robertsontraining.blogspot.com/
Sara, that is the best picture! Soooo cute.
Quote:
Sara, that is the best picture! Soooo cute.
Hehe, that picture is how he got the nickname "Spiderman"
How about a pic of Sandie's fave thing to do? Rolling around!! I caught her mid-roll! haha
---
"The times when you have seen only one set of footprints in the sand, is when I carried you..."
WOW! they are all so good!! Love your pic sara! Couldnt get that pic again if you tried! lol
Milk caught in action at birth.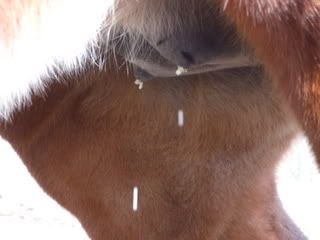 Hugs from 1st time mother. Born Jan. 20, 2009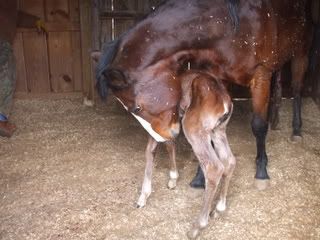 ---
Last edited by Zipster; 01-23-2009 at

09:57 PM

.