Dee under Saddle
---
I've had the saddle on Dee three times now, and she has done great! She is an old pro! I even stepped up into the stirrup today and leaned over her back. Nothing bothers her!
The kids sat on her back and she loved it! Far more attention than what she usually gets!
I snapped two quick photo's of her. Sorry they are not very good, I've been taking bad pictures lately.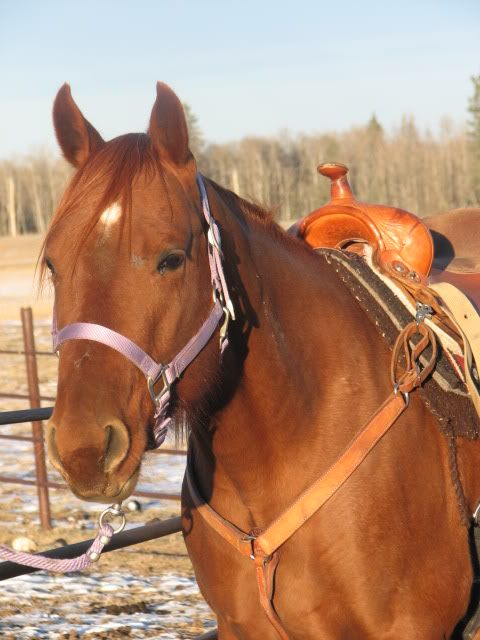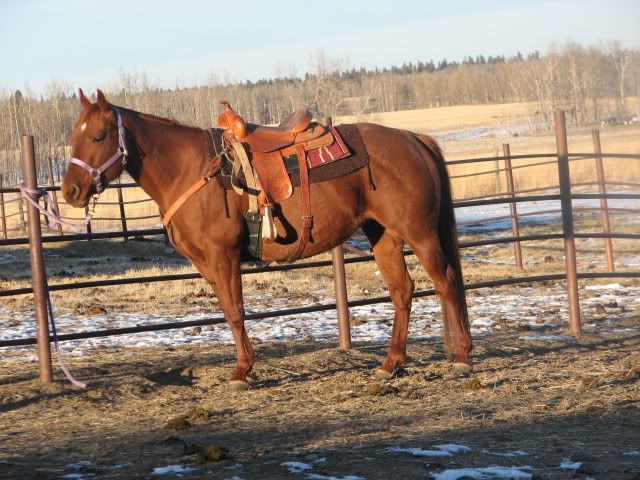 Isn't this the mare you picked up just recently that was barely halterbroke? If so .. wow! She's gorgeous!
---
The lovely images above provided by CVLC Photography cvlphotography.com
Yes Allie that is her!
She is one of the smartest animals I've ever had the pleasure to work with. She is full of talent. I won't be riding her anytime soon because she needs to see the Chiro for a bit first. She had a spill and put her back out of place (I think) The Chiro comes out for the fist time next week so we will see what she says.
oh my goodness! She looks so pleased to be standing there lol. what a good girl! You are amazing, can I borrow you for a couple weeks for thunder? hehehe

ps if that is your backyard.....WOW.
Yeah she is such a good girl about it! She seems to really like being worked. I would love to come help get away for a bit!
Yes that is my back yard. But not all our fences are like that. I have 3 pipe fence where the studs and the babies are kept and then two barbed wire :( pastures where the older horses are.
Sorry for the double post but just wanted to say that when I buy my own place that is what all my pens will be. We are renting and we are only allowed to build a certian amount of pens.
no i was just saying that it's gorgeous! If i had that view man i would never want to leave home :)
Oh yes the view is great, and mountians to the other side!
She's such a gorgeous girl !
And I think I have the same halter
Thank you Sis! I love that halter, even though I don't normally like purple, the light purple is pretty cool.