Delta's Photo Thread
---
Since everybody else is making one, why not me? Please note that
this thread is
NOT meant for critiques
. I understand my form isn't perfect, but that's why we have riding instructors, right?
Nobody knows about Delta yet because she just got trailered up to the stable I'm boarding at yesterday! I'm now on a trial period with her to see if she's as amazing as she was when I tried her out.
Oh, by the way, Delta is a registered Percheron mare. She's 16hh tall and 13 years old, and the kindest horse you'll ever meet.
I got her from the local horse rescue, but she isn't a rescue. She's a "donation". The owner passed away, and the wife wasn't much of a horse person, so she donated Delta to the rescue as she knew that when she sold, the money would greatly help the rescue.
The first day we met:
I know I look god-awful in this picture, I was focusing more on her than anything else. Plus, I was riding in a weird Aussie saddle, and using split reigns which I've never done (I'm an English rider).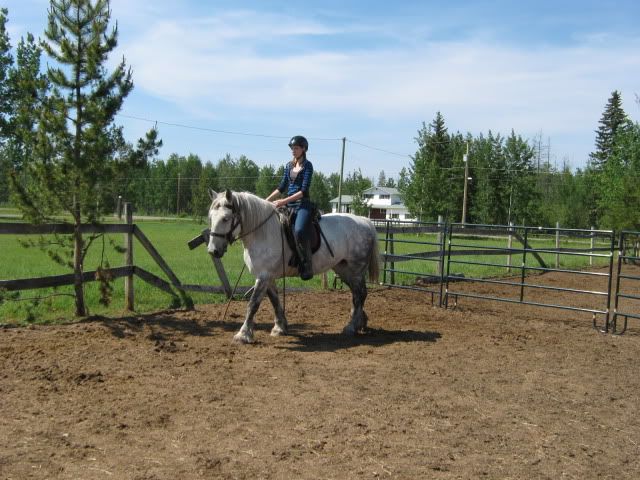 The next evening, with the rescue lady:
Afterwards. Politely ignoring the naughty anglo-arab rescue.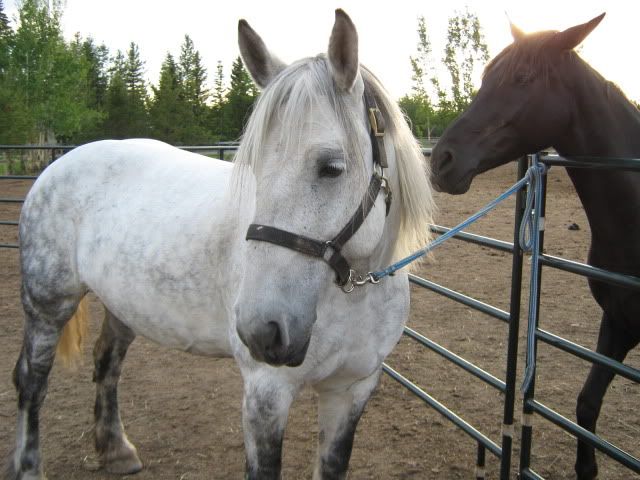 And yesterday! I spent almost all day with her as she settled in at the new stable.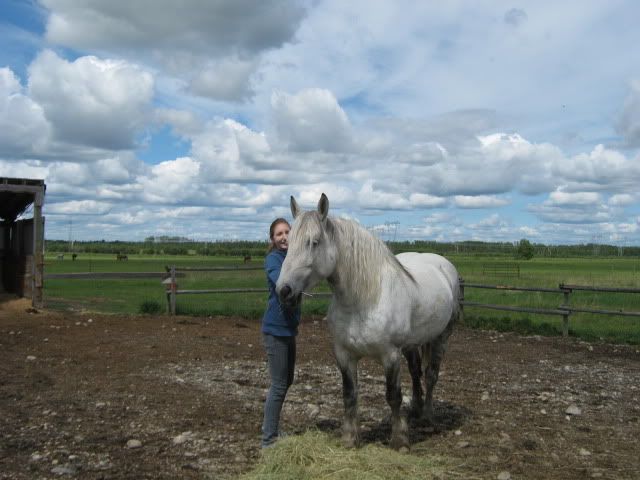 She sure doesn't look like 16hh when the giant 5'10" me stands next to her!
If we decide to buy her, my riding teacher is going to move her into this GORGEOUS paddock on the other side of the property. It's just being completed this week. The grass is green, there are some really pretty poplar and birch trees, and a treed background to top it off! It's the stuff photographers dream of. :)
Delta will be in with my friend's 22-yr-old Standie gelding, since they're both such sweethearts.
So, what do you think of her?
Oh, and I'm having a lesson with her every day for two weeks (yikes, expensive!) just to "push all her buttons" as my riding teacher put it. We'll be starting with the Seven Games on the ground for a few days, then hopping on up and seeing how she does. I'm so excited!
I'll post pics from today's lesson afterwards.
Awwwww shes such a cutie she looks good to me if you like her and she fits you and you can i would go for it!
Thanks Iluvjunior!
June 19, 2009.
Delta's training begins today. We did the 7 games, and lots of round pen work. Unfortunately I only have pictures of her in her new paddock, because my mom left and I was in the roundpen with Delta.
Here she is, enjoying her new space: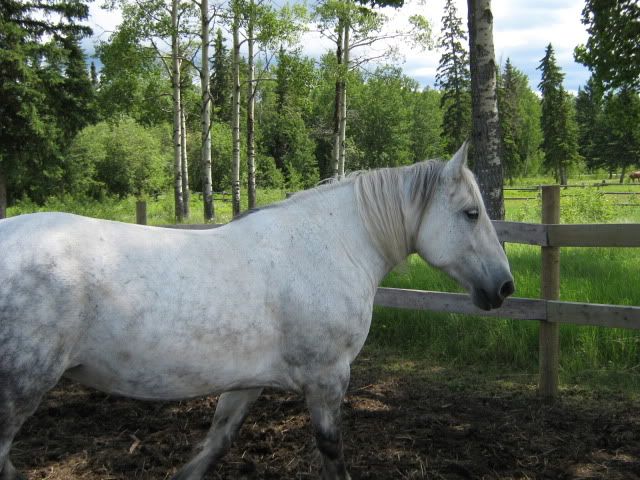 Staring at me: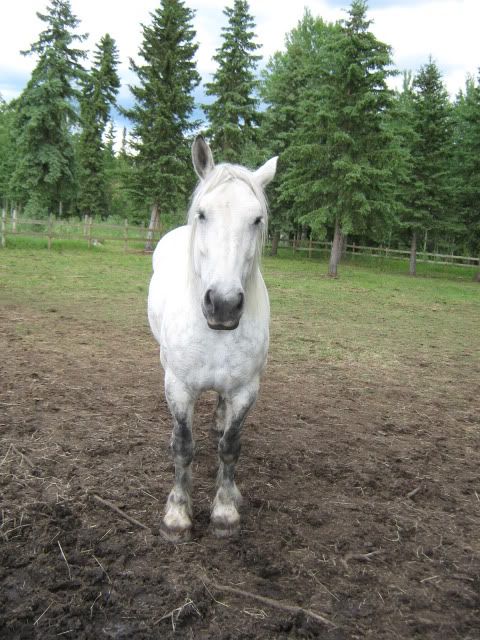 She knows how to get the good grass!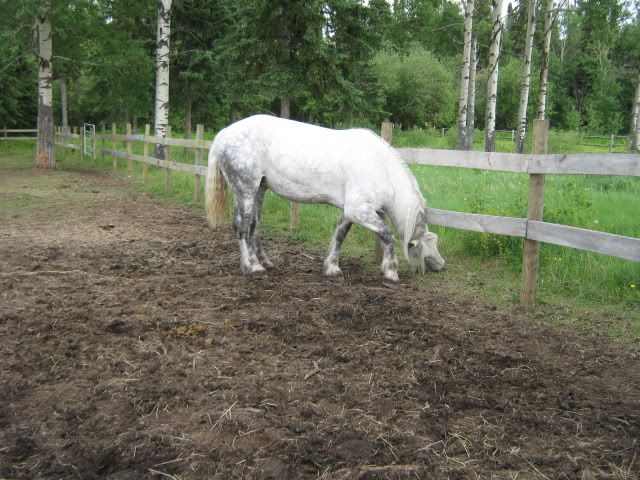 She has an acquired habit of walking off when somebody comes enters her paddock with a halter, so my riding instructor showed me how to break her of the habit, by making her work every time she tries to walk away.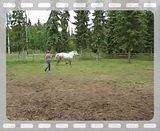 she is such a cutie! so your gonna get her? did that break her of the habit of running away??
She hasn't broken the habit yet, because we've only done it twice. It'll take her a while to understand that running away means work, then she'll stand nicely.

I'm not sure if I'm going to get her yet, I still have a week and a half to decide!
She has the kindest face, she looks like a sweet heart. Thats what i do with duchess and it has helped so keep doing it, make them work work work.
---
quarter horses.....simply the best
Well, I'm very proud to say that Delta no longer walks away when she sees a halter! She's such a quick learner. :)
More pictures tomorrow.
Wauw, what a beautiful horse!
And I love the environment!