Destiny and (not so) little Wombat
---
I have been working with Destiny a lot over the last few weeks, part of my goal to make sure all my mares are at least green broke. The more I do with her the more I like her, apart from at feeding time when she turns into ravenous beast from hell
New I've found the right bit for her, French Link, she is working on the longlines beautifully, and she has such nice free flowing paces, I'm hoping that she will be nice to ride.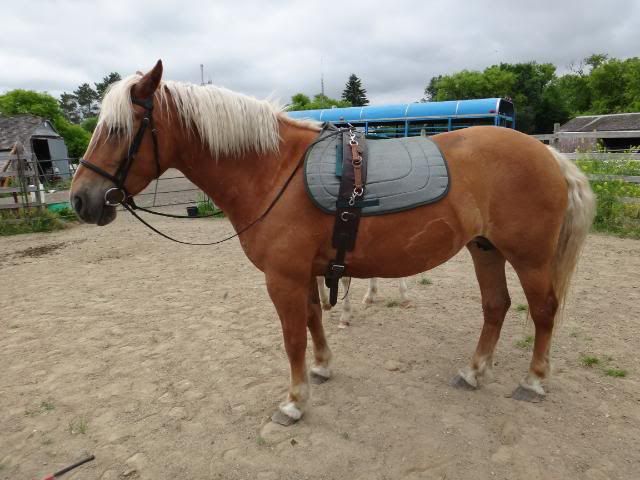 Little Wombat, who seems like a midget when compared to Stewie the Moose, but actually is a nice size for an 11 week old Haflinger is also a really nice boy to work with, never had one so friendly and smart
I got impatient and had to clip a bit of his shoulder to see what we have under that foal fluff, and he is dark, I mean DARK, I can't get it to show up so well on the pics, but he is definitely chocolate on his head and ears, and only a bit lighter on his body, now if his mane would lighten up a bit he is going to be a little stunner.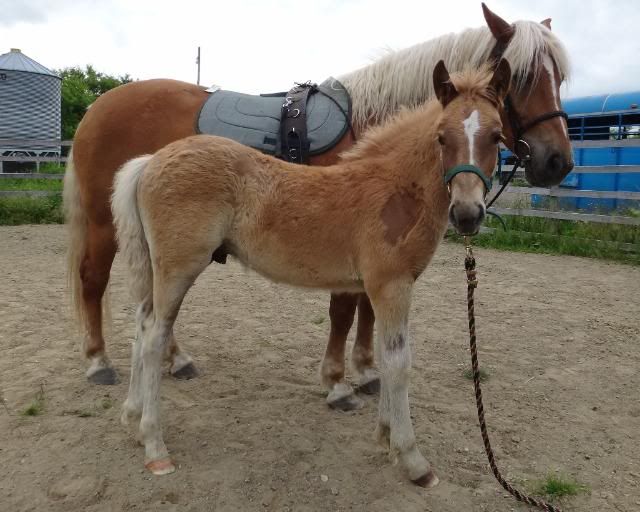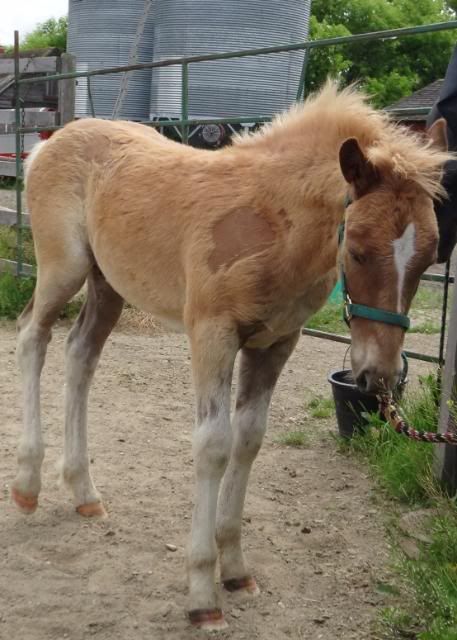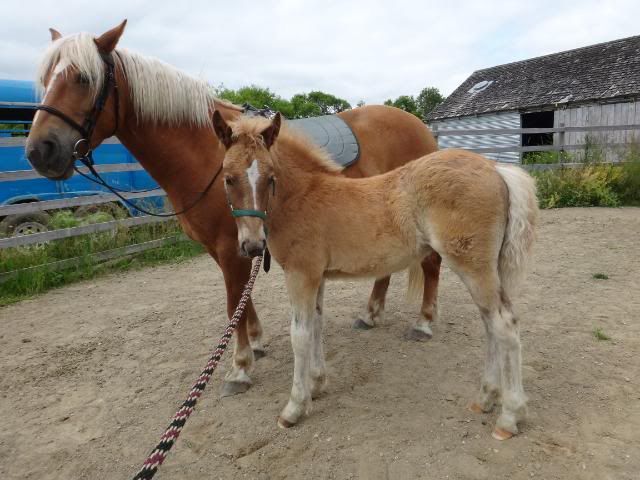 Awe, they are so cute! I love the foal (:
---
E v e r y horse is good for something. You dont throw a whole life away just cause he's banged up a little...
They are so cute!
---
If there are no horses in heaven... im not going.
wombat is CUTE! i just want to snuggle his fuzzy self
---
No whisper of lover, no trilling of bird, can stir me as hooves of horses have stirred.
Wit beyond measure is man's greatest treasure!
Started
Join Date: Aug 2009
Location: In the barn whenever possible.
Posts: 1,910
• Horses:
2
I think Wombat should come live with me!!! He's adorable!!! Love the haffy breed!
---
"Riding a horse is not a gentle hobby, to be picked up and laid down like a game of solitaire. It is a grand passion. It seizes a person whole and, once it has done so, he will have to accept that his life will be radically changed." -Ralph Waldo Emerson
They are both lovely!
Posted via Mobile Device
Showing
Join Date: Jun 2011
Location: Cariboo, British Columbia
Posts: 11,952
• Horses:
3
Wombat, I love that name! And you peeked inside the wrapping, didn't you? Shaving a tad to peek, lol!
Is Wombat his real name? or just a nickname? He is utterly adorable and I love the name, don't get me wrong.

I mean I call my cat "Lumpy".
His real name is A Royal Event, seeing as he was born during the Royal Wedding, I was going to call him William as a barn name, when someone mentioned that Prince William was called Wombat as a child. I loved it so we call him Willy Wombat
Quote:
Wombat, I love that name! And you peeked inside the wrapping, didn't you? Shaving a tad to peek, lol!
He's lucky he just got a little shaved, not prodded and shaken
Similar Threads
Thread
Thread Starter
Forum
Replies
Last Post
Willie Wombat

Golden Horse

Horse Pictures

12

06-11-2011

10:51 AM

My New horse-Destiny

mistygirl

Horse Pictures

13

02-07-2011

06:34 PM

Destiny Support Boots

cherriebark

Horse Tack and Equipment

1

04-02-2009

01:47 PM