Don't know where to post this but...
---
I really don't know where else to put this, was thinking of putting it in the stolen horses forum but he wasn't technically stolen... anyways, the story goes like this, my husband and I bought two horses when we lived in Colorado back in 2002 and this horse was one of them. He's a breeding stock paint APHA registered as "The Old Mans Bull" but we called him scar because when he came to us he had to big scars on his face. We never transfered the reg papers to our name although we do have the bill of sale for him.. but, and this is where it gets a little complicated, when the drought hit out there and the housing market dried up hubby lost his job and we went without work for about a month. We got contacted from a company wanting to hire him in PA so we took the job. We asked a neighbor/friend to "board" him temporarily while we moved out here and until we could get back to get him... well, things went downhill and the company that offered hubby a job ended up NOT following thru so we had NOTHING and the place we were supposed to be renting obviously wouldn't hold it with no money (I don't blame them) so... we ended up living in a 28' travel trailer thru the winter months... I'll never do THAT again!! LOL... anyways, we called the guy and asked him if he would buy him from us so we could have the cash to live on (He had other horses there and I really liked the way he treated them). He told us he'd send us money but we never heard from him again.. we tried calling him a number of times with no response... we were out of money so we couldn't go back there... and we had no idea how to proceed as we never paid the guy for looking after him for us for a few months so we just didn't do anything......
Fast forward to about 6 months ago and I found the number for the guy again so I searched it online and found an email address for it.. so I sent an email and got the run around.. the lady who was this guys wife stated that she doesn't remember our horse and if we "abandoned" him on their property then he would have been found a good and loving home... but I still don't know what happened to him. I told the lady I didn't want to start any trouble I just wanted to know that he was safe and loved and had a good home but nope.. she wasn't spilling any info to me.
I have been feeling guilty over "abandoning" him all those years ago and not trying to get him back but hubby keeps telling me we didn't have a choice and he's probably got a good home so don't worry about it... but I still wonder what happened to him.... anyways, I miss him dearly as he was a sweet colt (he'd be going on 10 now) and I'd love to see what he grew up like.... I also see a few photos on here of ppl's horses that remind me of him so much.
I'm going to shut up now and post a couple photos I have of him... I know no one can help me find him but I have to show y'all what he looks like...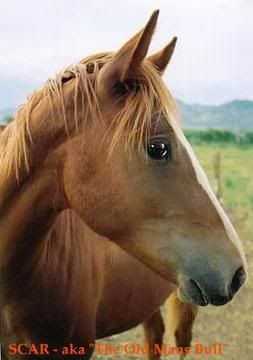 My hubby's standing next to him in that last photo... and he's about 6'1"... I think he would of matured to about 15.3 hh or 16 hh as he was only about 6 months old there.
Agh, I am sorry to hear that, but I don't think there is anything that you can do about it.
If it makes you feel any better, there is no way that we can guarantee that any horses sold live a good life, as they can be resold.
Oh I know... honestly I don't really want anything but just to know that he's ok. I guess I don't deserve to know though... just feel guilty about the whole thing I suppose... as I should.
Thats really sad :( I kind of know how you feel I had my horse stolen when I was 14 and never found him, he may still be out there but I have always assumed the worst.
I wish you luck in your search and I hope that whoever has him now will contact you and at least let you know he is ok :)
I also lost a horse to the horrible economy. It's a shame that they refused to give you any information on the horse when you were the former owner. Sadly there isn't much I can do and I think it's the same for you. I wish I could help...
Mystic, there is no reason to feel guilty. You did the best you could with the cards you were dealt and the fact that you are still feeling guilty and wondering about him says a lot. You obviously cared for him and just wanted what was best for him but you had to take care of yourself and your family first. It's a small world and he may still be out there somewhere. The good news is that he was likely sold before the horse market really hit rock bottom so the chance that he did find an actual home is pretty good. He is a beautiful boy and I am sure that someone would have snatched him right up for their next best friend (I would have).
---
Always remember that feeling of looking at a big, open country over the ears of a good horse, seeing a new trail unwind ahead of you, and that ever-spectacular view from the top of the ridge!!! Follow my training blog:
http://robertsontraining.blogspot.com/
Thank you all for your kind words.. I fully expected to get some negative replies telling me that I don't deserve to know anything about him because I "abandoned" him... but maybe that's just my guilty conscience talking eh? ;)

Thanks again everyone who replied.
Well, I look at it this way. We all have horses in our past that we wish we could see again, whether they have passed on or been sold or otherwise lost to us. If I had someone approach me about one of my horses and they were a previous owner, I would be happy that I could tell them that their former horse has a good home where they are well fed and happy. Let the people see them again or maybe ride them just for old time's sake. And I hope that other people would be as welcoming if I were to run across one of my old 4 legged friends out there in the world and want nothing more than to give them a treat and a scratch and let them know that I didn't forget about them.

LOL, sounds really cheesy, I know. I can't help it. I have always been closer to horses and remembered each of them better than I do people I meet.
---
Always remember that feeling of looking at a big, open country over the ears of a good horse, seeing a new trail unwind ahead of you, and that ever-spectacular view from the top of the ridge!!! Follow my training blog:
http://robertsontraining.blogspot.com/
Amen, Smrobs!
---
Horses are like therapy ~ and almost as expensive