Evee is settling in well!
---
I've now had Evee for about 20 days. She was a little hyper the first few days, but she's calmed down so much, she seems like a different horse! She's been learning her ground manners and basic lunging, and is very eager to please. She's a real cuddle bug! She's also a big flirt... she's in love with the gelding next to her field. They groom each other over the fence, it's adorable.
Since she's such a girlie girl, her color is pink
And I think she looks ravishing in it!
This pictures/video stills were taken over the last few weeks, so they're not in any order. The ones with snow are from this last weekend.
Eating what little grass remains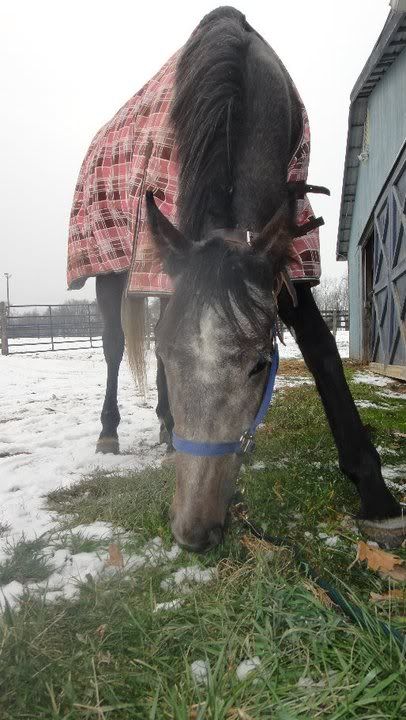 Cold cold day for this time of year...
Modeling her new (mismatched) tack. My trainer says she can't wait until her ears are trimmed. I love them though, they look like fuzzy bat wings!
And some lunging. Walking only, but I was very proud of her. There was a hyper 2 year old in the round pen behind her, but she stayed so calm.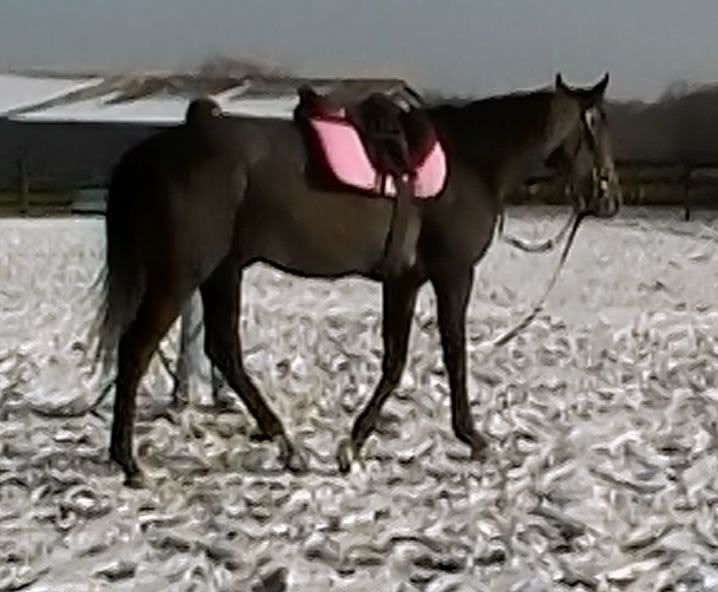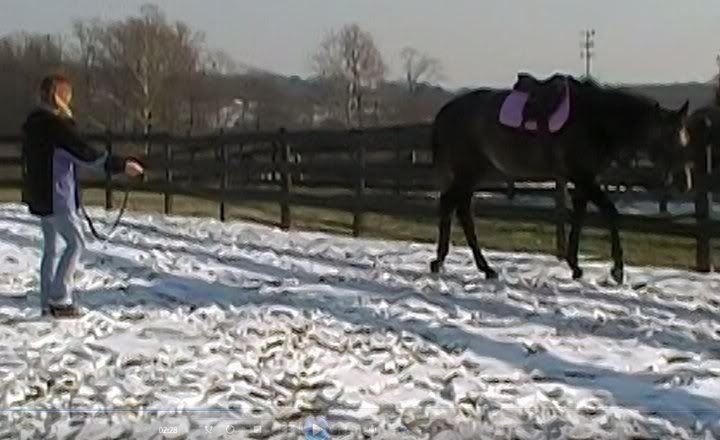 Thanks for looking
pt
I am so excited for you and your new girl! I just love her! I figuted it would take her a bit to settle into her new space.
You two are going to have so much fun!
I can't wait to see more pics of her in the coming weeks and months....it will be cool to watch her transformation!
Way to go!
Halfpass......
ps..
I love the fuzzzzzzy ears!
Those ears are ADORABLE!! She is so pretty! Looks like a very nice girl you have there.
---
RIP Minnie, 1981-January 15, 2010
RIP Maggie Mae I miss you
I love the ears too, so cute! Plus all that fuzz will protect her from the icy wind! I love the pink on her, good choice. Good to hear that she is settling in well, she looks like such a fun horse. You know, I look at some horses and just think 'I would just looooove to ride that horse' ha ha.
---
All horses deserve, at least once in their lives, to be loved by a little girl.
Congrats! Its so cool to watch their transformation and find out their personalities.

I got my OTTB on Dec. 10th, so I have only had her for 12 days! We are pretty much right at the same place you are :)
Thank you!
Sarahvr, I was thinking the same thing. No reason to trim them anytime soon!
I love getting to know her. I took her for her first walk in the upper ring last night, and I was very pleased with how quiet she stayed. She was looking around, but her manners were wonderful.
I've been very giddy with excitement this past month!
She's gorgeous, I love her coloring!
Lol I've never seen such fuzzy ears! She's really cute :)
evee actually listens to me more on the lungline and when she is off. mainly because i'm her treat dispenser when she's good. she's spoiled rotten and gets gourmet muffins at the end of each lesson