Evening trail ride with my girls.
---
The other day i got home around 7 pm after pulling 76 hours at the firehouse. I hadn't seen my wife or daughter the whole time and it sucked. When I got home my wife had both our horses up and groomed and was in the process of tacking them up. My daughter who is 13 months old was standing at the barn door watching. We all went for a little trail ride and it was great. I was wiped out but it was good to ride with my girls.
Katie started the ride with mom for a bit then slid on over to me.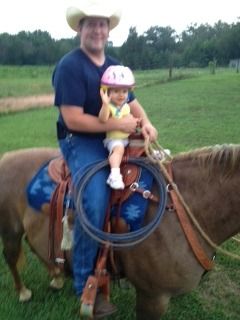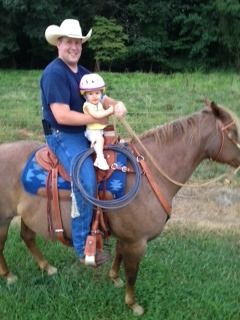 Just ignore the fat horse or the fat guy on said fat horse for that matter. our barn isn't set up for the horses to come in right now and we have been getting some good rain so our pastures are very condussive to making fat horses right now.
Very cute photos! Sometimes priorities such as cleaning, laundry and even sleep have to take a back seat to spending time with the family. You can always sleep later, but you'll miss those precious moments that fly by if you blink.
Yup, Plenty of time to sleep when I'm dead!
So glad you too the time (though you must have been dogged tired) to enjoy that moment! Those are the moments that you remember and treasure! What a great wife you have, getting the horses ready and all.
---
Be the kind of woman that when your feet hit the floor each morning the devil says, "Oh crap, she's up!".

Looks like it was a lovely ride! Glad you were able to spend some quality time with your family. :)
Looks like a wonderful ride! so glad you got out with them! and your daughter is adorable :)
---
Beauty is not diminished by those who refuse to see, hear,feel or in any way sense it. If you refuse to see beauty its you who is weakened.
Good for you, getting out there! Your daughter looks like she's loving it.