Everyone, meet Fabio!
---
As many of you know, my dear sweet mare, Lacey, passed away about two months ago.
And I wasn't sure if I wanted to ever own another horse...random people kept offering me horses but none of them felt right, you know the deal.
Last summer I worked at a hippotherapy place where they had a few horses, but one of them and I just really 'clicked.' He wasn't working out great as a therapy horse, but I was able to get him going better than he had been doing before. While I was working there and working with him, my boss at the time offered him to me a few times but I couldn't responsibly own TWO horses, etc.
It was a situation where I genuinely would have bought him if money had allowed.
Then I was let go from that job and probably the most painful part of that was knowing I would never see that horse I had grown to love ever again.
A few months went by, and I got a text from my former boss asking if I was still interested in this horse. Again, I definitely couldn't support two horses.
So I had to turn her down.
This happened again in January - "This horse, he needs to go somewhere, will you buy him?" Again, couldn't take him and be responsible.
Lacey passed away and I knew that that horse, from the therapy-place, was the only horse I would accept. I knew I couldn't follow Lacey up with just any horse, nor I didn't want to. I also knew that I had turned therapy-place-horse down multiple times and that, therefore, I would probably never get another chance at him.
Then, last Wednesday, I got a text from that former-boss-lady. She asked if I would like to take Fabio [THE HORSE!!], that she had placed him and he didn't work out there, and that she felt like he needed a forever-forever home with someone who loved him.
AND I SAID YES.
Nothing will ever replace Lacey, ever, but this guy is going to do a lot to help my heart heal. From the moment I met him last summer, I knew that he and Lacey would love each other. And, though they never got to meet, I think that's still true.
He's a sassy monkey, but I think we have a really bright future ahead of us. He has a good heart.
And he remembers me.
The moment I stepped on to the trailer to grab him off [former-boss-lady delivered him], he nickered at him and buried his head in my stomach.
Which, on a normal day, I'd be all "Ruuuuude. Check yourself, sir." but his entire nervous demeanor softened with that sniff, and it was clear that he knew everything was gonna be ok.
So meet my new, hopefully forever, horse Fabio.
He's just turned 10 and he's
clearly
an Arabian [supposedly he's an ArabX but...you never know]! No big surprise there. haha
Meeting Atticus
"Hey everybody! I even look fabulous with grass hanging out of my mouth!"
"Those goats disappeared! I wasn't sure about them, but they should come back."
"Ummmmm.....what are those...THINGS over there???" [turned out he had never seen llamas before! hahahahaha!]
Runnnnning
He was genuinely running for 30 minutes. And showing no signs of stopping. He wasn't even all that worked up. Just running cuz he can. Talk about endurance!!
"Look at how cool I AM! I can even trot downhill!!"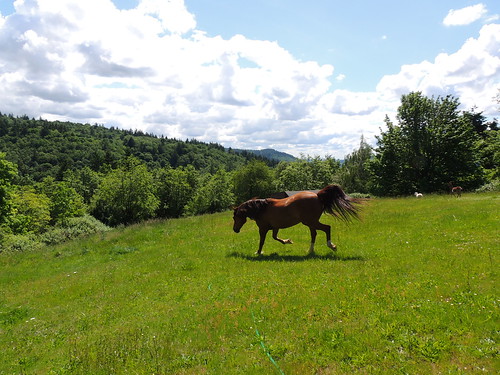 "...then I can trot back to you..."
"Aren't I gorrrrrrgeous?"
He's something. While Lacey was laid-back about her looks, Fabio...boy. Fabio
knows
he's something. haha
---
Fabio - 13 year old Arabian/Lipizzan gelding

~
Rest peacefully, Lacey.

Green Broke
Join Date: Jan 2010
Location: south of nowhere, north of nothing
Posts: 4,643
• Horses:
6
Faaaaaaaabssssssss!

Gawd but he's gorgeous! Haha
Posted via Mobile Device
What a gorgeous boy!! Definitely lives up to his name.

So glad you are finally able to find the one horse that will help you heal. I cried when I read about Lacey.

Many happy years and trails to you both!
Posted via Mobile Device
He does look more purebred than crossbred, doesn't he? Gorgeous animal.

I think you couldn't have gotten a better second horse - at the same time, he is both different than Lacey and the same. I am really happy for you.

Feel free to put up more photos.
Teen Forum Moderator
Join Date: Dec 2010
Location: South East Texas
Posts: 7,157
• Horses:
2
FABIOOOOOO.

What a lucky, lucky boy to end up with you. He sure is a stunner and I can already tell he's gonna have lots of 'tude! LOL
---
Everyone in your life is meant to
be in your journey, but not all of
them are meant to stay till the end.
Awww I didn't know that Lacey passed :( But Fabio is lovely! And I love his name!
---
RIP Minnie, 1981-January 15, 2010
RIP Maggie Mae I miss you
He's gorgeous!!!! And his name fits him so well. He is one good lookin' horse, and he knows it! I can't wait to read about all your adventures with him :)
What a looker! So excited for you!
Posted via Mobile Device
Super Moderator
Join Date: May 2012
Location: CT USA an English transplant
Posts: 24,246
• Horses:
3
He's lovely - and I know exactly what you mean by the fact that he will never be Lacey - but he'll help you to learn how to live without her even though she'll be your heart forever