Fall Photography Contest!
---
With the leaves on the trees being so beautiful here right now I thought I would host a Fall Photography Contest so you can show off their horses looking beautiful in the Fall colors. For the people living in the Southern Hemisphere (or anyone really who doesn't have a picture from this Fall) feel free to submit pictures from a past year.
Rules:
Only 1 entry per person
Submitting entries will be closed Friday (Oct. 24th) night. I'll pick and announce a winner on either Saturday (Oct 25th) or Sunday (Oct. 26th).
I will pick a 1st, 2nd, 3rd, and Honorable Mention
Have fun!
Ooo, good idea! I shall have to take one.
---
Stella - sweet, timid, elegant, lovely, lively, amazing
Luna - large, unattractive, naughty, adored

All of our colors are gone :( And I didn't get home in time to get pictures of them in the fall colors! I can't wait to see what people have though!
---
TM Tardy's Chick "Hunter" - 13 yo Paint
Remmy - 18 yo Morgan/QH cross
Gunner 3/31/11, Heidi 7/2009 Miniature Sicilian donkey

Gonna take my camera out today and snap some pictures :)
I'm glad people are interested! Can't wait to see your pictures!
FehrGroundRanch took this photo, I LOVE it:
---
The lovely images above provided by CVLC Photography cvlphotography.com
We don't have that much of Fall around here yet, but...
It was taken last weekend in park. Around my property there are no spectacular trees (except pine trees... lol!)...
Yearling
Join Date: Jan 2008
Location: British Columbia, Canada
Posts: 1,284
• Horses:
4
i don't have a fall one on this computer.... but..... I'm ready for the Christmas photo contest.LOL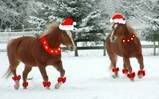 O-o-o-ps... I found a better one (more red leaves), also taken last weekend. So please disregard the 1st one...
Leaves are about gone here now..they were really beautiful last week..should have taken some pics but I didn't. got this last nite though of our pony Spirit hanging out.
---
Our farm is home to 4 adopted draft horses
Please consider adopting and give a horse back it's life.