Finn's story
---
Since some of you asked, here it is:
WARNING: SOME GRAPHIC PICTURES!!!
A little back story, that CJ might not even know, I got my first TB the last year of college, he was the perfect horse, everything I could have ever wanted. I had him for a year and lost him suddenly to an aneurism. There was always a void after that, even though I had other horses. I always knew that my next "soul horse" would find me, not me find him. I definitely was not looking for a horse when some racehorse friends of mine called and told me about a big grey gelding that was coming off the track.
There was a big 3 year old who had fractuerd his fetlock, had surgery and was back in training, but the owner didn't want to chance ruining him by racing again. She just wanted to find him a good home. He sent me pictures and I saw something in him right away. Figured it wouldn't hurt to go look. Went the next day to see him and it was love at first sight, but also the connection I had with my other guy. I decided I would take him.
(At the training center)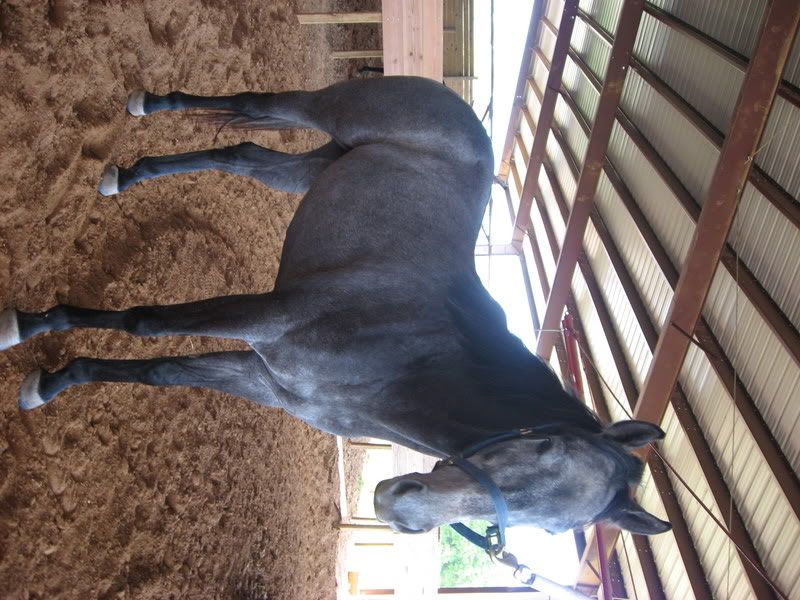 Picked him up the next day and was totally smitten with him. After having him for a week, he came up lame, old injury flared up. The vet that did surgery said he would never be sound enough to be a riding horse. I decided that the best thing for me, financially was to find him a new home. Then I was tired of crying every night so I changed my mind to keep him.
The following week I went out to feed one morning, and found him off by himself, and completely lame on the rear. When he turned to me I was able to see why. He had apparently kicked at the other gleding through the cable fence and go his leg hung. He pulled until he got it loose, shredding his leg down to the bone, most of the length of his cannon. I gave him some banamine, took him to the vet, and that started our 15 month long process of healing his leg. He had bandage changes every 3 days, was on tons of antibiotics and pain killers, but was a champ through it all.
We did this from May 2nd to mid November, when I brought him back to the clinic for a skin graft. The procedure went great, and everything was looking good.
He was extremely uncomfortable after surgery, constantly up and down, a little colicy, and he ended up rubbing the graft so much that none of it took. They wanted to try a different type again, but I felt it was time for him to come home. We began healing it on our own again. After about 15 months from the original injury, he was finally almost completely healed, pretty much as healed as he would get. There is a big scar, but his leg is not deformed like we were afraid it would be. I was still be told he would never ride, he not only had the front leg injury but now this, with arthritis forming in his hock.
Quitting on him was never an option, even if he would never be able to ride, because there was so much more there. I love this horse with my heart and soul, and it has definitely paid off in the long run. Wouldn't dream of having him any other way. And with the help of Terry at Equisupps, Finn is doing absolutely wonderful today!
Completely sound and planning on starting his show career in the equitation ring next year.
he looks awsome what a story glad all went good and hes doing awsome
---
The daughter who won't lift a finger in the house is the same child who cycles madly off in the pouring rain to spend all morning mucking out a stable. ~Samantha Armstrong

Wow! I'm so glad you guys pulled through this with flying colors! Excellent job! You should send in your story to a horse magazine for sure! God Bless You both!
---
John 14:6 - Jesus said unto him, "I am the way, the truth, and the life: no man cometh unto the Father, but by Me."
I was horrified to see his injury, he is such a beautiful boy, Im glad you stuck by him and fixed him up and he looks wonderful w/ a rider on his back.Good luck to you dear.
---
The grass may be greener on the other side,
but it still has to be mowed.
OMG, I am so glad that you shared! I was looking fwd to reading it and I wasn't expecting that at all ... but how amazing! Such a blessing and it's amazing how things work out ... you really have a beautiful horse! I am a sucker for grey's ... my next horse will be a grey! :)
---
:: Karley ::
Tucker WB/TB- 11 yr
Speedy QH/TB- 22 yr
That's great! I'm glad you didn't give up on him even you were told so! Hope he'll get all ribbons in his new carrier.
Wonderful story! I thoroughly enjoyed the read. Well done. Congrats to you both and happy trails!
Yearling
Join Date: Jul 2008
Location: between florida and maryland, usa.
Posts: 759
• Horses:
1
I'm so glad everything turned out well! :]
You're a real sweetheart and I can tell you love him for not giving up on him!
I'm so happy hes ok! that looks really bad but you fixed it so well!
---
Bailey's Mountain
6 year old tb
Wow, that is one INSANE injury!
Hurray for both of you though! You two look like a very very happy pair together. So glad to hear he's ok.
---
"'For I know the plans I have for you,' declares the Lord. 'Plans to prosper you and not to harm you, plans to give you a hope and a future'" ~ Jeremiah 29:11