First bareback ride (just walk)
---
He was being chill yesterday, so my trainer let me hop on to cool him out. Getting on was a challenge, but I managed without scrambling (he hates that). For being a TB, I was pleased with the comfort level. A bit narrow, but no shark whithers or spine of death. He recently is feeling tiny though, do you guys think he's 17hands?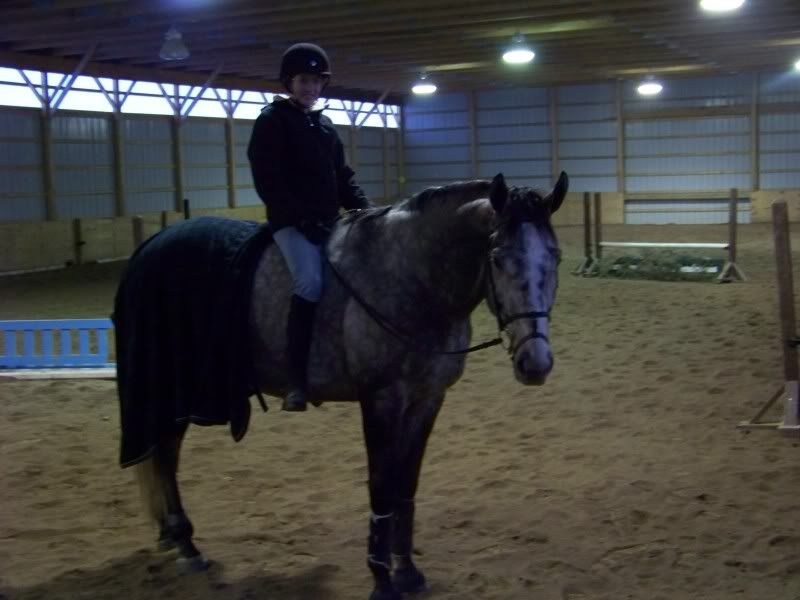 looks pretty tall to me :)
measure him
---
~~God took southern heart, blew His breath on it and created the horse~~
He certainly looks tall...
---
"The ideal horseman has the courage of a lion, the patience of a saint, and the hands of a woman..."
He looks like a tall boy to me, you look tiny, how tall are you? Maybe you should stick him, just to be sure.
---
Ω Horses are a projection of peoples dreams Ω
omg!! heza big BOY!! lol but a PRETTY big BOY!!!! lol
Green Broke
Join Date: Apr 2009
Location: Queensland, Australia.
Posts: 4,488
• Horses:
1
Lovely, he looks big. Maybe slightly under 17hh.
---
Sir Success. Eventer.
2000 - 2013,

What a handsome boy. I love dark dappled horses!
---
-Horse racing is my passion-
Athena:15y Palomino QH & Shirley's Brittney:8y Bay OTTB
BIG man!! hahah
He's sooo handsome!
---
HORSE RIDING:
The art of keeping a horse between YOU and the GROUND!
Thanks! I'm 5'4", but I have a very long leg
He definitely looks 17hh. He's gorgeous!