Green Broke
Join Date: May 2009
Location: Winnipeg, Manitoba, Canada
Posts: 4,510
• Horses:
2
First Canter!
---
OMG WE CANTERED!!!It was magical...seriously, I thought I was going to wait til spring/summer to canter her but yesterday she was so on the ball with all her cues, it was just the right time, y'know? We walked and trotted around the yard with Ashley on Justus, Moki on Jynx and she didn't bat an eyelash. Whoa was solid, stood to mount, walk on and trot right on cue...so I took her in the paddock and did some serpentines and more trotting. She was just feeling good so I yelled for Moki to grab the camera and asked her for the canter...first she gave me a super nice extended trot! I slowed her, did a lap, and asked again and she gave me a beautiful rocking horse canter. Not rushed at all, I stayed off her mouth and praised her a TONNE during and after the canter, and she slowed to a trot before the bend in the paddock. I was in heaven...fatty mcfatpants was pretty warm after so I walked her out and groomed her. I'm SOOO proud of her...so onto pics!
Trots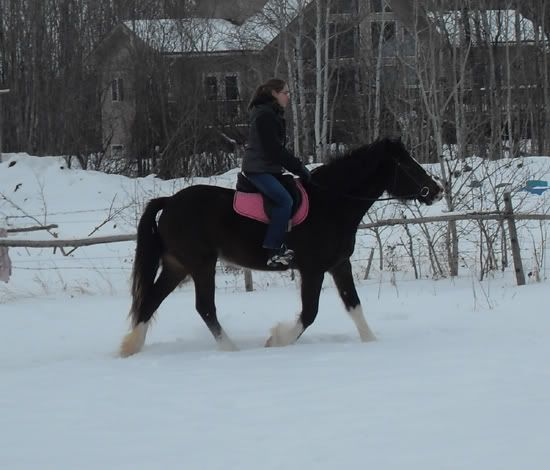 Nicer trots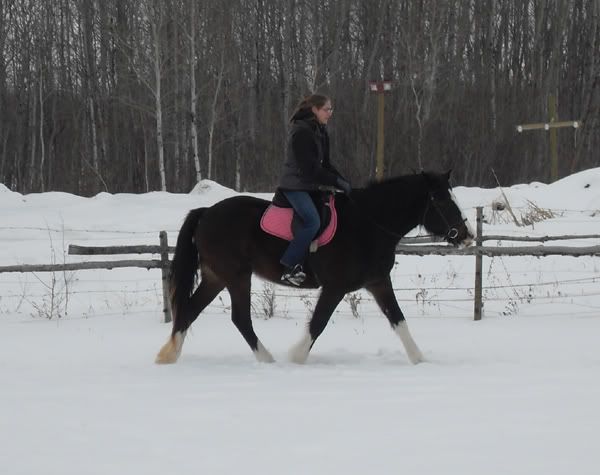 Wrong diagonal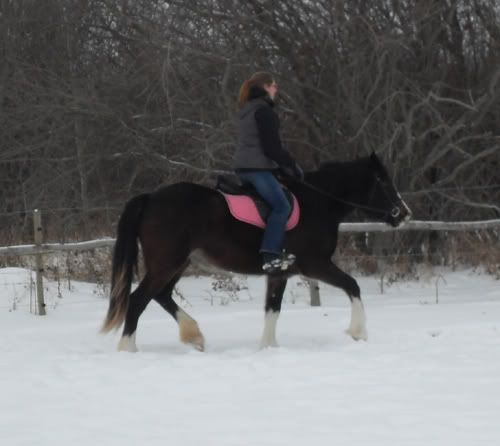 CANTER!!!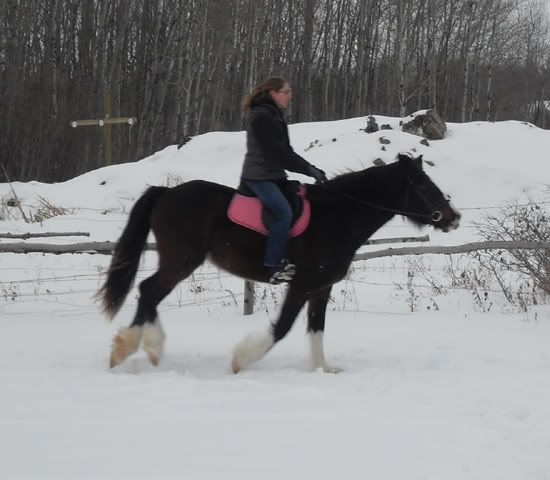 Better canter pic!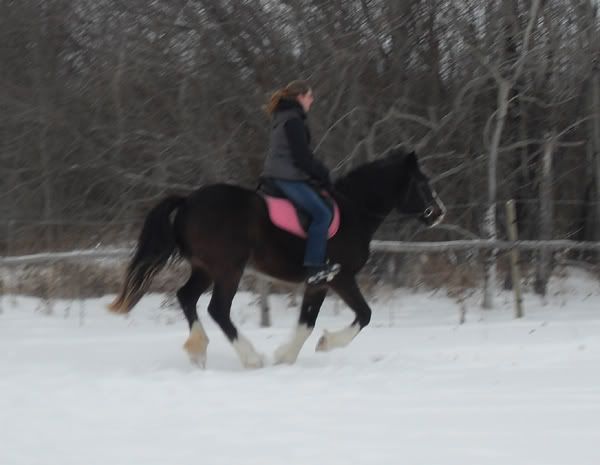 Transitioning back from a canter LOL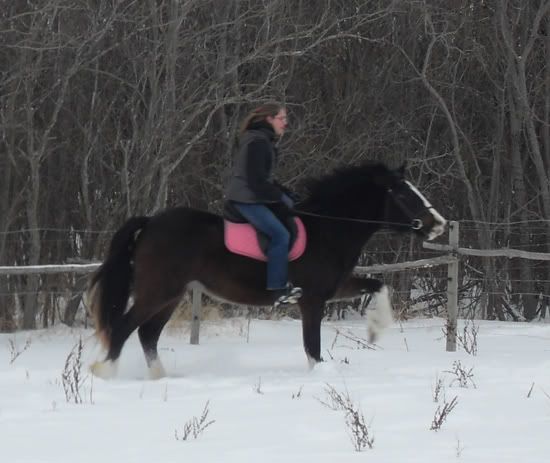 Video of our first attempt to canter...beautiful trot though!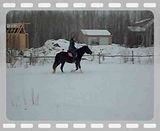 And our first actual canter...no, I didn't fall over after, I was hugging her neck! And yes, Moki nearly lost her voice after squealing so much...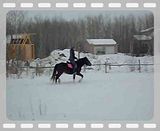 That's all for now, will have more pics in weeks to come but we're in the middle of a winter storm warning so not sure if we'll make it out today...going to brave the highways but if they're bad, I'm turning back! Thanks for looking and replying!
---
Quote:
I hope God tells her to smash her computer with a sledgehammer.
Seriously, this is like the TWENTIETH time I've done this...this is actually MY post...

MOKI START SIGNING OUT SO I STOP LOOKING LIKE AN IDIOT! I'm not able to fully delete a new thread, so I'ma leave this, but that's me on Eve, not Moki...GAH that's frustrating...this site NEEDS a delete option so that dummies like me aren't stuck keeping posts like this...
---
Never ride faster than your guardian angel can fly
very fancy trot!
grats on the canter :)
---
Life's challenges are not supposed
to paralyze you, they're supposed
to help you discoverwho you are.
Oh wow awesome!
I know how you feel!
When I first got my girl to canter it was just amazing, it felt like cantering for the first time all over again!
Congrats, I hope she continues to do well!
---
-Horse racing is my passion-
Athena:15y Palomino QH & Shirley's Brittney:8y Bay OTTB
Congrats! You sound so excited! good work on your first canter
Oh my goodness she is soo pretty! what a good little girl too, you guys were soo happy haha I would be too. How exciting!
---
* You know your a horse person when someone does something nice for you and you pat them on the neck and say 'good boy' *
Thanks everyone, this really was a big milestone for Eve and I...especially after all the issues we've been having this winter! Since Joining Up, she's been a pleasure to work with and train again!
She has a bit of a different trot than I've ever ridden...not sure if I'll EVER be able to do a sitting trot on her but we'll see! She was so relaxed and happy to canter...just felt right!
---
Never ride faster than your guardian angel can fly
woohoo!! thats awsome.
---
quarter horses.....simply the best
Similar Threads
Thread
Thread Starter
Forum
Replies
Last Post
he won't canter!

fuzzyfeet

Horse Training

10

08-12-2010

03:56 PM

=) Canter!

SeeinSpotz

Horse Riding

5

01-20-2010

03:46 AM

How to get a better canter?

Jessabel

English Riding

5

09-04-2009

10:56 PM

canter

nldiaz66

Horse Training

9

07-30-2008

05:56 PM

at a canter

Kirsti Arndt

English Riding

27

07-16-2008

04:24 PM