Flash all tacked up
---
Just thought I'd post a few pics of Flash in his new saddle and pad. Just bought the pad last week- it was on sale for $40 and figured it'd be good for trail rides as it has the pockets in it. Can't wait until he's broke enough to go out on the trails. Apparently the girls at the new barn go for 4-5 hr trail rides on the weekends so I'm hoping he'll be ready come spring. I think it looks some nice on him.
ps- Don't mind the nice gash in his leg- apparently he freaked comming out of his stall a few days ago because there was a horse-eating man standing in the barn entrance. Almost went down in the aisle.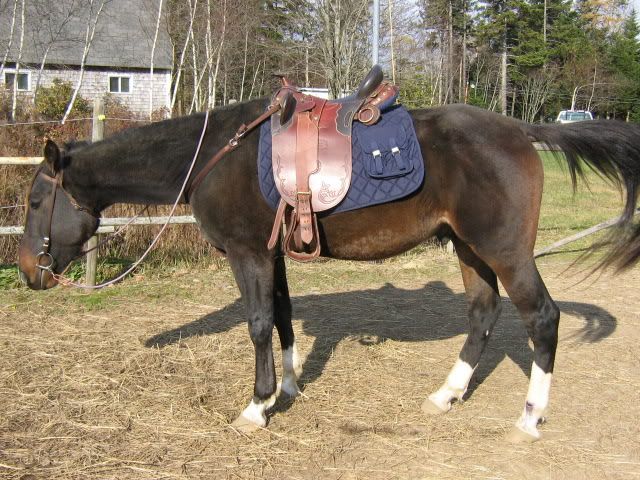 ---
Last edited by gothicangel69; 11-11-2011 at

05:33 PM

.
He looks fantastic!! I love him, I just think he is stunning!!!
I see now about your stirrup leathers, the flap shouldnt be hanging down like that, You dont have the stirrup on correctly. Probably works but something isnt right.
Showing
Join Date: Jun 2011
Location: Cariboo, British Columbia
Posts: 11,940
• Horses:
3
Flash looks downright flashy!
The stirrups look funny because there is supposed to be another part on there- I took it off cause its a real pain in the butt. They work fine like that though, so I'm not too concerned. I may turn them around so at least the excess leathers are on the inside.
The only thing I don't like about the saddle is the cinch though. Can never seem to get the darn thing tight enough.
Thank you all for the lovely comments.
---
Looks good, handsome boy you have there!!
---
Being horseless is the pits!!
down under saddlery sells a tool that will give you alot of leverage to get the girth tight.
Gorgeous boy =) I love the saddle pad, I never knew you could get them with pockets on it.