Fun In the Arena *pic heavy*
---
Took my girl out into the arena and free lunged her. Turned into her having a blast running as fast as she could around and around stretching out.
One of my favorites, her feet are not touching the ground
very cute :) love her mane design ;)
Shes adorable! How old is she?
Araya is about 20 months old she"ll be 21 months on the 22nd.
awe shes adorable. looks like she had a blast :)
---
Beauty is not diminished by those who refuse to see, hear,feel or in any way sense it. If you refuse to see beauty its you who is weakened.
I love letting them run full blast. Makes my heart warm. She's cute!!!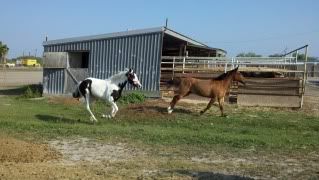 ---
~*~Never approach a bull from the front, a horse from the rear or a fool from any direction. - Cowboy saying~*~
She's really cute. Looks like she had fun =)